Study on Platinum Coating Depth in Focused Ion Beam Diamond Cutting Tool Milling and Methods for Removing Platinum Layer
1
School of Mechanical Engineering, Inha University, 253 Yonghyun-Dong, Nam-Gu, Incheon 402-751, Korea
2
Department of Mechanical Design, Induk University, Wolgye 2-Dong, Nowongu, Seoul 139-749, Korea
*
Author to whom correspondence should be addressed.
Academic Editor: Wen-Hsiang Hsieh
Received: 29 July 2015 / Revised: 3 September 2015 / Accepted: 15 September 2015 / Published: 22 September 2015
Abstract
In recent years, nanomachining has attracted increasing attention in advanced manufacturing science and technologies as a value-added processes to control material structures, components, devices, and nanoscale systems. To make sub-micro patterns on these products, micro/nanoscale single-crystal diamond cutting tools are essential. Popular non-contact methods for the macro/micro processing of diamond composites are pulsed laser ablation (PLA) and electric discharge machining (EDM). However, for manufacturing nanoscale diamond tools, these machining methods are not appropriate. Despite diamond's extreme physical properties, diamond can be micro/nano machined relatively easily using a focused ion beam (FIB) technique. In the FIB milling process, the surface properties of the diamond cutting tool is affected by the amorphous damage layer caused by the FIB gallium ion collision and implantation and these influence the diamond cutting tool edge sharpness and increase the processing procedures. To protect the diamond substrate, a protection layer—platinum (Pt) coating is essential in diamond FIB milling. In this study, the depth of Pt coating layer which could decrease process-induced damage during FIB fabrication is investigated, along with methods for removing the Pt coating layer on diamond tools. The optimum Pt coating depth has been confirmed, which is very important for maintaining cutting tool edge sharpness and decreasing processing procedures. The ultra-precision grinding method and etching with aqua regia method have been investigated for removing the Pt coating layer. Experimental results show that when the diamond cutting tool width is bigger than 500 nm, ultra-precision grinding method is appropriate for removing Pt coating layer on diamond tool. However, the ultra-precision grinding method is not recommended for removing the Pt coating layer when the cutting tool width is smaller than 500 nm, because the possibility that the diamond cutting tool is damaged by the grinding process will be increased. Despite the etching method requiring more procedures to remove the Pt coating layer after FIB milling, it is a feasible method for diamond tools with under 500 nm width.
View Full-Text
►

▼

Figures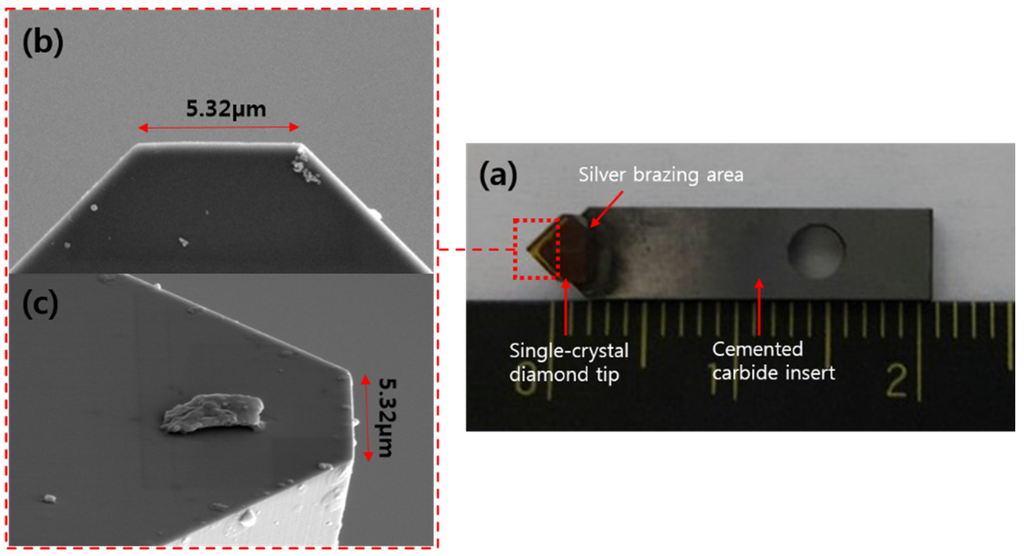 Figure 1
This is an open access article distributed under the
Creative Commons Attribution License
which permits unrestricted use, distribution, and reproduction in any medium, provided the original work is properly cited (CC BY 4.0).

Share & Cite This Article
MDPI and ACS Style
Choi, W.K.; Baek, S.Y. Study on Platinum Coating Depth in Focused Ion Beam Diamond Cutting Tool Milling and Methods for Removing Platinum Layer. Materials 2015, 8, 6498-6507.
Related Articles
Comments
[Return to top]