Chitosan-Coated Collagen Membranes Promote Chondrocyte Adhesion, Growth, and Interleukin-6 Secretion
1
Groupe de Recherche en Écologie Buccale, Faculté de Médecine Dentaire, Université Laval, 2420 rue de la Terrasse, Québec, QC G1V 0A6, Canada
2
Department of Chemical Engineering, Université Laval, 1065 avenue de la Médecine, Québec, QC G1V 0A6, Canada
3
Department of Chemical Engineering, École Polytechnique de Montréal, Montreal, QC H3C 3A7, Canada
4
Axe Médecine régénératrice, Centre de Recherche du CHU de Québec, Département de Chirurgie, Faculté de Médecine, Université Laval, Québec, QC G1L 3L5, Canada
*
Author to whom correspondence should be addressed.
Academic Editor: Xiaodong Huang
Received: 8 July 2015 / Revised: 6 October 2015 / Accepted: 19 October 2015 / Published: 13 November 2015
Abstract
Designing scaffolds made from natural polymers may be highly attractive for tissue engineering strategies. We sought to produce and characterize chitosan-coated collagen membranes and to assess their efficacy in promoting chondrocyte adhesion, growth, and cytokine secretion. Porous collagen membranes were placed in chitosan solutions then crosslinked with glutaraldehyde vapor. Fourier transform infrared (FTIR) analyses showed elevated absorption at 1655 cm
-1
of the carbon–nitrogen (N=C) bonds formed by the reaction between the (NH
2
) of the chitosan and the (C=O) of the glutaraldehyde. A significant peak in the amide II region revealed a significant deacetylation of the chitosan. Scanning electron microscopy (SEM) images of the chitosan-coated membranes exhibited surface variations, with pore size ranging from 20 to 50 µm. X-ray photoelectron spectroscopy (XPS) revealed a decreased C–C groups and an increased C–N/C–O groups due to the reaction between the carbon from the collagen and the NH2 from the chitosan. Increased rigidity of these membranes was also observed when comparing the chitosan-coated and uncoated membranes at dried conditions. However, under wet conditions, the chitosan coated collagen membranes showed lower rigidity as compared to dried conditions. Of great interest, the glutaraldehyde-crosslinked chitosan-coated collagen membranes promoted chondrocyte adhesion, growth, and interleukin (IL)-6 secretion. Overall results confirm the feasibility of using designed chitosan-coated collagen membranes in future applications, such as cartilage repair.
View Full-Text
►

▼

Figures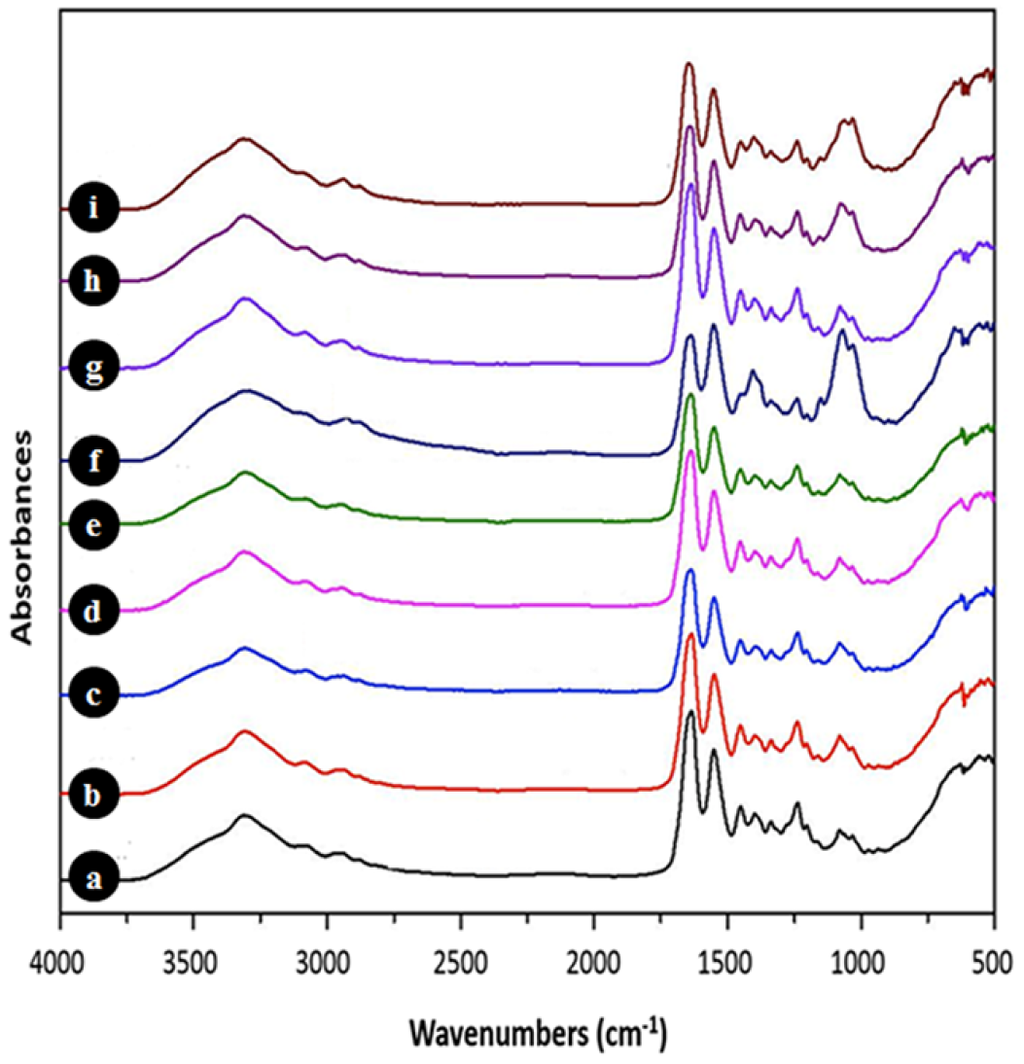 Figure 1
This is an open access article distributed under the
Creative Commons Attribution License
which permits unrestricted use, distribution, and reproduction in any medium, provided the original work is properly cited (CC BY 4.0).

Share & Cite This Article
MDPI and ACS Style
Mighri, N.; Mao, J.; Mighri, F.; Ajji, A.; Rouabhia, M. Chitosan-Coated Collagen Membranes Promote Chondrocyte Adhesion, Growth, and Interleukin-6 Secretion. Materials 2015, 8, 7673-7689.
Related Articles
Comments
[Return to top]