Supported Membranes Meet Flat Fluidics: Monitoring Dynamic Cell Adhesion on Pump-Free Microfluidics Chips Functionalized with Supported Membranes Displaying Mannose Domains
1
Department of Physics, Technical University Munich, Garching D85748, Germany
2
Experimental Physics I, University of Augsburg, Augsburg D86159, Germany
3
Physical Chemistry of Biosystems, University of Heidelberg, Heidelberg D69120, Germany
4
NANO group-UMR 7565 SRSMC CNRS, Université de Lorraine, Boulevard des Aiguillettes-F54506 Vandoeuvre-Lès-Nancy, France
5
Beckman Coulter Biomedical GmbH, Advalytix Products, Munich D81377, Germany
6
Cell Biophysics Lab, Institute of Toxicology and Genetics, Karlsruhe Institute of Technology, Karlsruhe D76131, Germany
*
Authors to whom correspondence should be addressed.
†
These two authors equally contributed to the work.
Received: 18 October 2012 / Revised: 7 January 2013 / Accepted: 5 February 2013 / Published: 22 February 2013
Abstract
In this paper we demonstrate the combination of supported membranes and so-called flat microfluidics, which enables one to manipulate liquids on flat chip surfaces via "inverse piezoelectric effect". Here, an alternating external electric field applied to the inter-digital transducers excites a surface acoustic wave on a piezoelectric substrate. Employing lithographic patterning of self-assembled monolayers of alkoxysilanes, we successfully confine a free-standing, hemi-cylindrical channel with the volume of merely 7 µL . The experimentally determined maximum flow velocity scales linearly with the acoustic power, suggesting that our current setup can drive liquids at the speed of up to 7 cm/s (corresponding to a shear rate of 280 s
−1
) without applying high pressures using a fluidic pump. After the establishment of the functionalization of fluidic chip surfaces with supported membranes, we deposited asymmetric supported membranes displaying well-defined mannose domains and monitored the dynamic adhesion of
E.
Coli
HB101 expressing mannose-binding receptors. Despite of the further technical optimization required for the quantitative analysis, the obtained results demonstrate that the combination of supported membranes and flat fluidics opens a large potential to investigate dynamic adhesion of cells on biofunctional membrane surfaces with the minimum amount of samples, without any fluidic pump.
View Full-Text
►

▼

Figures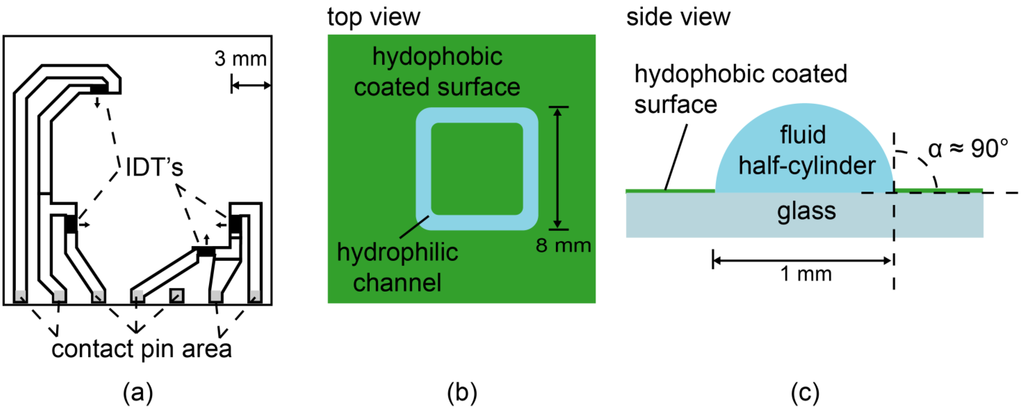 Figure 1

Share & Cite This Article
MDPI and ACS Style
Oelke, J.; Kaindl, T.; Pasc, A.; Guttenberg, Z.; Wixforth, A.; Tanaka, M. Supported Membranes Meet Flat Fluidics: Monitoring Dynamic Cell Adhesion on Pump-Free Microfluidics Chips Functionalized with Supported Membranes Displaying Mannose Domains. Materials 2013, 6, 669-681.
Related Articles
Comments
[Return to top]