Effect of Jute Fiber Modification on Mechanical Properties of Jute Fiber Composite
1
College of Textiles, Donghua University, 2999 North Renmin Road, Shanghai 201620, China
2
Donghua University Center for Civil Aviation Composites, Donghua University, 2999 North Renmin Road, Shanghai 201620, China
3
Key Laboratory of Textile Science & Technology, Ministry of Education, College of Textiles, Donghua University, 2999 North Renmin Road, Shanghai 201620, China
4
State Key Laboratory for Modification of Chemical Fibers and Polymer Materials, Donghua University, Shanghai 200051, China
5
Industries Engineering and Technology, University of Gezira, Wad Madani 21111, Sudan
*
Author to whom correspondence should be addressed.
Received: 14 March 2019 / Revised: 29 March 2019 / Accepted: 12 April 2019 / Published: 15 April 2019
Abstract
Recently, the demand for reinforced plastics from natural, sustainable, biodegradable, and environmentally friendly fibers has been rising worldwide. However, the main shortcoming of natural fibers reinforced plastics is the poor compatibility between reinforcing fibers and the matrix. Hence, it is necessary to form a strong attachment of the fibers to the matrix to obtain the optimum performance. In this work, chemical treatments (acid pretreatment, alkali pretreatment, and scouring) were employed on jute fibers to modify them. The mechanical properties, surface morphology, and Fourier transform infrared spectra of treated and untreated jute fibers were analyzed to understand the influence of chemical modifications on the fiber. Then, jute fiber/epoxy composites with a unidirectional jute fiber organization were prepared. Basic properties of the composites such as the void fraction, tensile strength, initial modulus, and elongation at break were studied. The better interfacial adhesion of treated fibers was shown by scanning electron microscope (SEM) images of fractured coupons. Hence, the chemical treatment of jute fiber has a significant impact on the formation of voids in the composites as well as the mechanical properties of jute fiber composites.
View Full-Text
►

▼

Figures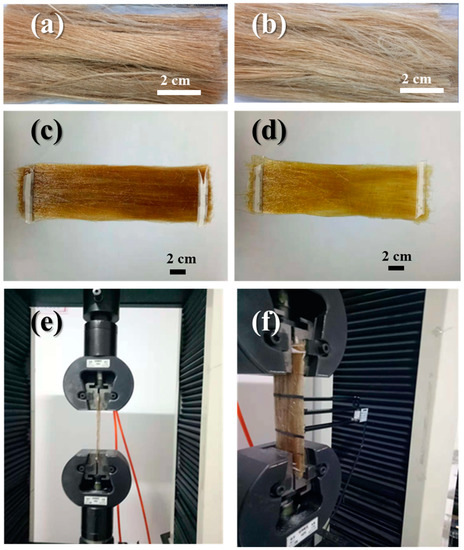 Figure 1
This is an open access article distributed under the
Creative Commons Attribution License
which permits unrestricted use, distribution, and reproduction in any medium, provided the original work is properly cited (CC BY 4.0).

Share & Cite This Article
MDPI and ACS Style
Wang, H.; Memon, H.; A. M. Hassan, E.; Miah, M.S.; Ali, M.A. Effect of Jute Fiber Modification on Mechanical Properties of Jute Fiber Composite. Materials 2019, 12, 1226.
Note that from the first issue of 2016, MDPI journals use article numbers instead of page numbers. See further details here.
Related Articles
Comments
[Return to top]