Modeling the Non-Equilibrium Process of the Chemical Adsorption of Ammonia on GaN(0001) Reconstructed Surfaces Based on Steepest-Entropy-Ascent Quantum Thermodynamics
1
Department of Aeronautics and Astronautics, Kyushu University, Fukuoka 819-0395, Japan
2
Department of Engineering Science, University of Oxford, Parks Road, Oxford OX1 3PJ, UK
3
Center for Energy Systems Research (CESR), Mechanical Engineering Department, Virginia Tech, Blacksburg, VA 24061, USA
4
Research Institute for Applied Mechanics (RIAM), Kyushu University, Fukuoka 816-8580, Japan
5
Center for Integrated Research of Future Electronics (CIRFE), Institute of Materials and Systems for Sustainability (IMaSS), Nagoya University, Nagoya 464-8601, Japan
*
Author to whom correspondence should be addressed.
Received: 21 July 2017 / Revised: 11 August 2017 / Accepted: 11 August 2017 / Published: 15 August 2017
Abstract
Clearly understanding elementary growth processes that depend on surface reconstruction is essential to controlling vapor-phase epitaxy more precisely. In this study, ammonia chemical adsorption on GaN(0001) reconstructed surfaces under metalorganic vapor phase epitaxy (MOVPE) conditions (3Ga-H and N
ad
-H + Ga-H on a 2 × 2 unit cell) is investigated using steepest-entropy-ascent quantum thermodynamics (SEAQT). SEAQT is a thermodynamic-ensemble based, first-principles framework that can predict the behavior of non-equilibrium processes, even those far from equilibrium where the state evolution is a combination of reversible and irreversible dynamics. SEAQT is an ideal choice to handle this problem on a first-principles basis since the chemical adsorption process starts from a highly non-equilibrium state. A result of the analysis shows that the probability of adsorption on 3Ga-H is significantly higher than that on N
ad
-H + Ga-H. Additionally, the growth temperature dependence of these adsorption probabilities and the temperature increase due to the heat of reaction is determined. The non-equilibrium thermodynamic modeling applied can lead to better control of the MOVPE process through the selection of preferable reconstructed surfaces. The modeling also demonstrates the efficacy of DFT-SEAQT coupling for determining detailed non-equilibrium process characteristics with a much smaller computational burden than would be entailed with mechanics-based, microscopic-mesoscopic approaches.
View Full-Text
►

▼

Figures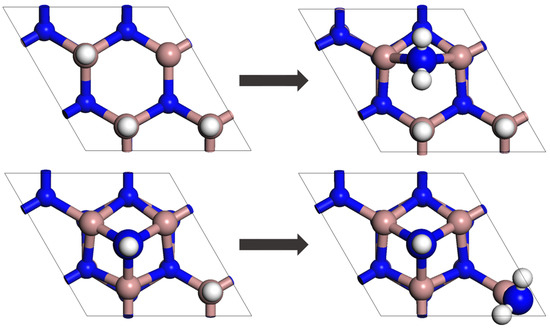 Figure 1
This is an open access article distributed under the
Creative Commons Attribution License
which permits unrestricted use, distribution, and reproduction in any medium, provided the original work is properly cited (CC BY 4.0).

Share & Cite This Article
MDPI and ACS Style
Kusaba, A.; Li, G.; Von Spakovsky, M.R.; Kangawa, Y.; Kakimoto, K. Modeling the Non-Equilibrium Process of the Chemical Adsorption of Ammonia on GaN(0001) Reconstructed Surfaces Based on Steepest-Entropy-Ascent Quantum Thermodynamics. Materials 2017, 10, 948.
Note that from the first issue of 2016, MDPI journals use article numbers instead of page numbers. See further details here.
Related Articles
Comments
[Return to top]