Experimental Research on the Impactive Dynamic Effect of Gas-Pulverized Coal of Coal and Gas Outburst
1
State Key Laboratory of the Gas Disaster Detecting Preventing and Emergency Controlling, Chongqing 400037, China
2
Gas Research Branch, China Coal Technology Engineering Group Chongqing Research Institute, Chongqing 400037, China
3
State Key Laboratory of Coal Mine Disaster Dynamics and Control, Chongqing University, Chongqing 400030, China
*
Authors to whom correspondence should be addressed.
Received: 12 February 2018 / Revised: 15 March 2018 / Accepted: 27 March 2018 / Published: 30 March 2018
Abstract
Coal and gas outburst is one of the major serious natural disasters during underground coal, and the shock air flow produced by outburst has a huge threat on the mine safety. In order to study the two-phase flow of a mixture of pulverized coal and gas of a mixture of pulverized coal and gas migration properties and its shock effect during the process of coal and gas outburst, the coal samples of the outburst coal seam in Yuyang Coal Mine, Chongqing, China were selected as the experimental subjects. By using the self-developed coal and gas outburst simulation test device, we simulated the law of two-phase flow of a mixture of pulverized coal and gas in the roadway network where outburst happened. The results showed that the air in the roadway around the outburst port is disturbed by the shock wave, where the pressure and temperature are abruptly changed. For the initial gas pressure of 0.35 MPa, the air pressure in different locations of the roadway fluctuated and eventually remain stable, and the overpressure of the outburst shock wave was about 20~35 kPa. The overpressure in the main roadway and the distance from the outburst port showed a decreasing trend. The highest value of temperature in the roadway increased by 0.25 °C and the highest value of gas concentration reached 38.12% during the experiment. With the action of shock air flow, the pulverized coal transportation in the roadway could be roughly divided into three stages, which are the accelerated movement stage, decelerated movement stage and the particle settling stage respectively. Total of 180.7 kg pulverized coal of outburst in this experiment were erupted, and most of them were accumulated in the main roadway. Through the analysis of the law of outburst shock wave propagation, a shock wave propagation model considering gas desorption efficiency was established. The relationships of shock wave overpressure and outburst intensity, gas desorption rate, initial gas pressure, cross section and distance of the roadway were obtained, which can provide a reference for the protection of coal and gas outburst and control of catastrophic ventilation.
View Full-Text
►

▼

Figures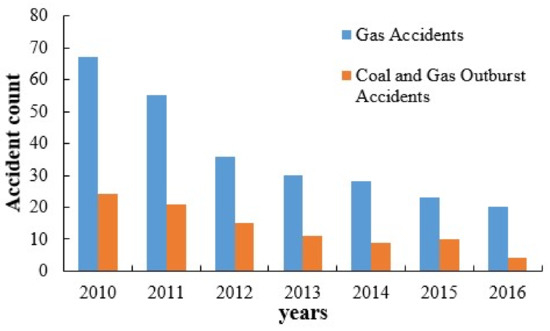 Figure 1
This is an open access article distributed under the
Creative Commons Attribution License
which permits unrestricted use, distribution, and reproduction in any medium, provided the original work is properly cited (CC BY 4.0).

Share & Cite This Article
MDPI and ACS Style
Sun, H.; Cao, J.; Li, M.; Zhao, X.; Dai, L.; Sun, D.; Wang, B.; Zhai, B. Experimental Research on the Impactive Dynamic Effect of Gas-Pulverized Coal of Coal and Gas Outburst. Energies 2018, 11, 797.
Note that from the first issue of 2016, MDPI journals use article numbers instead of page numbers. See further details here.
Related Articles
Comments
[Return to top]