A Stratified Meta-Analysis of the Association between Exposure to Environmental Tobacco Smoke during Childhood and Adulthood and Urothelial Bladder Cancer Risk
1
Department of Complex Genetics, Nutrition and Translational Research in Metabolism (School NUTRIM), Maastricht University, PO Box 616, 6200MD Maastricht, The Netherlands
2
Institute of Cancer and Genomic Sciences, University of Birmingham, Birmingham B15 2TT, UK
3
Department of Pharmacology and Toxicology, NUTRIM School for Nutrition and Translational Research in Metabolism, Maastricht University, 6200MD Maastricht, The Netherlands
4
Department of Complex Genetics, Public Health and Primary Care (School CAPHRI), Maastricht University, 6200MD Maastricht, The Netherlands
*
Author to whom correspondence should be addressed.
Received: 22 February 2018 / Revised: 17 March 2018 / Accepted: 19 March 2018 / Published: 22 March 2018
Abstract
Background
: Active smoking is a major risk factor for urothelial bladder cancer (UBC). However, the evidence that exposure to environmental tobacco smoke (ETS) either in childhood or adult life is also associated with UBC risk is ambiguous. With this meta-analysis, we aim to summarise how exposure to ETS is associated with UBC risk.
Methods
: In total, 11 studies (3 cohort studies, 8 case-control studies) were included in this meta-analysis and summary odds ratios (SORs) for UBC risk were calculated for never smokers who were exposed to ETS during childhood at home, during adulthood at home, or during adulthood in a work environment compared to never smokers who were never exposed to ETS. Sensitivity analyses were conducted to test the robustness of findings.
Results
: Never smokers exposed to ETS during childhood (SOR = 1.04, 95% confidence interval (CI) = 0.82–1.26), during adulthood at work (SOR = 0.98, 95% CI = 0.78–1.18) or at home (SOR = 0.99, 95% CI = 0.83–1.15) were at a similar risk of UBC compared to never smokers who were never exposed to ETS. Results for males and females were similar. Also, when pooling all estimates during both childhood and adulthood, no effect was observed (SOR = 1.00, 95% CI = 0.89–1.10).
Conclusions
: Although measurement of exposure to ETS was imprecise, there does not seem to be an association between UBC risk and exposure to ETS during childhood or adulthood. However, the current body of evidence mostly overlooks the duration and intensity of exposure to ETS.
View Full-Text
►

▼

Figures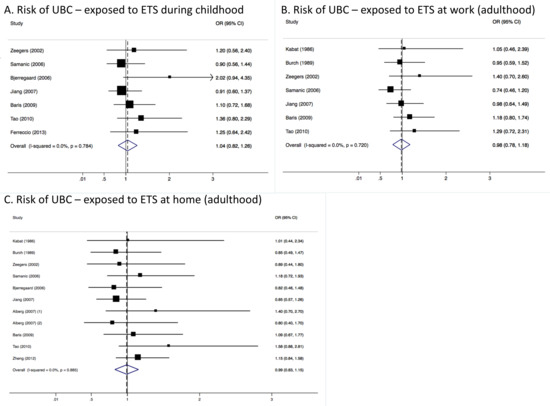 Figure 1
This is an open access article distributed under the
Creative Commons Attribution License
which permits unrestricted use, distribution, and reproduction in any medium, provided the original work is properly cited (CC BY 4.0).

Share & Cite This Article
MDPI and ACS Style
Van Osch, F.H.M.; Jochems, S.H.J.; Wesselius, A.; Van Schooten, F.J.; Bryan, R.T.; Zeegers, M.P. A Stratified Meta-Analysis of the Association between Exposure to Environmental Tobacco Smoke during Childhood and Adulthood and Urothelial Bladder Cancer Risk. Int. J. Environ. Res. Public Health 2018, 15, 569.
Note that from the first issue of 2016, MDPI journals use article numbers instead of page numbers. See further details here.
Related Articles
Comments
[Return to top]