Polybrominated Diphenyl Ethers in Maternal Serum, Breast Milk, Umbilical Cord Serum, and House Dust in a South Korean Birth Panel of Mother-Neonate Pairs
1
Graduate School of Public Health, Seoul National University, Seoul 151-742, Korea
2
Department of Marine Sciences and Convergent Technology, Hanyang University, Ansan 426-791, Korea
3
College of Medicine, Korea University, Seoul 136701, Korea
4
College of Medicine, Soonchunhyang University, Seoul 140-743, Korea
5
College of Medicine, Inha University, Incheon 402-751, Korea
6
College of Medicine, Hallym University, Anyang 431-796, Korea
7
College of Medicine, Jeju National University, Jeju 690-756, Korea
8
College of Natural Sciences, Soonchunhyang University, Asan 336-745, Korea
9
Institute of Health and Environment, Graduate School of Public Health, Seoul National University, 1 Gwanak-ro, Gwanak-gu, Seoul 151-742, Korea
*
Author to whom correspondence should be addressed.
Academic Editors: Helena Solo-Gabriele and Alesia Ferguson
Received: 31 March 2016 / Revised: 21 July 2016 / Accepted: 22 July 2016 / Published: 28 July 2016
Abstract
Polybrominated diphenyl ethers (PBDEs) have been used as flame retardants. Although many reports have indicated an association between exposure to PBDEs and developmental neurotoxicity, the relative contributions of different sources of dust PBDE congeners to the levels in various tissues of mother–baby pairs is not well understood. The aims of this study were thus to measure the quantitative relationship between the level of PBDEs in house dust and tissues of mother-neonate pairs, and to investigate the chemical sources of the PBDEs. Forty-one mother-neonate pairs were recruited and provided samples of maternal serum (
n
= 29), umbilical cord serum (
n
= 25), breast milk (
n
= 50), and house dust (
n
= 41), where PBDEs were determined with high-resolution gas chromatography coupled with high-resolution mass spectrometry. While deca- (e.g., BDE 209, detected 100%), nona- (BDE 206/207, 95.1%), octa- (BDE 183, 100%), penta- (BDE 99/153, 100%, 98%) and tetra-BDEs (BDE 47, 100%) were detected abundantly in dust, penta- (BDE 99, 76%, 92%) and tetra-BDEs (BDE 47, 84%, 98%) were detected abundantly in umbilical cord serum and breast milk, respectively; tetra-BDEs (BDE 47, 86%) were detected more often relative to other congeners in maternal serum. Spearman's pairwise comparison showed that the levels of BDE 47 (ρ = 0.52,
p
< 0.001) and −99 (ρ = 0.64,
p
< 0.01) in umbilical cord serum were associated with BDE 209 levels in dust; BDE 47 in maternal serum also showed correlation with BDE 99 in cord serum (ρ = 0.48,
p
< 0.01) but there was no significant correlation between maternal BDE 47 and dust BDE 209. On the other hand, a comparison of the distribution among congeners suggested probable associations of BDE 47 in maternal serum, breast milk, and umbilical cord serum with BDE 209 in dust; and of BDE 99 in maternal and umbilical cord serum, breast milk, and dust with BDE 209 in dust. Although further studies are needed, a radar chart-based distributional comparison among congeners supported associations between BDE 47 or −99 in human tissues and BDE 209 in dust.
View Full-Text
►

▼

Figures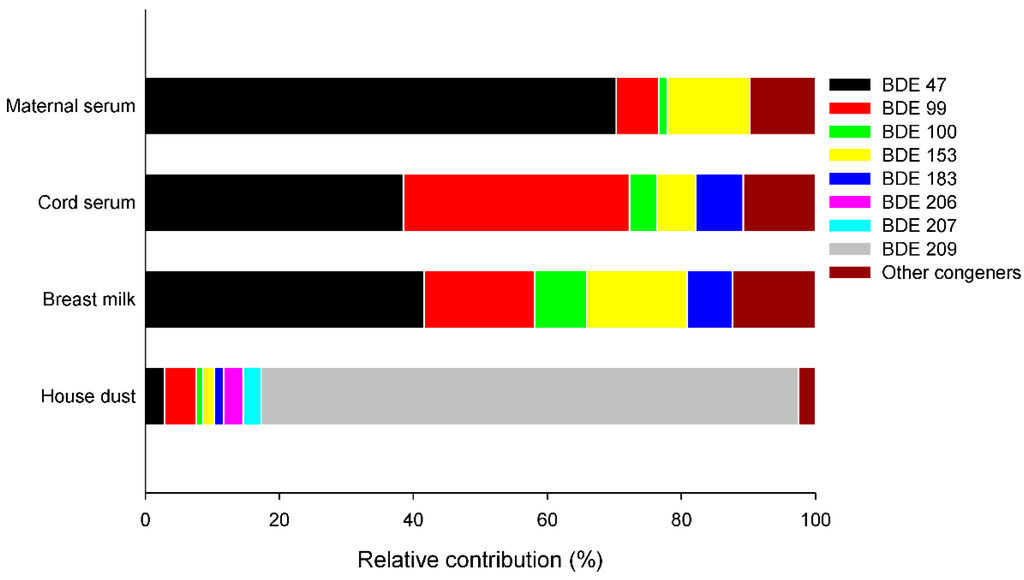 Figure 1
This is an open access article distributed under the
Creative Commons Attribution License
which permits unrestricted use, distribution, and reproduction in any medium, provided the original work is properly cited (CC BY 4.0).

Share & Cite This Article
MDPI and ACS Style
Shin, M.-Y.; Lee, S.; Kim, H.-J.; Lee, J.J.; Choi, G.; Choi, S.; Kim, S.; Kim, S.Y.; Park, J.; Moon, H.-B.; Choi, K.; Kim, S. Polybrominated Diphenyl Ethers in Maternal Serum, Breast Milk, Umbilical Cord Serum, and House Dust in a South Korean Birth Panel of Mother-Neonate Pairs. Int. J. Environ. Res. Public Health 2016, 13, 767.
Note that from the first issue of 2016, MDPI journals use article numbers instead of page numbers. See further details here.
Related Articles
Comments
[Return to top]