Meta-Analysis for the Association between Polymorphisms in Interleukin-17A and Risk of Coronary Artery Disease
1
Department of Anatomy, Histology and Embryology, Institute of Neuroscience, Changsha Medical University, Changsha 410219, China
2
Department of Neurology, Xiangya Hospital, Central South University, Changsha 410008, China
*
Authors to whom correspondence should be addressed.
Academic Editor: William Chi-Shing Cho
Received: 11 May 2016 / Revised: 19 June 2016 / Accepted: 20 June 2016 / Published: 30 June 2016
Abstract
Coronary artery disease (CAD) is a disease which has become a leading cause of death worldwide. The polymorphisms in Interleukin-17 (IL-17A), including rs2275913, rs3819024, rs3819025, rs3748067, rs8193037, rs4711998, and rs8193036, have been found to be probably associated with the risk of CAD. However, the results were inconsistent and inconclusive. The present study performed a meta-analysis to get a more precise and comprehensive estimation of the association between the IL-17A polymorphisms and CAD risk. The Pubmed, Embase, Cochrane Central Register of Controlled Trials, Chinese National Knowledge Infrastructure, and Chinese Biomedical Literature Databases were searched for related studies. A total of six studies, including 3542 cases and 3212 controls, were identified for the meta-analysis. The main findings of the present meta-analysis show that the TT genotype of IL-17A rs3748067 is associated with a significant lower risk of CAD in the homozygous model odds ratio (OR) (OR = 0.37) in Asians. No significant association was found for rs2275913, rs3819024, rs3819025, rs8193037, rs4711998, and rs8193036 with CAD susceptibility in the overall analysis. However, subgroup analysis indicated a significant decreased risk of CAD for the GG genotype and G allele of rs2275913 in a small sample size group, and a higher risk of CAD for the GG genotype and G allele of rs8193037 in a heterozygous model (OR = 1.56), dominant model (OR = 1.54), and allelic model (OR = 1.47) in Asians. In conclusion, the current meta-analysis suggests a significant relationship between rs3748067, rs8193037, and CAD in Asians, while for rs2275913, rs3819024, rs3819025, rs4711998, rs8193036, no such relations were found. Thus, IL-17A rs3748067 and rs8193037 might be recommended as a predictor for susceptibility of CAD for Asians. However, the results of this meta-analysis are hypothesis-generating results which should be interpreted with caution because of the heterogeneity and publication bias among study designs.
View Full-Text
►

▼

Figures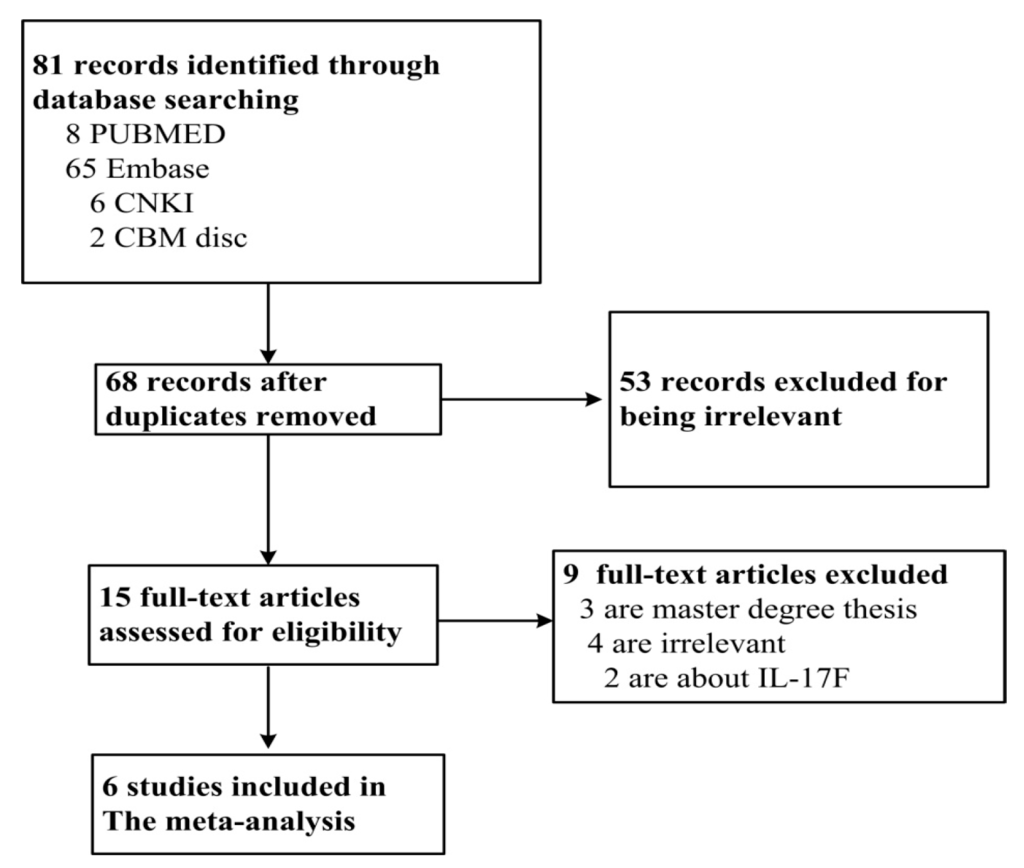 Figure 1
This is an open access article distributed under the
Creative Commons Attribution License
which permits unrestricted use, distribution, and reproduction in any medium, provided the original work is properly cited (CC BY 4.0).

Share & Cite This Article
MDPI and ACS Style
Bao, M.-H.; Luo, H.-Q.; Xiang, J.; Tang, L.; Dong, L.-P.; Li, G.-Y.; Zeng, J.; Li, J.-M. Meta-Analysis for the Association between Polymorphisms in Interleukin-17A and Risk of Coronary Artery Disease. Int. J. Environ. Res. Public Health 2016, 13, 660.
Note that from the first issue of 2016, MDPI journals use article numbers instead of page numbers. See further details here.
Related Articles
Comments
[Return to top]