Benzene Exposure Alters Expression of Enzymes Involved in Fatty Acid β-Oxidation in Male C3H/He Mice
Key Laboratory of Environmental Medicine Engineering of Ministry of Education, School of Public Health, Southeast University, Nanjing 210009, Jiangsu, China
*
Authors to whom correspondence should be addressed.
†
These authors contributed equally to this work.
Academic Editor: Miriam C. Poirier
Received: 30 August 2016 / Revised: 21 October 2016 / Accepted: 24 October 2016 / Published: 31 October 2016
Abstract
Benzene is a well-known hematotoxic carcinogen that can cause leukemia and a variety of blood disorders. Our previous study indicated that benzene disturbs levels of metabolites in the fatty acid β-oxidation (FAO) pathway, which is crucial for the maintenance and function of hematopoietic and leukemic cells. The present research aims to investigate the effects of benzene on changes in the expression of key enzymes in the FAO pathway in male C3H/He mice. Results showed that benzene exposure caused reduced peripheral white blood cell (WBC), red blood cell (RBC), platelet (Pit) counts, and hemoglobin (Hgb) concentration. Investigation of the effects of benzene on the expression of FA transport- and β-oxidation-related enzymes showed that expression of proteins Cpt1a, Crat, Acaa2, Aldh1l2, Acadvl, Crot, Echs1, and Hadha was significantly increased. The ATP levels and mitochondrial membrane potential decreased in mice exposed to benzene. Meanwhile, reactive oxygen species (ROS), hydrogen peroxide (H
2
O
2
), and malondialdehyde (MDA) levels were significantly increased in the benzene group. Our results indicate that benzene induces increased expression of FA transport and β-oxidation enzymes, mitochondrial dysfunction, and oxidative stress, which may play a role in benzene-induced hematotoxicity.
View Full-Text
►

▼

Figures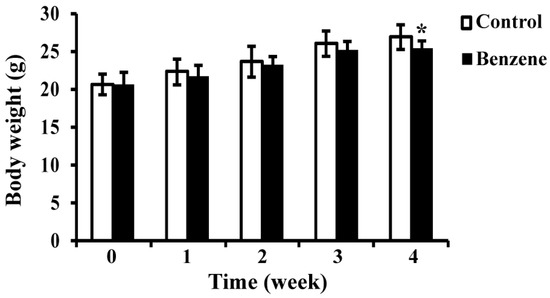 Figure 1
This is an open access article distributed under the
Creative Commons Attribution License
which permits unrestricted use, distribution, and reproduction in any medium, provided the original work is properly cited (CC BY 4.0).

Share & Cite This Article
MDPI and ACS Style
Sun, R.; Cao, M.; Zhang, J.; Yang, W.; Wei, H.; Meng, X.; Yin, L.; Pu, Y. Benzene Exposure Alters Expression of Enzymes Involved in Fatty Acid β-Oxidation in Male C3H/He Mice. Int. J. Environ. Res. Public Health 2016, 13, 1068.
Note that from the first issue of 2016, MDPI journals use article numbers instead of page numbers. See further details here.
Related Articles
Comments
[Return to top]