Elevated Serum Bisphenol A Level in Patients with Dilated Cardiomyopathy
1
Department of Cardiovascular, The Second Affiliated Hospital of Nanchang University, Nanchang 330000, China
2
Department of Pharmacology, College of Medicine, University of Cincinnati, Cincinnati, OH 2301, USA
3
The Key Laboratory of Molecular Medicine, The Second Affiliated Hospital of Nanchang University, Nanchang 330000, China
†
These authors contributed equally to this work.
*
Author to whom correspondence should be addressed.
Academic Editor: Paul B. Tchounwou
Received: 13 April 2015 / Accepted: 8 May 2015 / Published: 19 May 2015
Abstract
background: This study aimed to determine serum Bisphenol A (BPA) concentrations in patients with dilated cardiomyopathy (DCM) as well as the association between serum BPA and several hormonal parameters in DCM patients compared with a healthy control group. Materials and methods: Eighty-eight DCM patients and 88 age- and gender-matched healthy controls were included. Serum BPA levels and several hormonal parameters (including total testosterone (T), sex hormone-binding globulin (SHBG) and estradiol (E2) were measured by using corresponding ELISA Kits. The free androgen index (FAI) was calculated by the formula: total T in nmol/L × 100/SHBG in nmol/L. Results: BPA levels in the total DCM group were significantly higher compared with that in the controls (6.9 ± 2.7 ng/mL
vs.
3.8 ± 1.9 ng/mL,
p
< 0.001). Significant difference was also observed in SHBG and FAI between DCM patients and controls, (76.9 ± 30.9 nM/L
vs.
41.0 ± 15.6 nM/L and 2.9 ± 3.5
vs.
5.3 ± 2.6, respectively, both of
p
< 0.001). Similar trends were observed in the male and female subgroup. Mean T level was lower in DCM group than in control group (540.8 ± 186.0 pg/mL
vs.
656.3 ± 112.9 pg/mL,
p
< 0.001). Linear regression analysis has shown that increasing serum BPA levels were statistically significantly associated with increased SHBG levels. However, no statistical difference was noted for E2. Conclusion: Our findings firstly demonstrated that BPA exposure increased in DCM patients compared with that in healthy controls, while FAI and T levels decreased. SHBG presented a positive association with BPA. It is concluded that hormone disorder induced by BPA exposure might be an environmental factor in the pathology of DCM.
View Full-Text
►

▼

Figures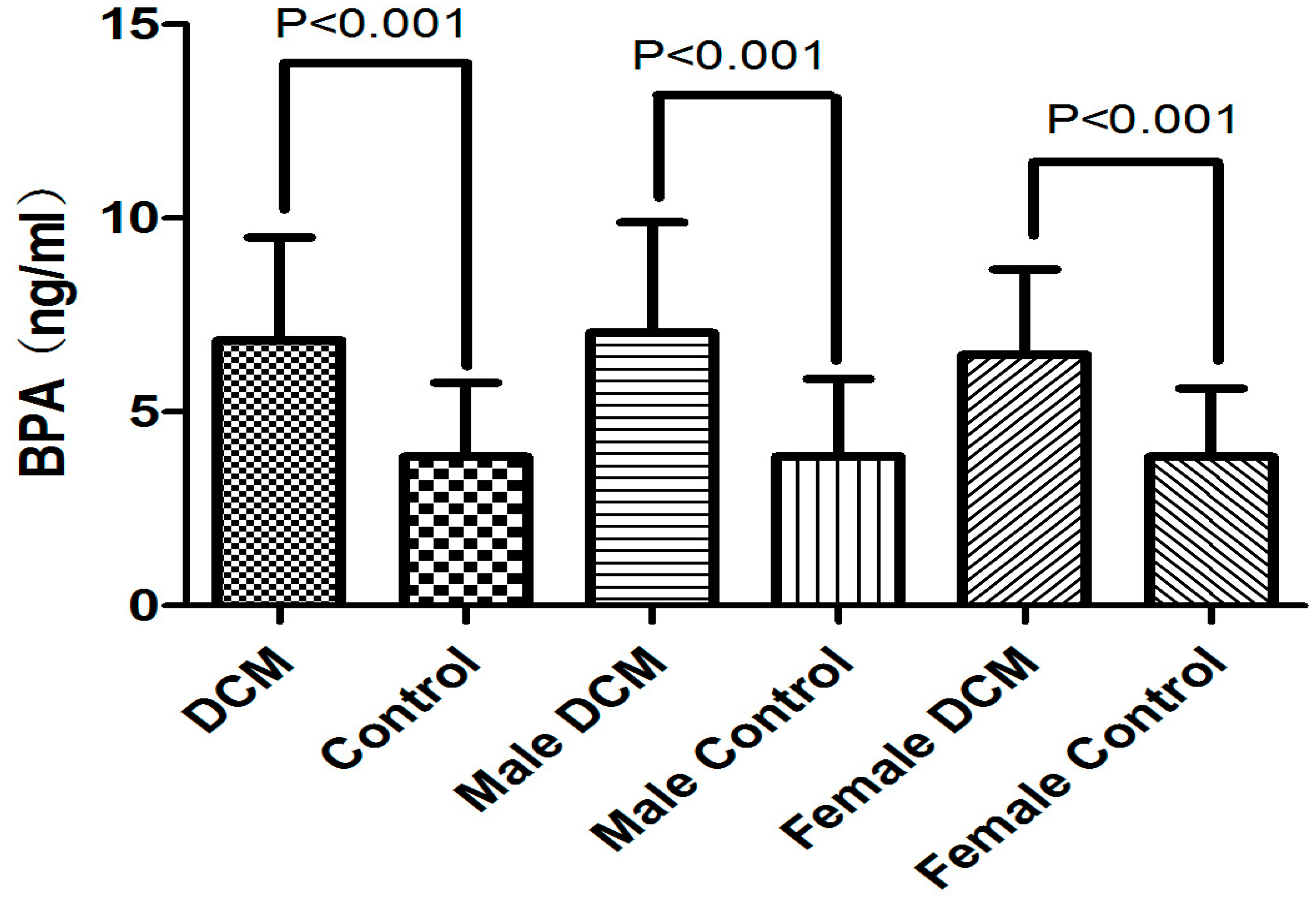 Figure 1
This is an open access article distributed under the
Creative Commons Attribution License
which permits unrestricted use, distribution, and reproduction in any medium, provided the original work is properly cited (CC BY 4.0).

Share & Cite This Article
MDPI and ACS Style
Xiong, Q.; Liu, X.; Shen, Y.; Yu, P.; Chen, S.; Hu, J.; Yu, J.; Li, J.; Wang, H.-S.; Cheng, X.; Hong, K. Elevated Serum Bisphenol A Level in Patients with Dilated Cardiomyopathy. Int. J. Environ. Res. Public Health 2015, 12, 5329-5337.
Related Articles
Comments
[Return to top]