Resistance Markers and Genetic Diversity in
Acinetobacter baumannii

Strains Recovered from Nosocomial Bloodstream Infections

1

Departamento de Microbiologia, Instituto de Ciências Biológicas, Universidade Federal de Minas Gerais, Antônio Carlos 6627, Pampulha 31207-901, Belo Horizonte, Minas Gerais, Brazil

2

Departamento de Parasitologia e Biologia, Universidade CEUMA, José Montello 1, 31067-120, São Luis do Maranhão, Brazil

3

Departamento de Clínica Médica, Faculdade de Medicina, Universidade Federal de Minas Gerais, Professor Alfredo Balena 190, Santa Efigênia 30130-100, Belo Horizonte, MG, Brazil

*

Author to whom correspondence should be addressed.

Received: 28 October 2013 / Revised: 9 January 2014 / Accepted: 18 January 2014 / Published: 28 January 2014
Abstract
In this study, phenotypic and genotypic methods were used to detect metallo-β-lactamases, cephalosporinases and oxacillinases and to assess genetic diversity among 64 multiresistant
Acinetobacter baumannii
strains recovered from blood cultures in five different hospitals in Brazil from December 2008 to June 2009. High rates of resistance to imipenem (93.75%) and polymyxin B (39.06%) were observed using the disk diffusion (DD) method and by determining the minimum inhibitory concentration (MIC). Using the disk approximation method, thirty-nine strains (60.9%) were phenotypically positive for class D enzymes, and 51 strains (79.6%) were positive for cephalosporinase (AmpC). Using the E-test, 60 strains (93.75%) were positive for metallo-β-lactamases (MβLs). All strains were positive for at least one of the 10 studied genes; 59 (92.1%) contained
bla
VIM-1
, 79.6% contained
bla
AmpC
, 93.7% contained
bla
OXA23
and 84.3% contained
bla
OXA51
. Enterobacteria Repetitive Intergenic Consensus (ERIC)-PCR analysis revealed a predominance of certain clones that differed from each other. However, the same band pattern was observed in samples from the different hospitals studied, demonstrating correlation between the genotypic and phenotypic results. Thus, ERIC-PCR is an appropriate method for rapidly clustering genetically related isolates. These results suggest that defined clonal clusters are circulating within the studied hospitals. These results also show that the prevalence of MDR
A. baumannii
may vary among clones disseminated in specific hospitals, and they emphasize the importance of adhering to appropriate infection control measures.
View Full-Text
►

▼

Figures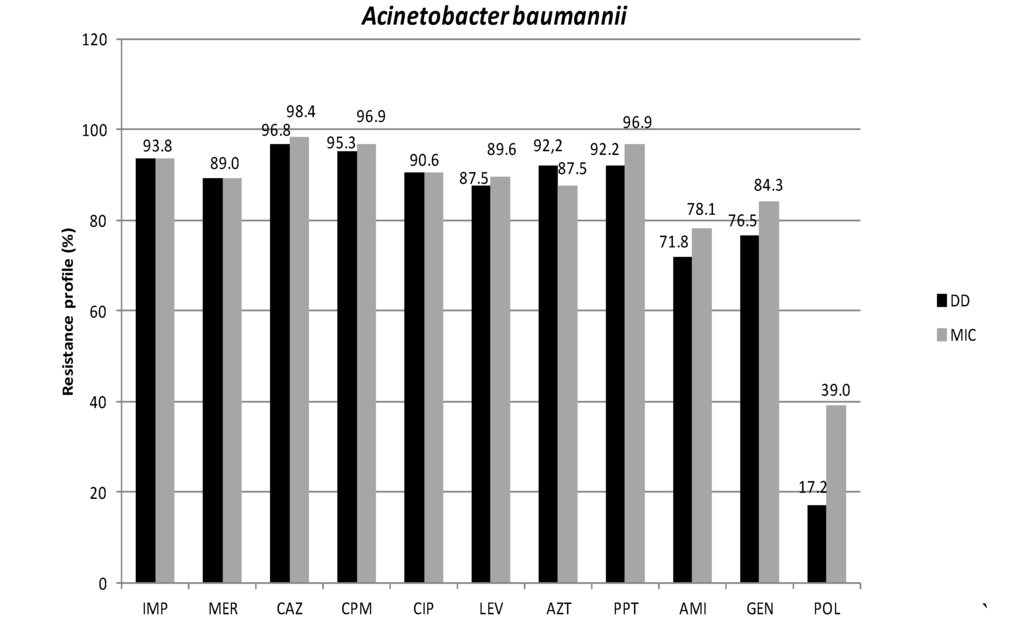 Figure 1

Share & Cite This Article
MDPI and ACS Style
Martins, H.S.I.; Bomfim, M.R.Q.; França, R.O.; Farias, L.M.; Carvalho, M.A.R.; Serufo, J.C.; Santos, S.G. Resistance Markers and Genetic Diversity in Acinetobacter baumannii Strains Recovered from Nosocomial Bloodstream Infections. Int. J. Environ. Res. Public Health 2014, 11, 1465-1478.
Related Articles
Comments
[Return to top]