Identification of a 4-Deoxy-l-erythro-5-hexoseulose Uronic Acid Reductase, FlRed, in an Alginolytic Bacterium
Flavobacterium

sp. Strain UMI-01

Laboratory of Marine Biotechnology and Microbiology, Faculty of Fisheries Sciences, Hokkaido University, Hakodate, Hokkaido 041-8611, Japan

*

Author to whom correspondence should be addressed.

Academic Editor: Alejandro Mayer

Received: 12 November 2014 / Accepted: 4 January 2015 / Published: 16 January 2015
Abstract
In alginate-assimilating bacteria, alginate is depolymerized to unsaturated monosaccharide by the actions of endolytic and exolytic alginate lyases (EC 4.2.2.3 and EC 4.2.2.11). The monosaccharide is non-enzymatically converted to 4-deoxy-l-ery thro-5-hexoseulose uronic acid (DEH), then reduced to 2-keto-3-deoxy-d-gluconate (KDG) by a specific reductase, and metabolized through the Entner–Doudoroff pathway. Recently, the NADPH-dependent reductase A1-R that belongs to short-chain dehydrogenases/reductases (SDR) superfamily was identified as the DEH-reductase in
Sphingomonas
sp. A1. We have subsequently noticed that an SDR-like enzyme gene,
flred
, occurred in the genome of an alginolytic bacterium
Flavobacterium
sp. strain UMI-01. In the present study, we report on the deduced amino-acid sequence of
flred
and DEH-reducing activity of recombinant FlRed. The deduced amino-acid sequence of
flred
comprised 254 residues and showed 34% amino-acid identities to that of A1-R from
Sphingomonas
sp. A1 and 80%–88% to those of SDR-like enzymes from several alginolytic bacteria. Common sequence motifs of SDR-superfamily enzymes, e.g., the catalytic tetrad Asn-Lys-Tyr-Ser and the cofactor-binding sequence Thr-Gly-x-x-x-Gly-x-Gly in Rossmann fold, were completely conserved in FlRed. On the other hand, an Arg residue that determined the NADPH-specificity of
Sphingomonas
A1-R was replaced by Glu in FlRed. Thus, we investigated cofactor-preference of FlRed using a recombinant enzyme. As a result, the recombinant FlRed (recFlRed) was found to show high specificity to NADH. recFlRed exhibited practically no activity toward variety of aldehyde, ketone, keto ester, keto acid and aldose substrates except for DEH. On the basis of these results, we conclude that FlRed is the NADH-dependent DEH-specific SDR of
Flavobacterium
sp. strain UMI-01.
View Full-Text
►

▼

Figures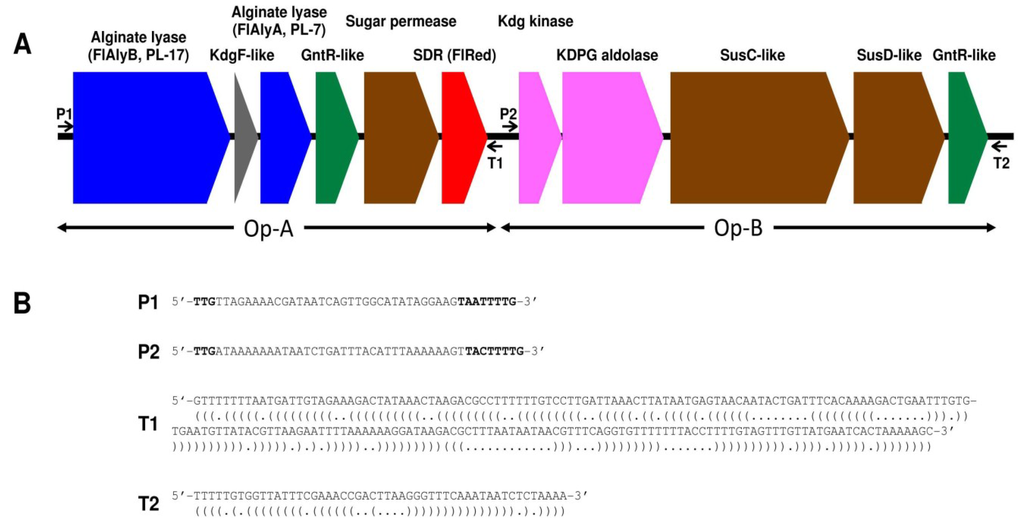 Figure 1
This is an open access article distributed under the
Creative Commons Attribution License
which permits unrestricted use, distribution, and reproduction in any medium, provided the original work is properly cited (CC BY 4.0).

Share & Cite This Article
MDPI and ACS Style
Inoue, A.; Nishiyama, R.; Mochizuki, S.; Ojima, T. Identification of a 4-Deoxy-l-erythro-5-hexoseulose Uronic Acid Reductase, FlRed, in an Alginolytic Bacterium Flavobacterium sp. Strain UMI-01. Mar. Drugs 2015, 13, 493-508.
Related Articles
Comments
[Return to top]