Toxic C17-Sphinganine Analogue Mycotoxin, Contaminating Tunisian Mussels, Causes Flaccid Paralysis in Rodents
1
Laboratory of Food Toxins, Pasteur Institute of Tunis, University of Tunis Manar, 13 Place Pasteur, Post-Office Box 74, Tunis-Belvédère 1002, Tunisia
2
Neurobiology and Development Laboratory, Research Unit 3294, National Center for Scientific Research, Research Center of Gif-sur-Yvette 3115, Institute of Neurobiology Alfred Fessard 2118, Gif sur Yvette Cedex 91198, France
3
Natural Product Chemistry Institute, National Center for Scientific Research, Research Center of Gif-sur-Yvette 3115, Gif sur Yvette Cedex 91198, France
4
Analysis Service, Biotechnology Center of Sfax, Post-Office Box K, Sfax 3038, Tunisia
*
Author to whom correspondence should be addressed.
Received: 3 September 2013 / Revised: 6 October 2013 / Accepted: 17 October 2013 / Published: 28 November 2013
Abstract
Severe toxicity was detected in mussels from Bizerte Lagoon (Northern Tunisia) using routine mouse bioassays for detecting diarrheic and paralytic toxins not associated to classical phytoplankton blooming. The atypical toxicity was characterized by rapid mouse death. The aim of the present work was to understand the basis of such toxicity. Bioassay-guided chromatographic separation and mass spectrometry were used to detect and characterize the fraction responsible for mussels' toxicity. Only a C17-sphinganine analog mycotoxin (C17-SAMT), with a molecular mass of 287.289 Da, was found in contaminated shellfish. The doses of C17-SAMT that were lethal to 50% of mice were 750 and 150 μg/kg following intraperitoneal
and intracerebroventricular
injections, respectively, and 900 μg/kg following oral administration. The macroscopic general aspect of cultures and the morphological characteristics of the strains isolated from mussels revealed that the toxicity episodes were associated to the presence of marine microfungi (
Fusarium
sp.,
Aspergillus
sp. and
Trichoderma
sp.) in contaminated samples. The major
in vivo
effect of C17-SAMT on the mouse neuromuscular system was a dose- and time-dependent decrease of compound muscle action potential amplitude and an increased excitability threshold.
In vitro
, C17-SAMT caused a dose- and time-dependent block of directly- and indirectly-elicited isometric contraction of isolated mouse hemidiaphragms.
View Full-Text
►

▼

Figures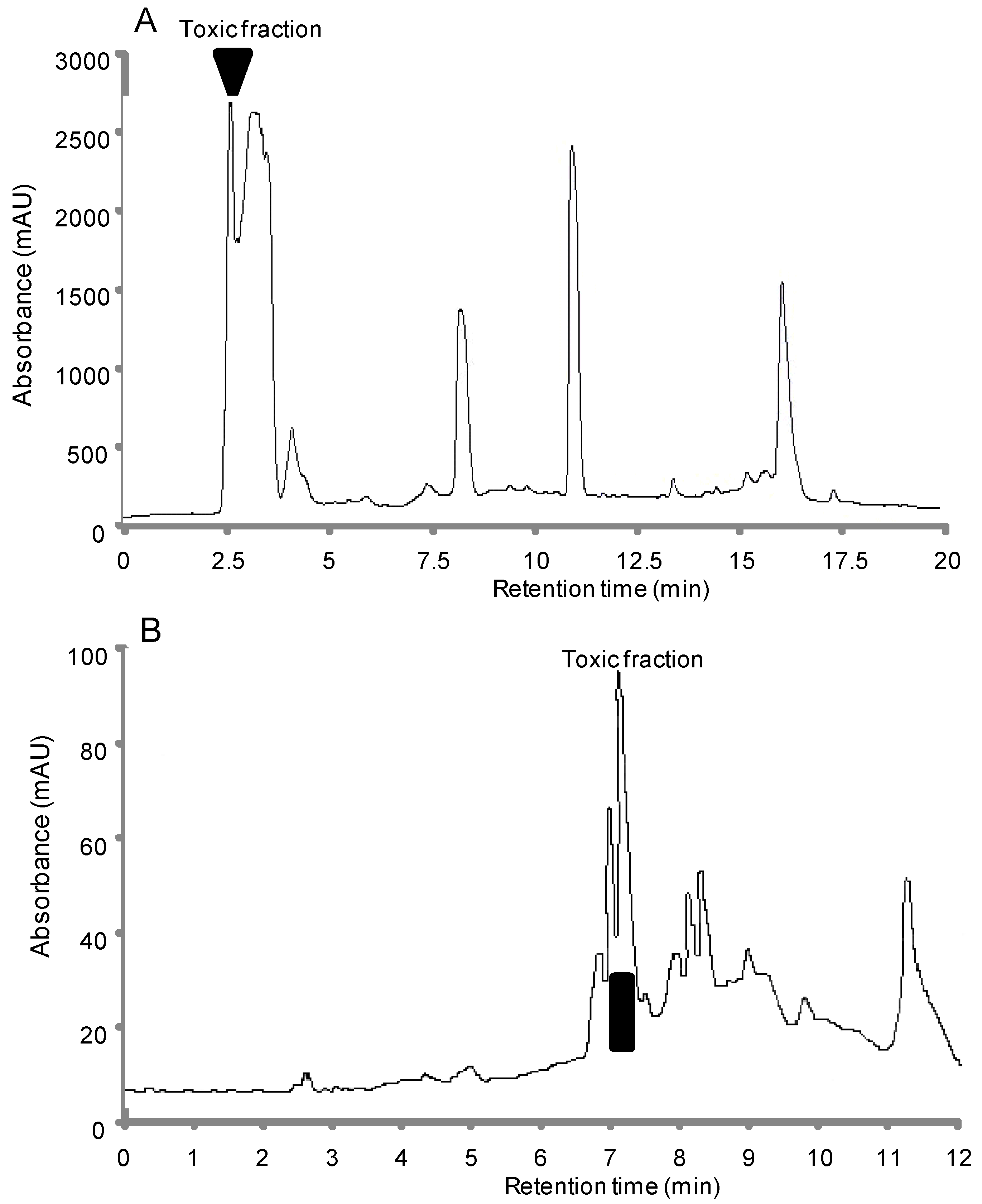 Figure 1

Share & Cite This Article
MDPI and ACS Style
Marrouchi, R.; Benoit, E.; Le Caer, J.-P.; Belayouni, N.; Belghith, H.; Molgó, J.; Kharrat, R. Toxic C17-Sphinganine Analogue Mycotoxin, Contaminating Tunisian Mussels, Causes Flaccid Paralysis in Rodents. Mar. Drugs 2013, 11, 4724-4740.
Related Articles
Comments
[Return to top]