The Spin–Spin Coupling Constants in Ethane, Methanol and Methylamine: A Comparison of DFT, MCSCF and CCSD Results
1
Department of Chemistry, University of Warsaw, Pasteura 1, 02-093 Warsaw, Poland
2
Department of Chemistry, University of Oslo, Box 1033, Blindern, N-0315 Oslo, Norway
*
Author to whom correspondence should be addressed.
Received: 12 September 2002 / Accepted: 10 December 2002 / Published: 25 February 2003
Abstract
The spin–spin coupling constants in ethane, methylamine, and methanol have been calculated using density-functional theory (DFT), coupled-cluster singlesand-doubles (CCSD) theory, and multiconfigurational self-consistent field (MCSCF) theory so as to benchmark the performance of DFT against high-level
ab initio
methods and experimental data. For each molecule, the Karplus curve has been evaluated at the three computational levels. The comparisons with
ab initio
methods indicate that DFT reproduces the
1
J(CH),
1
J(CC), and
1
J(NH) one-bond couplings well but is less accurate for
1
J(CN),
1
J(OH), and
1
J(CO). While DFT performs well for the geminal couplings
2
J(HH) and
2
J(CH), it tends to overestimate the vicinal
3
J(HH) couplings slightly although it is sufficiently accurate for most purposes.
View Full-Text
►

▼

Figures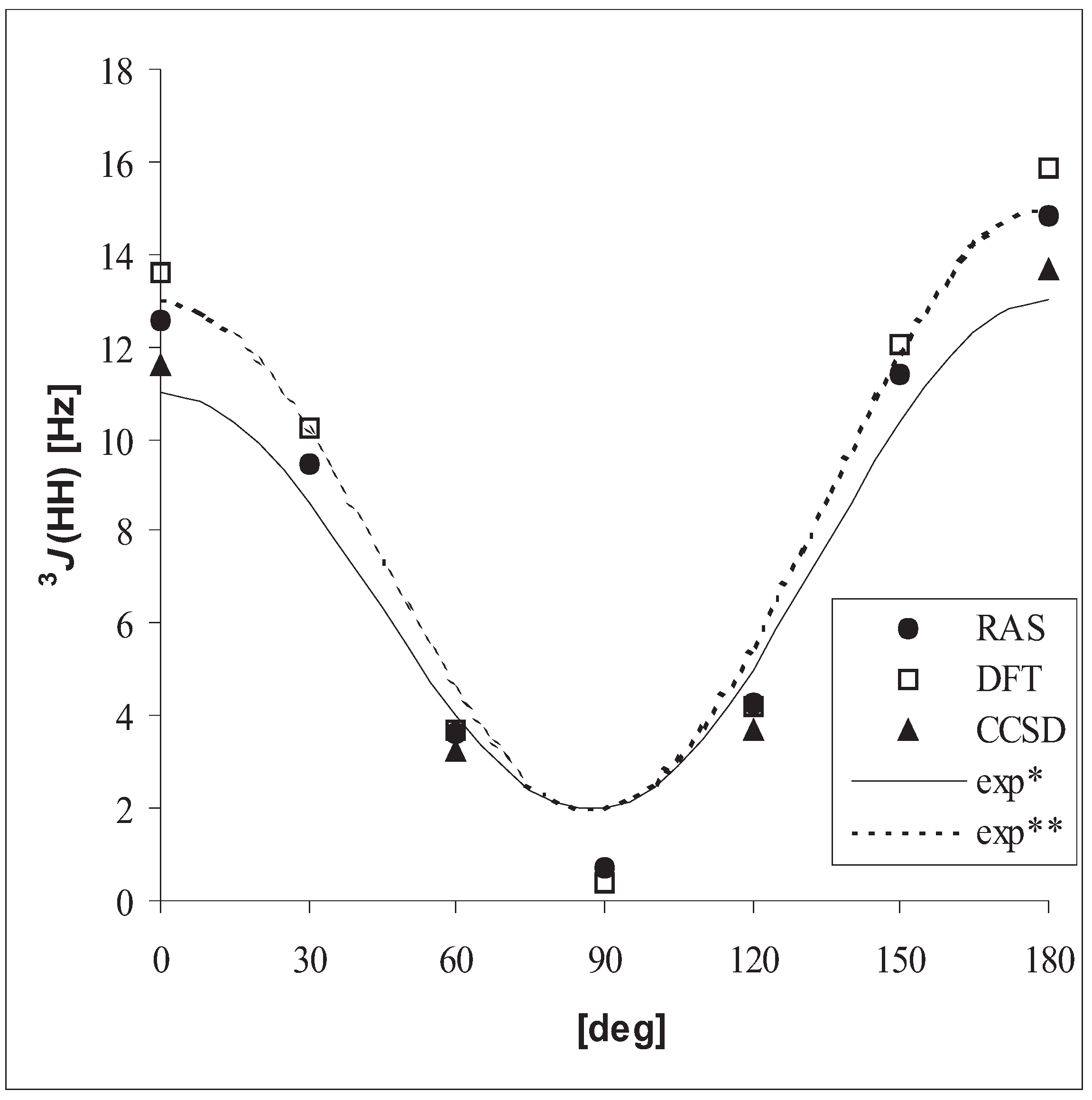 Figure 1

Share & Cite This Article
MDPI and ACS Style
Pecul, M.; Helgaker, T. The Spin–Spin Coupling Constants in Ethane, Methanol and Methylamine: A Comparison of DFT, MCSCF and CCSD Results. Int. J. Mol. Sci. 2003, 4, 143-157.
Related Articles
Comments
[Return to top]