Integrated Lipidomics and Metabolomics Analysis of Tears in Multiple Sclerosis: An Insight into Diagnostic Potential of Lacrimal Fluid
1
Department of Pharmacy, University ''G. d'Annunzio'' of Chieti-Pescara, 66100 Chieti, Italy
2
Analytical Biochemistry and Proteomics Laboratory, Centre on Aging Sciences and Translational Medicine (Ce.S.I-MeT), University ''G. d'Annunzio'' of Chieti-Pescara, 66100 Chieti, Italy
3
Department of Medical, Oral and Biotechnological Sciences, University ''G. d'Annunzio'' of Chieti-Pescara, 66100 Chieti, Italy
4
Opthalmic Clinic, Department of Medicine and Aging Science, "G. d'Annunzio" University of Chieti-Pescara, 66100 Chieti, Italy
5
Unit of Neurology Ss Annunziata Hospital, 66100 Chieti, Italy
6
Department of Neuroscience, Imaging and Clinical Sciences, "G. d'Annunzio" University of Chieti-Pescara, 66100 Chieti, Italy
*
Author to whom correspondence should be addressed.
Received: 28 January 2019 / Revised: 7 March 2019 / Accepted: 8 March 2019 / Published: 13 March 2019
Abstract
Metabolomics based on mass spectrometry represents an innovative approach to characterize multifactorial diseases, such as multiple sclerosis (MuS). To date, the most important biomarker source for MuS diagnosis is the cerebrospinal fluid. However, an important goal for research is to identify new molecules in more easily accessible biological fluids. A very interesting biofluid in MuS is represented by tears, considered as an intermediate fluid between the cerebrospinal fluid and serum. In this work, we developed a merged strategy for the analysis of lipids containing choline by Liquid Chromatography coupled to Tandem Mass Spectrometry (LC-MS/MS), as well as for the targeted analysis of free carnitine, acylcarnitines and aminoacids by direct infusion mass spectrometry. Samples for both metabolomics and lipidomics approaches were obtained in a single extraction procedure from tears of patients affected by MuS and healthy controls. Tear lipidomics showed 30 phospholipids significantly modulated and, notably, many sphingomyelins resulted lower in MuS. Moreover, the metabolomics approach carried out both on tears and serum highlighted the diagnostic potential of specific aminoacids and acylcarnitines. In conclusion, the metabolic profiling of tears appears to reflect the pathological conditions of the central nervous system, suggesting that the molecular repository of tears can be considered as a source of potential biomarkers for MuS.
View Full-Text
►

▼

Figures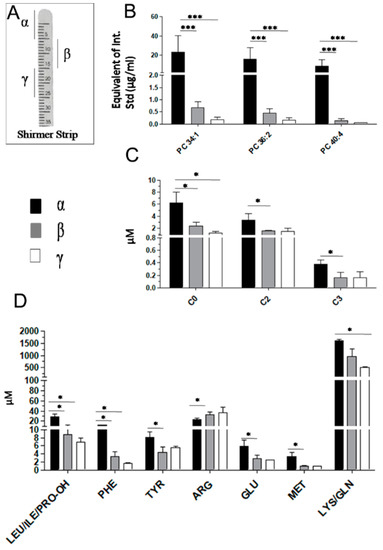 Figure 1
This is an open access article distributed under the
Creative Commons Attribution License
which permits unrestricted use, distribution, and reproduction in any medium, provided the original work is properly cited (CC BY 4.0).

Share & Cite This Article
MDPI and ACS Style
Cicalini, I.; Rossi, C.; Pieragostino, D.; Agnifili, L.; Mastropasqua, L.; di Ioia, M.; De Luca, G.; Onofrj, M.; Federici, L.; Del Boccio, P. Integrated Lipidomics and Metabolomics Analysis of Tears in Multiple Sclerosis: An Insight into Diagnostic Potential of Lacrimal Fluid. Int. J. Mol. Sci. 2019, 20, 1265.
Note that from the first issue of 2016, MDPI journals use article numbers instead of page numbers. See further details here.
Related Articles
Comments
[Return to top]