Ethyl Acetate Extract of
Scindapsus

cf.

hederaceus

Exerts the Inhibitory Bioactivity on Human Non-Small Cell Lung Cancer Cells through Modulating ER Stress

1

Graduate Institute of Natural Products, Kaohsiung Medical University, Kaohsiung 807, Taiwan

2

Department of Biotechnology, Kaohsiung Medical University, Kaohsiung 807, Taiwan

3

Department of Biomedical Science and Environmental Biology, Kaohsiung Medical University, Kaohsiung 807, Taiwan

4

Division of General and Digestive Surgery, Department of Surgery, Kaohsiung Medical University Hospital, Kaohsiung 807, Taiwan

5

Department of Surgery, School of Medicine, College of Medicine, Kaohsiung Medical University, Kaohsiung 807, Taiwan

6

Center for Infectious Disease and Cancer Research, Kaohsiung Medical University, Kaohsiung 807, Taiwan

7

Department of Medical Research, Kaohsiung Medical University Hospital, Kaohsiung 807, Taiwan

8

Research Center for Environment Medicine, Kaohsiung Medical University, Kaohsiung 807, Taiwan

9

Center for Stem Cell Department of Biological Sciences, National Sun Yat-sen University, Kaohsiung 804, Taiwan

10

Translational Research Center, Cancer Center and Department of Medical Research, Kaohsiung Medical University Hospital, Kaohsiung 807, Taiwan

11

The Graduate Institute of Medicine, Kaohsiung Medical University, Kaohsiung 807, Taiwan

*

Authors to whom correspondence should be addressed.

Received: 29 May 2018 / Accepted: 13 June 2018 / Published: 21 June 2018
Abstract
Unfolded protein response (UPR) is a cytoprotective mechanism that alleviates the protein-folding burden in eukaryotic organisms. Moderate activation of UPR is required for maintaining endoplasmic reticulum (ER) homeostasis and profoundly contributes to tumorigenesis. Defects in UPR signaling are implicated in the attenuation of various malignant phenotypes including cell proliferation, migration, and invasion, as well as angiogenesis. This suggests UPR as a promising target in cancer therapy. The pharmacological effects of the plant
Scindapsus
cf.
hederaceus
on human cancer cell lines is not understood. In this study, we identified an ethyl acetate extract from
Scindapsus
cf.
hederaceus
(SH-EAE), which markedly altered the protein expression of UPR-related genes in human non-small cell lung cancer (NSCLC) cells. Treatment with the SH-EAE led to the dose-dependent suppression of colony forming ability of both H1299 and H460 cells, but not markedly in normal bronchial epithelial BEAS-2B cells. SH-EAE treatment also attenuated the migration and invasion ability of H1299 and H460 cells. Moreover, SH-EAE strikingly suppressed the protein expression of two ER stress sensors, including inositol requiring enzyme-1α (IRE-1α) and protein kinase R-like ER kinase (PERK), and antagonized the induction of C/EBP homologous protein (CHOP) expression by thapsigargin, an ER stress inducer. SH-EAE induced the formation of massive vacuoles which are probably derived from ER. Importantly, SH-EAE impaired the formation of intersegmental vessels (ISV) in zebrafish larvae, an index of angiogenesis, but had no apparent effect on the rate of larval development. Together, our findings demonstrate, for the first time, that the ability of SH-EAE specifically targets the two sensors of UPR, with significant anti-proliferation and anti-migration activities as a crude extract in human NSCLC cells. Our finding also indicates potential applications of SH-EAE in preventing UPR activation in response to Tg-induced ER stress. We suggest that SH-EAE attenuates UPR adaptive pathways for rendering the NSCLC cells intolerant to ER stress.
View Full-Text
►

▼

Figures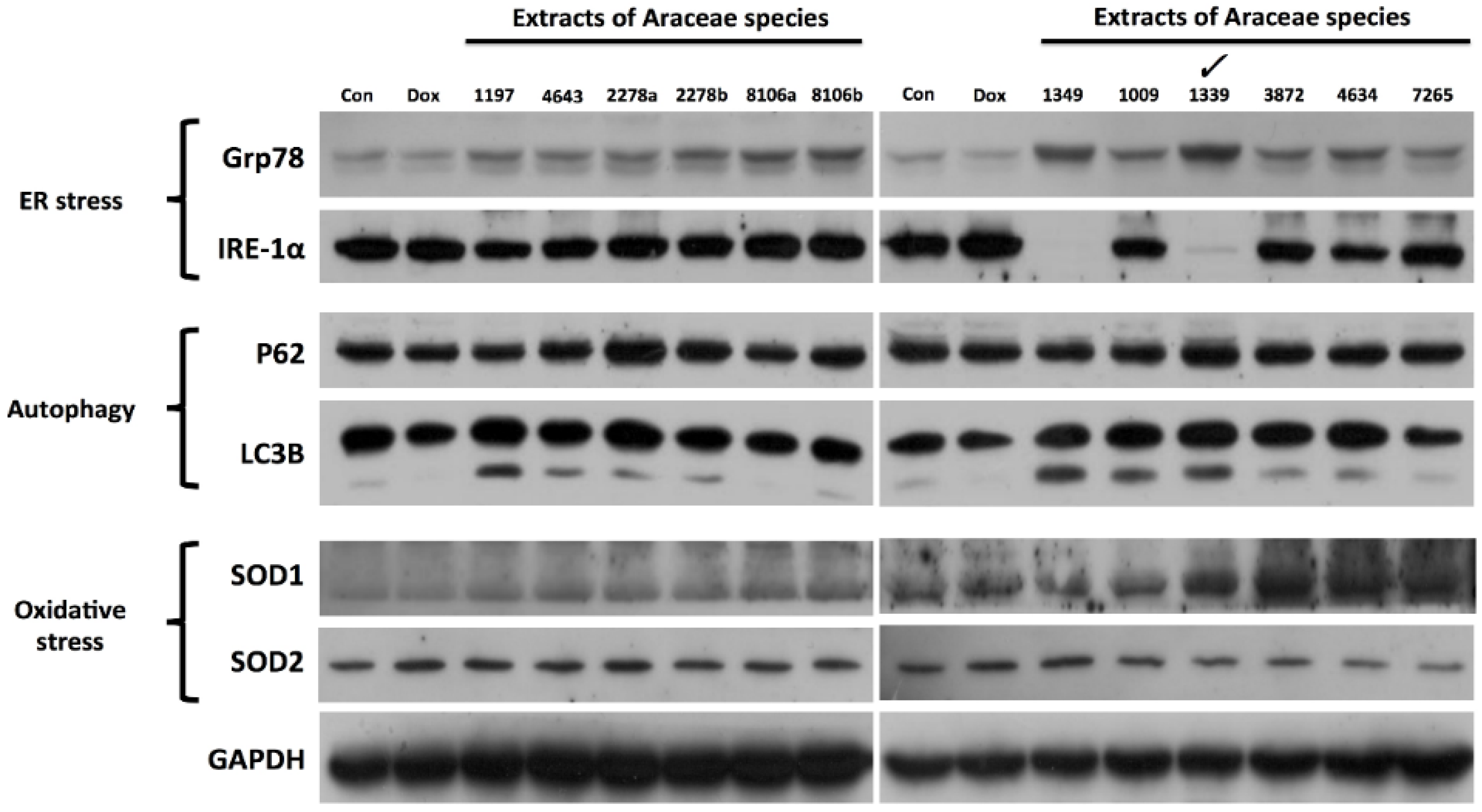 Figure 1
This is an open access article distributed under the
Creative Commons Attribution License
which permits unrestricted use, distribution, and reproduction in any medium, provided the original work is properly cited (CC BY 4.0).

Share & Cite This Article
MDPI and ACS Style
Chou, C.-K.; Liu, W.; Hong, Y.-J.; Dahms, H.-U.; Chiu, C.-H.; Chang, W.-T.; Chien, C.-M.; Yen, C.-H.; Cheng, Y.-B.; Chiu, C.-C. Ethyl Acetate Extract of Scindapsus cf. hederaceus Exerts the Inhibitory Bioactivity on Human Non-Small Cell Lung Cancer Cells through Modulating ER Stress. Int. J. Mol. Sci. 2018, 19, 1832.
Note that from the first issue of 2016, MDPI journals use article numbers instead of page numbers. See further details here.
Related Articles
Comments
[Return to top]