Genome-Wide Identification and Characterization of Tyrosine Kinases in the Silkworm,
Bombyx mori
State Key Laboratory of Silkworm Genome Biology, Key Laboratory of Sericultural Biology and Genetic Breeding, Ministry of Agriculture, Southwest University, Chongqing 400715, China
*
Author to whom correspondence should be addressed.
Received: 7 March 2018 / Revised: 16 March 2018 / Accepted: 20 March 2018 / Published: 21 March 2018
Abstract
The tyrosine kinases (TKs) are important parts of metazoan signaling pathways and play significant roles in cell growth, development, apoptosis and disease. Genome-wide characterization of TKs has been conducted in many metazoans, however, systematic information about this family in Lepidoptera is still lacking. We retrieved 33 TK-encoding genes in silkworm and classified them into 25 subfamilies by sequence analysis, without members in AXL, FRK, PDGFR, STYK1 and TIE subfamilies. Although domain sequences in each subfamily are conserved, TKs in vertebrates tend to be remarkably conserved and stable. Our results of phylogenetic analysis supported the previous conclusion for the second major expansion of TK family. Gene-Ontology (GO) analysis revealed that a higher proportion of
Bm
TKs played roles in binding, catalysis, signal transduction, metabolism, biological regulation and response to stimulus, compared to all silkworm genes annotated in GO. Moreover, the expression profile analysis of
BmTKs
among multiple tissues and developmental stages demonstrated that many genes exhibited stage-specific and/or sex-related expression during embryogenesis, molting and metamorphosis, and that 8
BmTK
s presented tissue-specific high expression. Our study provides systematic description of silkworm tyrosine kinases, and may also provide further insights into metazoan TKs and assist future studies addressing their functions.
View Full-Text
►

▼

Figures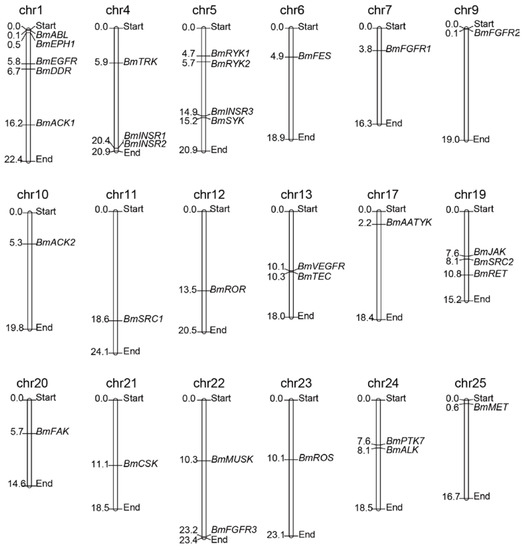 Figure 1
This is an open access article distributed under the
Creative Commons Attribution License
which permits unrestricted use, distribution, and reproduction in any medium, provided the original work is properly cited (CC BY 4.0).

Share & Cite This Article
MDPI and ACS Style
He, S.; Tong, X.; Han, M.; Bai, Y.; Dai, F. Genome-Wide Identification and Characterization of Tyrosine Kinases in the Silkworm, Bombyx mori. Int. J. Mol. Sci. 2018, 19, 934.
Note that from the first issue of 2016, MDPI journals use article numbers instead of page numbers. See further details here.
Related Articles
Comments
[Return to top]