Systemic Inflammation, Oxidative Damage to Nucleic Acids, and Metabolic Syndrome in the Pathogenesis of Psoriasis
1
Department of Pathological Physiology, Charles University, Faculty of Medicine in Hradec Kralove, 500 03 Hradec Kralove, Czech Republic
2
Department of Clinical Immunology and Allergology, Charles University, Faculty of Medicine in Hradec Kralove, 500 03 Hradec Kralove, Czech Republic
3
Clinic of Dermal and Venereal Diseases, Charles University Hospital Hradec Kralove, 500 05 Hradec Kralove, Czech Republic
4
Institute of Clinical Biochemistry and Diagnostics, Charles University Hospital and Faculty of Medicine in Hradec Kralove, 500 05 Hradec Kralove, Czech Republic
5
Department of Transfusion Medicine, Charles University Hospital in Hradec Kralove, 500 05 Hradec Kralove, Czech Republic
6
Department of Hygiene and Preventive Medicine, Charles University, Faculty of Medicine in Hradec Kralove, 500 03 Hradec Kralove, Czech Republic
*
Author to whom correspondence should be addressed.
Received: 28 September 2017 / Revised: 22 October 2017 / Accepted: 22 October 2017 / Published: 25 October 2017
(This article belongs to the Special Issue
Psoriasis
)
Abstract
In the pathogenesis of psoriasis, systemic inflammation and oxidative stress play mutual roles interrelated with metabolic syndrome (MetS). This study aims to map the selected markers of inflammation (C-reactive protein (CRP)), oxidative damage to nucleic acids (DNA/RNA damage; 8-hydroxy-2′-deoxyguanosine, 8-hydroxyguanosine, and 8-hydroxyguanine), and the parameters of MetS (waist circumference, fasting glucose, triglycerides, high-density lipoprotein (HDL) cholesterol, diastolic and systolic blood pressure) in a group of 37 patients with psoriasis (62% of MetS) and in 43 healthy controls (42% of MetS). Levels of CRP, DNA/RNA damage, fasting glucose, and triglycerides were significantly elevated in patients. MetS in conjunction with psoriasis was associated with high levels of CRP, significantly higher than in control subjects without MetS. Patients with MetS exhibited further DNA/RNA damage, which was significantly higher in comparison with the control group. Our study supports the independent role of psoriasis and MetS in the increase of CRP and DNA/RNA damage. The psoriasis contributes to an increase in the levels of both effects more significantly than MetS. The psoriasis also diminished the relationship between CRP and oxidative damage to nucleic acids existent in controls.
View Full-Text
►

▼

Figures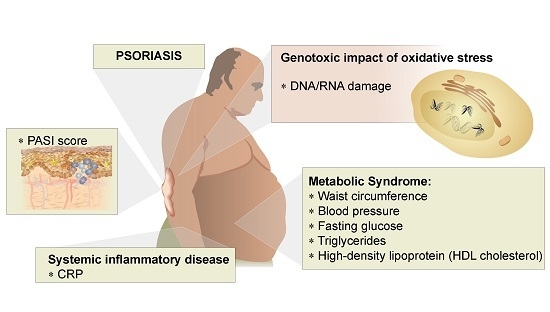 Graphical abstract
This is an open access article distributed under the
Creative Commons Attribution License
which permits unrestricted use, distribution, and reproduction in any medium, provided the original work is properly cited (CC BY 4.0).

Share & Cite This Article
MDPI and ACS Style
Borska, L.; Kremlacek, J.; Andrys, C.; Krejsek, J.; Hamakova, K.; Borsky, P.; Palicka, V.; Rehacek, V.; Malkova, A.; Fiala, Z. Systemic Inflammation, Oxidative Damage to Nucleic Acids, and Metabolic Syndrome in the Pathogenesis of Psoriasis. Int. J. Mol. Sci. 2017, 18, 2238.
Note that from the first issue of 2016, MDPI journals use article numbers instead of page numbers. See further details here.
Related Articles
Comments
[Return to top]