Glucose-6-Phosphate Dehydrogenase: Update and Analysis of New Mutations around the World
1
Laboratorio de Bioquímica Genética, Instituto Nacional de Pediatría, Secretaría de Salud 04530, Mexico
2
Consejo Nacional de Ciencia y Tecnología (CONACYT), Instituto Nacional de Pediatría, Secretaría de Salud 04530, Mexico
3
Laboratorio de Neurociencias, Instituto Nacional de Pediatría, Secretaría de Salud 04530, Mexico
4
Consejo Nacional de Ciencia y Tecnología (CONACYT), Laboratorio de Bioingeniería, Universidad de Colima, Colima 28400, Mexico
5
Laboratorio de Nutrición Experimental, Instituto Nacional de Pediatría, Secretaría de Salud 04530, Mexico
6
Departamento de Biología Molecular y Biotecnología, Instituto de Investigaciones Biomédicas, Universidad Nacional Autónoma de México, Mexico City 04510, Mexico
7
Laboratorio de Inmunoquímica, Hospital Infantil de México Federico Gómez, Mexico City 06720, Mexico
8
Colegio de Ciencias y Humanidades, Plantel Casa Libertad, Universidad Autónoma de la Ciudad de México, Mexico City 09620, Mexico
9
Departamento de Química de Biomacromoléculas, Instituto de Química, Universidad Nacional Autónoma de México, Circuito Exterior s/n, Ciudad Universitaria, Mexico City 04510, Mexico
*
Authors to whom correspondence should be addressed.
Academic Editor: Christo Z. Christov
Received: 5 November 2016 / Revised: 3 December 2016 / Accepted: 5 December 2016 / Published: 9 December 2016
Abstract
Glucose-6-phosphate dehydrogenase (G6PD) is a key regulatory enzyme in the pentose phosphate pathway which produces nicotinamide adenine dinucleotide phosphate (NADPH) to maintain an adequate reducing environment in the cells and is especially important in red blood cells (RBC). Given its central role in the regulation of redox state, it is understandable that mutations in the gene encoding G6PD can cause deficiency of the protein activity leading to clinical manifestations such as neonatal jaundice and acute hemolytic anemia. Recently, an extensive review has been published about variants in the
g6pd
gene; recognizing 186 mutations. In this work, we review the state of the art in G6PD deficiency, describing 217 mutations in the
g6pd
gene; we also compile information about 31 new mutations, 16 that were not recognized and 15 more that have recently been reported. In order to get a better picture of the effects of new described mutations in
g6pd
gene, we locate the point mutations in the solved three-dimensional structure of the human G6PD protein. We found that class I mutations have the most deleterious effects on the structure and stability of the protein.
View Full-Text
►

▼

Figures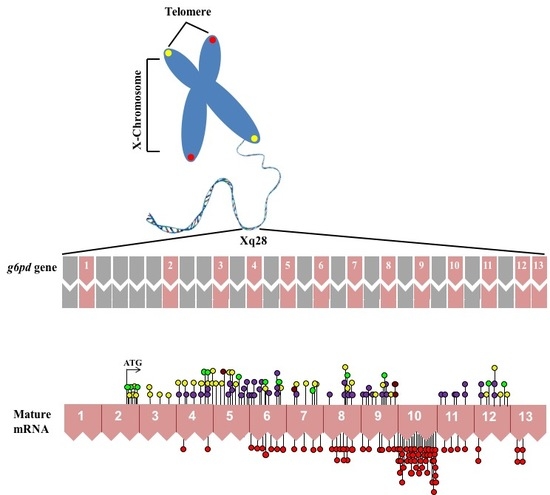 Graphical abstract
This is an open access article distributed under the
Creative Commons Attribution License
which permits unrestricted use, distribution, and reproduction in any medium, provided the original work is properly cited (CC BY 4.0).

Share & Cite This Article
MDPI and ACS Style
Gómez-Manzo, S.; Marcial-Quino, J.; Vanoye-Carlo, A.; Serrano-Posada, H.; Ortega-Cuellar, D.; González-Valdez, A.; Castillo-Rodríguez, R.A.; Hernández-Ochoa, B.; Sierra-Palacios, E.; Rodríguez-Bustamante, E.; Arreguin-Espinosa, R. Glucose-6-Phosphate Dehydrogenase: Update and Analysis of New Mutations around the World. Int. J. Mol. Sci. 2016, 17, 2069.
Note that from the first issue of 2016, MDPI journals use article numbers instead of page numbers. See further details here.
Related Articles
Comments
[Return to top]