Cisplatin Targeting of Bacterial Ribosomal RNA Hairpins
Department of Chemistry, Wayne State University, Detroit, MI 48202, USA
*
Author to whom correspondence should be addressed.
Academic Editor: Eric C. Long
Received: 30 July 2015 / Revised: 26 August 2015 / Accepted: 29 August 2015 / Published: 7 September 2015
Abstract
Cisplatin is a clinically important chemotherapeutic agent known to target purine bases in nucleic acids. In addition to major deoxyribonucleic acid (DNA) intrastrand cross-links, cisplatin also forms stable adducts with many types of ribonucleic acid (RNA) including siRNA, spliceosomal RNAs, tRNA, and rRNA. All of these RNAs play vital roles in the cell, such as catalysis of protein synthesis by rRNA, and therefore serve as potential drug targets. This work focused on platination of two highly conserved RNA hairpins from E. coli ribosomes, namely pseudouridine-modified helix 69 from 23S rRNA and the 790 loop of helix 24 from 16S rRNA. RNase T1 probing, MALDI mass spectrometry, and dimethyl sulfate mapping revealed platination at GpG sites. Chemical probing results also showed platination-induced RNA structural changes. These findings reveal solvent and structural accessibility of sites within bacterial RNA secondary structures that are functionally significant and therefore viable targets for cisplatin as well as other classes of small molecules. Identifying target preferences at the nucleotide level, as well as determining cisplatin-induced RNA conformational changes, is important for the design of more potent drug molecules. Furthermore, the knowledge gained through studies of RNA-targeting by cisplatin is applicable to a broad range of organisms from bacteria to human.
View Full-Text
►

▼

Figures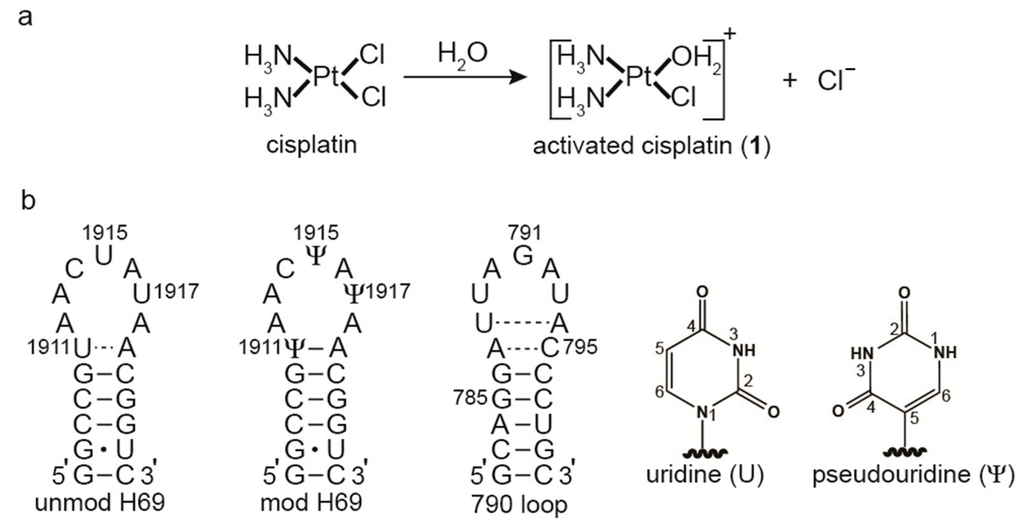 Figure 1
This is an open access article distributed under the
Creative Commons Attribution License
which permits unrestricted use, distribution, and reproduction in any medium, provided the original work is properly cited (CC BY 4.0).

Share & Cite This Article
MDPI and ACS Style
Dedduwa-Mudalige, G.N.P.; Chow, C.S. Cisplatin Targeting of Bacterial Ribosomal RNA Hairpins. Int. J. Mol. Sci. 2015, 16, 21392-21409.
Related Articles
Comments
[Return to top]