BMP3 Alone and Together with TGF-β Promote the Differentiation of Human Mesenchymal Stem Cells into a Nucleus Pulposus-Like Phenotype
Department of Orthopedic Surgery, 2nd Affiliated Hospital, School of Medicine, Zhejiang University, 88 Jiefang Road, 310009 Hangzhou, China
*
Author to whom correspondence should be addressed.
Academic Editor: Wilhelm Bloch
Received: 26 July 2015 / Revised: 15 August 2015 / Accepted: 21 August 2015 / Published: 27 August 2015
Abstract
Human mesenchymal stem cells (MSCs) have the potential to differentiate into nucleus pulposus (NP)-like cells under specific stimulatory conditions. Thus far, the effects of bone morphogenetic protein 3 (BMP3) and the cocktail effects of BMP3 and transforming growth factor (TGF)-β on MSC proliferation and differentiation remain obscure. Therefore, this study was designed to clarify these unknowns. MSCs were cultured with various gradients of BMP3 and BMP3/TGF-β, and compared with cultures in basal and TGF-β media. Cell proliferation, glycosaminoglycan (GAG) content, gene expression, and signaling proteins were measured to assess the effects of BMP3 and BMP3/TGF-β on MSCs. Cell number and GAG content increased upon the addition of BMP3 in a dose-dependent manner. The expression of
COL2A1
,
ACAN
,
SOX9
, and
KRT19
increased following induction with BMP3 and TGF-β, in contrast to that of
COL1A1
,
ALP
,
OPN
, and
COMP
. Smad3 phosphorylation was upregulated by BMP3 and TGF-β, but BMP3 did not affect the phosphorylation of extracellular-signal regulated kinase (ERK) 1/2 or c-Jun N-terminal kinase (JNK). Our results reveal that BMP3 enhances MSC proliferation and differentiation into NP-like cells, as indicated by increased cell numbers and specific gene expressions, and may also cooperate with TGF-β induced positive effects. These actions are likely related to the activation of TGF-β signaling pathway.
View Full-Text
►

▼

Figures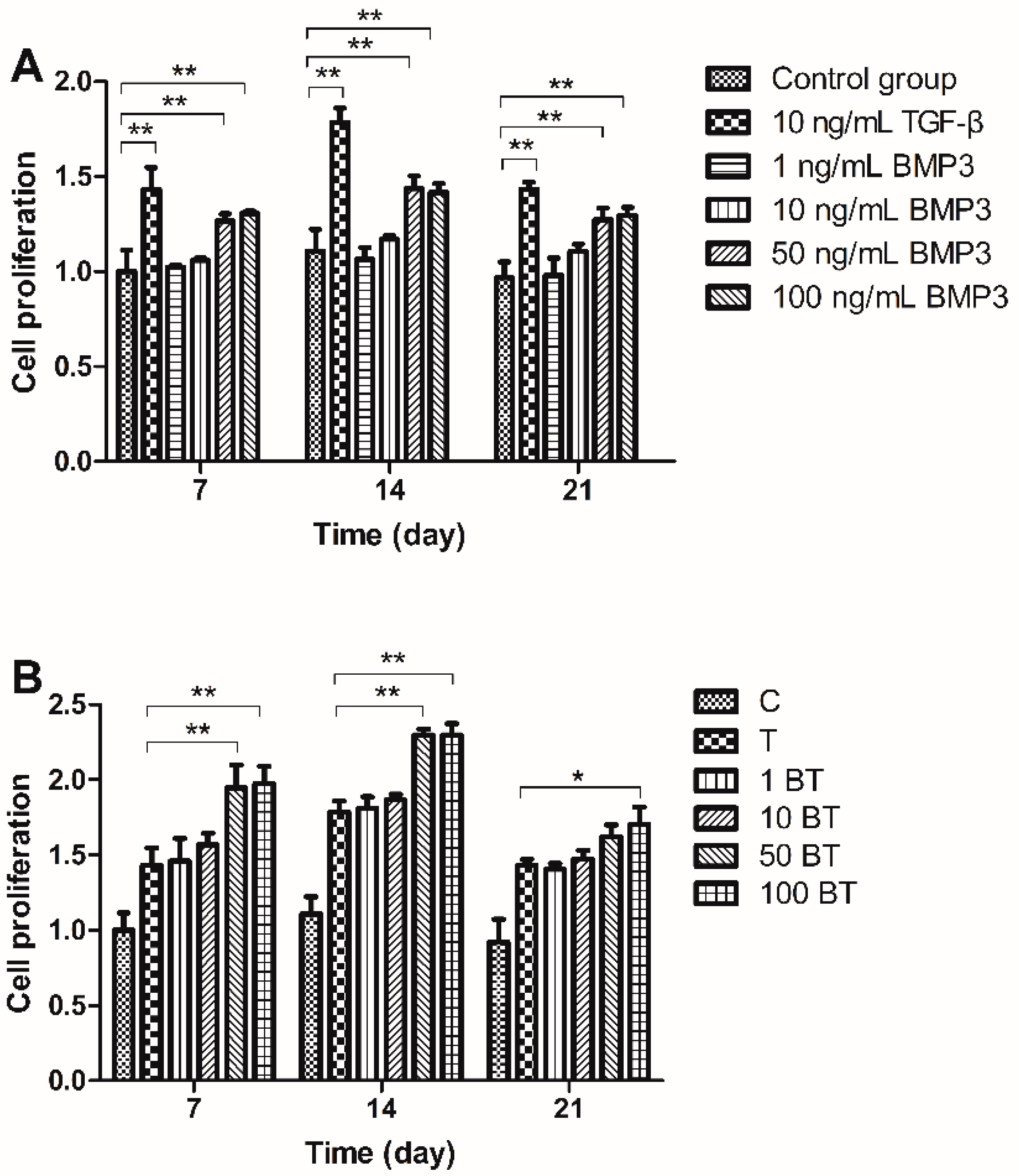 Figure 1
This is an open access article distributed under the
Creative Commons Attribution License
which permits unrestricted use, distribution, and reproduction in any medium, provided the original work is properly cited (CC BY 4.0).

Share & Cite This Article
MDPI and ACS Style
Zhou, X.; Tao, Y.; Liang, C.; Zhang, Y.; Li, H.; Chen, Q. BMP3 Alone and Together with TGF-β Promote the Differentiation of Human Mesenchymal Stem Cells into a Nucleus Pulposus-Like Phenotype. Int. J. Mol. Sci. 2015, 16, 20344-20359.
Related Articles
Comments
[Return to top]