A Soluble Pyrophosphatase Is Essential to Oogenesis and Is Required for Polyphosphate Metabolism in the Red Flour Beetle (
Tribolium castaneum

)

1

Laboratory of Integrated Biochemistry—Hatisaburo Masuda, Universidade Federal do Rio de Janeiro, Núcleo em Ecologia e Desenvolvimento Sócio Ambiental de Macaé, Avenida São José do Barreto, 764, São José do Barreto, Macaé, RJ CEP 27965-045, Brazil

2

Nacional Institute of Science and Technology—Molecular Entomology, Rio de Janeiro, RJ CEP 21941-590, Brazil

3

Laboratory of Chemistry and Function of Proteins and Peptides and Unity of Animal Experimentation, Biotecnology and Bioscience Center, Universidade Estadual do Norte Fluminense, Avenida Alberto Lamego, 2000, Horto, Campos dos Goytacazes, RJ CEP 28015-620, Brazil

*

Author to whom correspondence should be addressed.

†

These authors contributed equally to this work.

Academic Editor: Hefeng Huang

Received: 8 January 2015 / Revised: 13 February 2015 / Accepted: 9 March 2015 / Published: 24 March 2015
Abstract
Polyphosphates have been found in all cell types examined to date and play diverse roles depending on the cell type. In eukaryotic organisms, polyphosphates have been mainly investigated in mammalian cells with few studies on insects. Some studies have demonstrated that a pyrophosphatase regulates polyphosphate metabolism, and most of them were performed on trypanosomatids. Here, we investigated the effects of
sPPase
gene knocked down in oogenesis and polyphosphate metabolism in the red flour beetle (
Tribolium castaneum
)
.
A single
sPPase
gene was identified in insect genome and is maternally provided at the mRNA level and not restricted to any embryonic or extraembryonic region during embryogenesis. After injection of
Tc-sPPase
dsRNA, female survival was reduced to 15% of the control (dsNeo RNA), and egg laying was completely impaired. The morphological analysis by nuclear DAPI staining of the ovarioles in
Tc-sPPase
dsRNA-injected females showed that the ovariole number is diminished, degenerated oocytes can be observed, and germarium is reduced. The polyphosphate level was increased in cytoplasmic and nuclear fractions in
Tc-sPPase
RNAi; Concomitantly, the exopolyphosphatase activity decreased in both fractions. Altogether, these data suggest a role for
sPPase
in the regulation on polyphosphate metabolism in insects and provide evidence that
Tc-sPPase
is essential to oogenesis.
View Full-Text
►

▼

Figures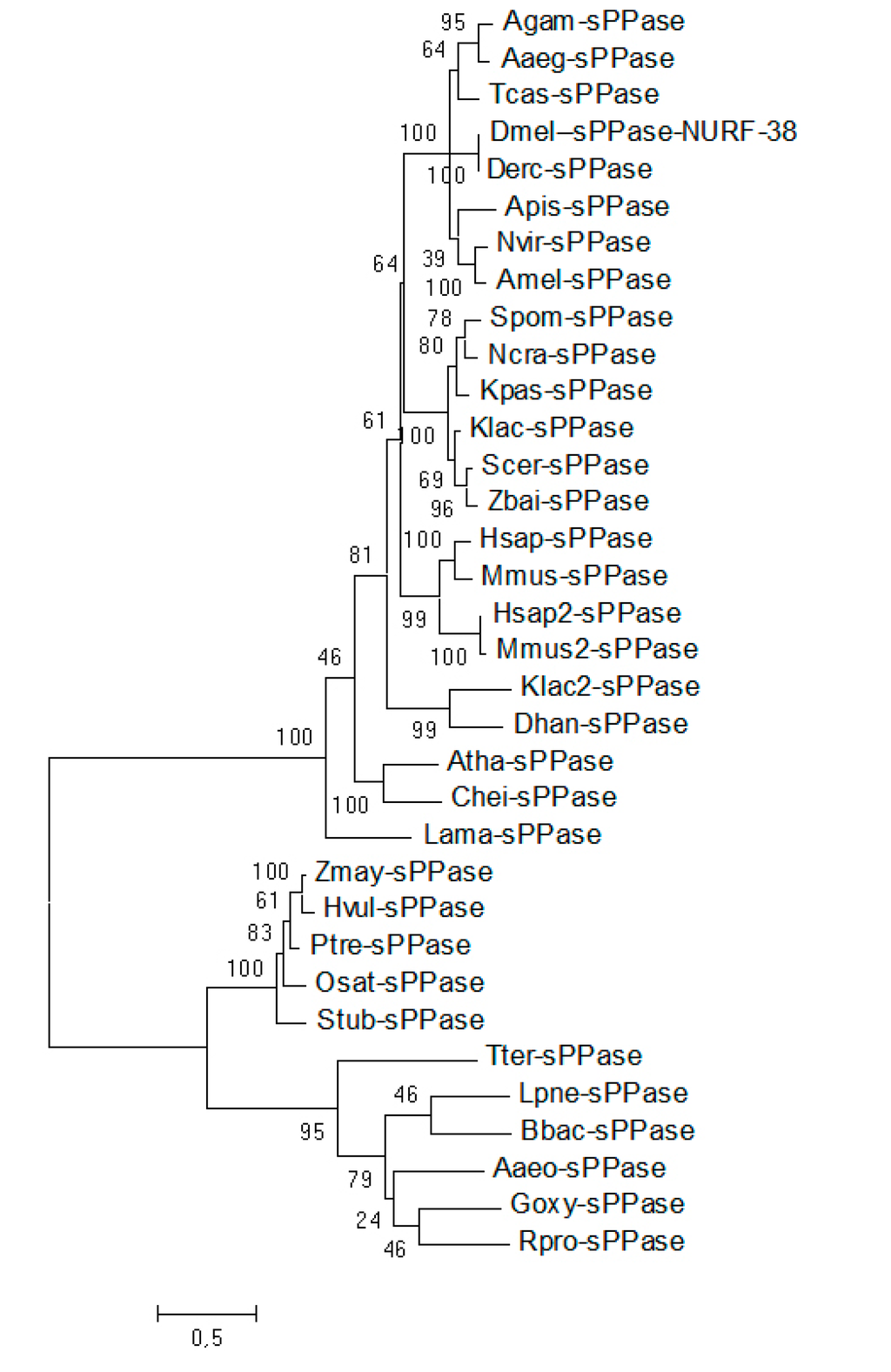 Figure 1
This is an open access article distributed under the
Creative Commons Attribution License
which permits unrestricted use, distribution, and reproduction in any medium, provided the original work is properly cited (CC BY 4.0).

Share & Cite This Article
MDPI and ACS Style
Carvalho, K.; Ribeiro, L.; Moraes, J.; Da Silva, J.R.; Costa, E.P.; Souza-Menezes, J.; Logullo, C.; Da Fonseca, R.N.; Campos, E. A Soluble Pyrophosphatase Is Essential to Oogenesis and Is Required for Polyphosphate Metabolism in the Red Flour Beetle (Tribolium castaneum). Int. J. Mol. Sci. 2015, 16, 6631-6644.
Related Articles
Comments
[Return to top]