Exploring Prostate Cancer Genome Reveals Simultaneous Losses of
PTEN

,

FAS

and

PAPSS2

in Patients with PSA Recurrence after Radical Prostatectomy

1

Prostate Center, Department of Urology, University Hospital Muenster, Albert-Schweitzer-Campus 1, Gebaeude 1A, Muenster D-48149, Germany

2

Center for Laboratory Medicine, University Hospital Muenster, Albert-Schweitzer-Campus 1, Gebaeude 1A, Muenster D-48149, Germany

3

Interdisciplinary Center for Clinical Research, University of Muenster, Albert-Schweitzer-Campus 1, Gebaeude D3, Domagkstrasse 3, Muenster D-48149, Germany

4

Pathology, Lippe Hospital Detmold, Röntgenstrasse 18, Detmold D-32756, Germany

5

Institute of Pathology, Mathias-Spital-Rheine, Frankenburg Street 31, Rheine D-48431, Germany

6

Institute of Pathology, Klinikum Osnabrueck, Am Finkenhuegel 1, Osnabrueck D-49076, Germany

7

Institute of Pathology, Saarbrücken-Rastpfuhl, Rheinstrasse 2, Saarbrücken D-66113, Germany

8

Department of Pathology, Erasmus Medical Center, 's-Gravendijkwal 230, 3015-CE Rotterdam, The Netherlands

9

Department of Urology, Erasmus Medical Center, 's-Gravendijkwal 230, 3015-CE Rotterdam, The Netherlands

10

Institute for Clinical Chemistry, University Clinic Schleswig-Holsteins, Arnold-Heller-Strasse 3, Haus 17, Kiel D-24105, Germany

*

Author to whom correspondence should be addressed.

Academic Editor: William Cho

Received: 18 December 2014 / Accepted: 5 February 2015 / Published: 11 February 2015
Abstract
The multifocal nature of prostate cancer (PCa) creates a challenge to patients' outcome prediction and their clinical management. An approach that scrutinizes every cancer focus is needed in order to generate a comprehensive evaluation of the disease, and by correlating to patients' clinico-pathological information, specific prognostic biomarker can be identified. Our study utilized the Affymetrix SNP 6.0 Genome-wide assay to investigate forty-three fresh frozen PCa tissue foci from twenty-three patients. With a long clinical follow-up period that ranged from 2.0–9.7 (mean 5.4) years, copy number variation (CNV) data was evaluated for association with patients' PSA status during follow-up. From our results, the loss of unique genes on 10q23.31 and 10q23.2–10q23.31 were identified to be significantly associated to PSA recurrence (
p
< 0.05). The implication of PTEN and FAS loss (10q23.31) support previous reports due to their critical roles in prostate carcinogenesis. Furthermore, we hypothesize that the PAPSS2 gene (10q23.2–10q23.31) may be functionally relevant in post-operative PSA recurrence because of its reported role in androgen biosynthesis. It is suggestive that the loss of the susceptible region on chromosome 10q, which implicates PTEN, FAS and PAPSS2 may serve as genetic predictors of PSA recurrence after radical prostatectomy.
View Full-Text
►

▼

Figures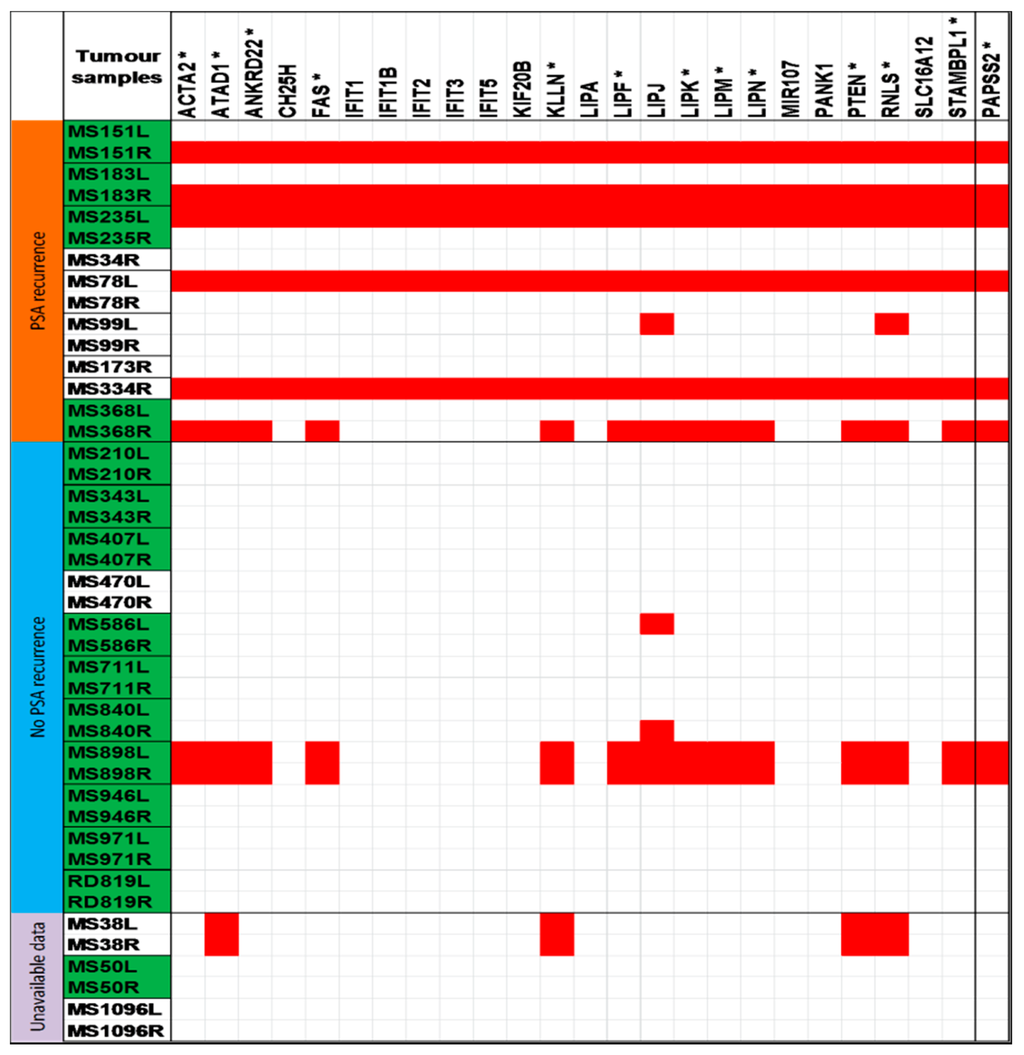 Figure 1
This is an open access article distributed under the
Creative Commons Attribution License
which permits unrestricted use, distribution, and reproduction in any medium, provided the original work is properly cited (CC BY 4.0).

Share & Cite This Article
MDPI and ACS Style
Ibeawuchi, C.; Schmidt, H.; Voss, R.; Titze, U.; Abbas, M.; Neumann, J.; Eltze, E.; Hoogland, A.M.; Jenster, G.; Brandt, B.; Semjonow, A. Exploring Prostate Cancer Genome Reveals Simultaneous Losses of PTEN, FAS and PAPSS2 in Patients with PSA Recurrence after Radical Prostatectomy. Int. J. Mol. Sci. 2015, 16, 3856-3869.
Related Articles
Comments
[Return to top]