Chirality Emergence in Thin Solid Films of Amino Acids by Polarized Light from Synchrotron Radiation and Free Electron Laser
1
NTT Microsystem Integration Laboratories / 3-1, Morinosato-Wakamiya, Atsugi, 243-0198 Japan
2
Yokohama National University / 79-5, Tokiwadai, Hodogaya-ku, Yokohama, 240-8501 Japan
3
Fukuoka Institute of Technology / 3-30-1, Wajiro-Higashi, Higashi-ku, Fukuoka, 811-0295 Japan
4
UVSOR / 38, Nishigou-Naka, Myodaiji, Okazaki, 444-8585 Japan
5
Nagoya University / Furou-cho, Chigusa-ku, Nagoya, 464-8601 Japan
*
Author to whom correspondence should be addressed.
Received: 6 May 2009 / Revised: 30 June 2009 / Accepted: 30 June 2009 / Published: 7 July 2009
Abstract
One of the most attractive hypothesis for the origin of homochirality in terrestrial bioorganic compounds is that a kind of "chiral impulse" as an asymmetric excitation source induced asymmetric reactions on the surfaces of such materials such as meteorites or interstellar dusts prior to the existence of terrestrial life (Cosmic Scenario). To experimentally introduce chiral structure into racemic films of amino acids (alanine, phenylalanine, isovaline, etc.), we irradiated them with linearly polarized light (LPL) from synchrotron radiation and circularly polarized light (CPL) from a free electron laser. After the irradiation, we evaluated optical anisotropy by measuring the circular dichroism (CD) spectra and verified that new Cotton peaks appeared at almost the same peak position as those of the corresponding non-racemic amino acid films. With LPL irradiation, two-dimensional anisotropic structure expressed as linear dichroism and/or linear birefringence was introduced into the racemic films. With CPL irradiation, the signs of the Cotton peaks exhibit symmetrical structure corresponding to the direction of CPL rotation. This indicates that some kinds of chiral structure were introduced into the racemic film. The CD spectra after CPL irradiation suggest the chiral structure should be derived from not only preferential photolysis but also from photolysis-induced molecular structural change. These results suggest that circularly polarized light sources in space could be associated with the origin of terrestrial homochirality; that is, they would be effective asymmetric exciting sources introducing chiral structures into bio-organic molecules or complex organic compounds.
View Full-Text
►

▼

Figures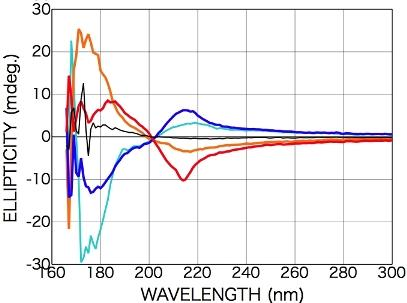 Graphical abstract

Share & Cite This Article
MDPI and ACS Style
Takahashi, J.-I.; Shinojima, H.; Seyama, M.; Ueno, Y.; Kaneko, T.; Kobayashi, K.; Mita, H.; Adachi, M.; Hosaka, M.; Katoh, M. Chirality Emergence in Thin Solid Films of Amino Acids by Polarized Light from Synchrotron Radiation and Free Electron Laser. Int. J. Mol. Sci. 2009, 10, 3044-3064.
Related Articles
Comments
[Return to top]