Complexing Methylene Blue with Phosphorus Dendrimers to Increase Photodynamic Activity
1
Department of General Biophysics, Faculty of Biology and Environmental Protection, University of Lodz, Pomorska 141/143, 90-236 Lodz, Poland
2
Centre of Molecular and Macromolecular Studies, Polish Academy of Sciences, Sienkiewicza 112, 90-363 Lodz, Poland
3
Laboratoire de Chimie et de Biochimie Pharmacologiques et Toxicologique, Université Paris Descartes, PRES Sorbonne Paris Cité, CNRS UMR 860, 45 Rue Des Saints Pères, 75006 Paris, France
4
Laboratoire de Chimie de Coordination CNRS, 205 Route de Narbonne, 31077 Toulouse CEDEX 4, France
5
Institut National Polytechnique de Toulouse, Université de Toulouse, UPS, 31077 Toulouse CEDEX 4, France
6
Institut für Polymerforschung Dresden e.V., Hohe Strasse 6, 01069 Dresden, Germany
*
Author to whom correspondence should be addressed.
Academic Editor: Derek J. McPhee
Received: 4 January 2017 / Revised: 1 February 2017 / Accepted: 20 February 2017 / Published: 23 February 2017
Abstract
The efficiency of photodynamic therapy is limited mainly due to low selectivity, unfavorable biodistribution of photosensitizers, and long-lasting skin sensitivity to light. However, drug delivery systems based on nanoparticles may overcome the limitations mentioned above. Among others, dendrimers are particularly attractive as carriers, because of their globular architecture and high loading capacity. The goal of the study was to check whether an anionic phosphorus dendrimer is suitable as a carrier of a photosensitizer—methylene blue (MB). As a biological model, basal cell carcinoma cell lines were used. We checked the influence of the MB complexation on its singlet oxygen production ability using a commercial fluorescence probe. Next, cellular uptake, phototoxicity, reactive oxygen species (ROS) generation, and cell death were investigated. The MB-anionic dendrimer complex (MB-1an) was found to generate less singlet oxygen; however, the complex showed higher cellular uptake and phototoxicity against basal cell carcinoma cell lines, which was accompanied with enhanced ROS production. Owing to the obtained results, we conclude that the photodynamic activity of MB complexed with an anionic dendrimer is higher than free MB against basal cell carcinoma cell lines.
View Full-Text
►

▼

Figures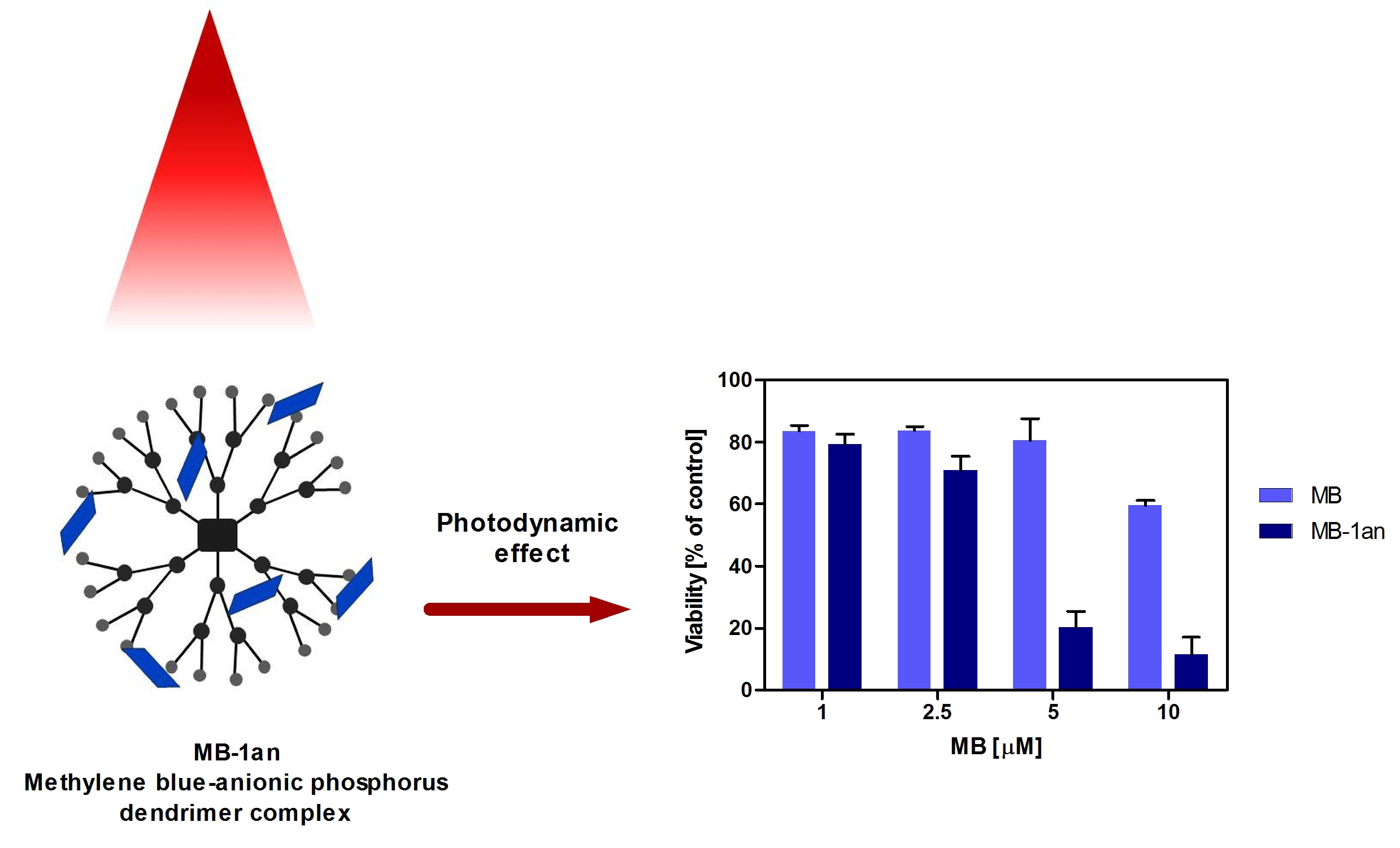 Graphical abstract
This is an open access article distributed under the
Creative Commons Attribution License
which permits unrestricted use, distribution, and reproduction in any medium, provided the original work is properly cited (CC BY 4.0).

Share & Cite This Article
MDPI and ACS Style
Dabrzalska, M.; Janaszewska, A.; Zablocka, M.; Mignani, S.; Majoral, J.P.; Klajnert-Maculewicz, B. Complexing Methylene Blue with Phosphorus Dendrimers to Increase Photodynamic Activity. Molecules 2017, 22, 345.
Note that from the first issue of 2016, MDPI journals use article numbers instead of page numbers. See further details here.
Related Articles
Comments
[Return to top]