Synthesis and Characterization of Novel Cu(II), Pd(II) and Pt(II) Complexes with 8-Ethyl-2-hydroxytricyclo(7.3.1.02,7)tridecan-13-one-thiosemicarbazone: Antimicrobial and
in Vitro

Antiproliferative Activity

1

Inorganic Chemistry Department, Faculty of Pharmacy, University of Medicine and Pharmacy "Carol Davila", 6 Traian Vuia Street, Bucharest 020956, Romania

2

Organic Chemistry Department, Faculty of Chemistry, University of Bucharest, 90-92 Panduri Street, Bucharest 050663, Romania

3

Organic Chemistry Department, Faculty of Pharmacy, University of Medicine and Pharmacy "Carol Davila", 6 Traian Vuia Street, Bucharest 020956, Romania

4

Oncology and Molecular Endocrinology Research Center CHUL, Research Center and Universite Laval, CHUQ-CHUL, 2705 Boulevard Laurier, Quebec City, QC G1V 4G2, Canada

5

Pharmaceutical Chemistry Department, Faculty of Pharmacy, University of Medicine and Pharmacy "Victor Babeş", Timişoara 300041, Romania

6

Functional Sciences Department, Faculty of Medicine, University of Medicine and Pharmacy "Victor Babeş", 2 Eftimie Murgu Square, Timişoara 300041, Romania

7

Coordination Chemistry Department, Moldova State University, 60 Mateevici Street, Chisinau 2009, Moldova

8

Inorganic Chemistry Department, Faculty of Chemistry, University of Bucharest, 23 Dumbrava Rosie Street, Bucharest 020462, Romania

9

Clinic of Urology, Universitary Emergency Central Military Hospital, Clinical Departament 3, University of Medicine and Pharmacy "Carol Davila", 6 Traian Vuia Street, Bucharest 020956, Romania

*

Authors to whom correspondence should be addressed.

Academic Editors: Julio A. Seijas Vázquez and Derek J. McPhee

Received: 21 March 2016 / Revised: 30 April 2016 / Accepted: 16 May 2016 / Published: 21 May 2016

(This article belongs to the Special Issue

ECSOC-19

)
Abstract
New Cu(II), Pd(II) and Pt(II) complexes, (Cu(L)(H
2
O)
2
(OAc)) (
1
), (Cu(HL)(H
2
O)
2
(SO
4
)) (
2
), (Cu(L)(H
2
O)
2
(NO
3
)) (
3
), (Cu(L)(H
2
O)
2
(ClO
4
)) (
4
), (Cu(L)
2
(H
2
O)
2
) (
5
), (Pd(L)(OAc))H
2
O (
6
), and (Pt(L)
2
) (
7
) were synthesized from 8-ethyl-2-hydroxytricyclo(7.3.1.0
2,7
)tridecan-13-one thiosemicarbazone (
HL
). The ligand and its metal complexes were characterized by IR,
1
H-NMR,
13
C-NMR, UV-Vis, FAB, EPR, mass spectroscopy, elemental and thermal analysis, magnetic susceptibility measurements and molar electric conductivity. The free ligand and the metal complexes have been tested for their antimicrobial activity against
E. coli
,
S. enteritidis
,
S. aureus
,
E. faecalis, C. albicans
and cytotoxicity against the NCI-H1573 lung adenocarcinoma, SKBR-3 human breast, MCF-7 human breast, A375 human melanoma and HL-60 human promyelocytic leukemia cell lines. Copper complex
2
exhibited the best antiproliferative activities against MCF-7 human breast cancer cells. A significant inhibition of malignant HL-60 cell growth was observed for copper complex
2
, palladium complex
6
and platinum complex
7
, with IC
50
values of 1.6 µM, 6.5 µM and 6.4 µM, respectively.
View Full-Text
►

▼

Figures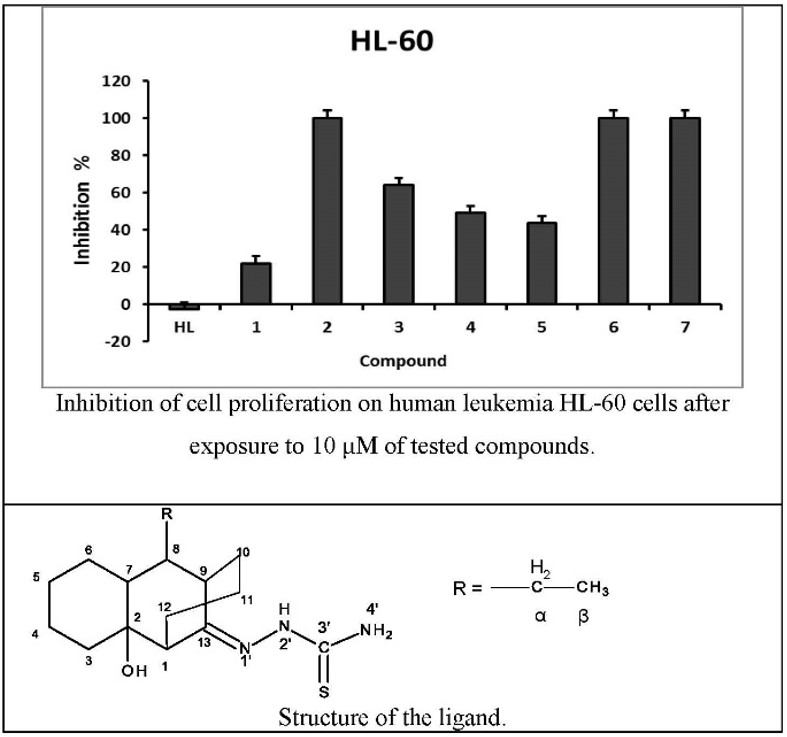 Graphical abstract
This is an open access article distributed under the
Creative Commons Attribution License
which permits unrestricted use, distribution, and reproduction in any medium, provided the original work is properly cited (CC BY 4.0).

Share & Cite This Article
MDPI and ACS Style
Pahonțu, E.; Paraschivescu, C.; Ilieș, D.-C.; Poirier, D.; Oprean, C.; Păunescu, V.; Gulea, A.; Roșu, T.; Bratu, O. Synthesis and Characterization of Novel Cu(II), Pd(II) and Pt(II) Complexes with 8-Ethyl-2-hydroxytricyclo(7.3.1.02,7)tridecan-13-one-thiosemicarbazone: Antimicrobial and in Vitro Antiproliferative Activity. Molecules 2016, 21, 674.
Note that from the first issue of 2016, MDPI journals use article numbers instead of page numbers. See further details here.
Related Articles
Comments
[Return to top]