Solanum nigrum

Protects against Hepatic Fibrosis via Suppression of Hyperglycemia in High-Fat/Ethanol Diet-Induced Rats

1

Division of Hematology and Oncology, Department of Internal Medicine, Taipei Medicine University Hospital, Taipei 11031, Taiwan

2

Department of Internal Medicine, School of Medicine, College of Medicine, Taipei Medical University, Taipei 11031, Taiwan

3

Department of Obstetrics and Gynecology, School of Medicine, College of Medicine, Taipei Medical University, Taipei 11031, Taiwan

4

Taiwan Indigena Botanica Co., Ltd., Taipei 11458, Taiwan

5

Graduate Institute of Medical Sciences, Taipei Medical University, Taipei 11031, Taiwan

6

Department of Obstetrics and Gynecology, Taipei Medical University Hospital, Taipei 11031, Taiwan

7

Department of Chinese Medicine, Taipei Medical University Hospital, Taipei 11031, Taiwan

8

Traditional Herbal Medicine Research Center, Taipei Medical University Hospital, Taipei 11031, Taiwan

*

Authors to whom correspondence should be addressed.

†

These authors contributed equally to this work.

Academic Editor: Derek J. McPhee

Received: 19 December 2015 / Revised: 17 February 2016 / Accepted: 19 February 2016 / Published: 25 February 2016
Abstract
Background: Advanced glycation end products (AGEs) signal through the receptor for AGE (RAGE), which can lead to hepatic fibrosis in hyperglycemia and hyperlipidemia. We investigated the inhibitory effect of aqueous extracts from
Solanum nigrum
(AESN) on AGEs-induced RAGE signaling and activation of hepatic stellate cells (HSCs) and hyperglycemia induced by high-fat diet with ethanol. Methods: An animal model was used to evaluate the anti-hepatic fibrosis activity of AESN in rats fed a high-fat diet (HFD; 30%) with ethanol (10%). Male Wistar rats (4 weeks of age) were randomly divided into four groups (
n
= 6): (1) control (basal diet); (2) HFD (30%) + ethanol (10%) (HFD/ethanol); (3) HFD/ethanol + AESN (100 mg/kg, oral administration); and (4) HFD/ethanol + pioglitazone (10 mg/kg, oral administration) and treated with HFD for 6 months in the presence or absence of 10% ethanol in dietary water. Results: We found that AESN improved insulin resistance and hyperinsulinemia, and downregulated lipogenesis via regulation of the peroxisome proliferator-activated receptor α (PPARα), PPARγ co-activator (PGC-1α), carbohydrate response element-binding protein (ChREBP), acetyl-CoA carboxylase (ACC), and fatty acid synthase (FAS) mRNA levels in the liver of HFD/ethanol-treated rats. In turn, AESN may delay and inhibit the progression of hepatic fibrosis, including α-smooth muscle actin (α-SMA) inhibition and MMP-2 production. Conclusions: These results suggest that AESN may be further explored as a novel anti-fibrotic strategy for the prevention of liver disease.
View Full-Text
►

▼

Figures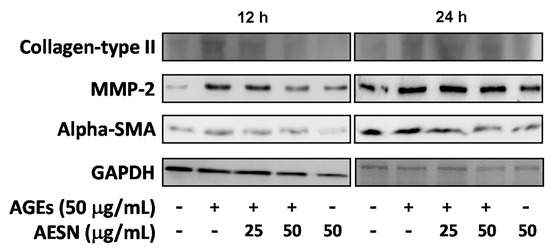 Figure 1
This is an open access article distributed under the
Creative Commons Attribution License
which permits unrestricted use, distribution, and reproduction in any medium, provided the original work is properly cited (CC BY 4.0).

Share & Cite This Article
MDPI and ACS Style
Tai, C.-J.; Choong, C.-Y.; Shi, Y.-C.; Lin, Y.-C.; Wang, C.-W.; Lee, B.-H.; Tai, C.-J. Solanum nigrum Protects against Hepatic Fibrosis via Suppression of Hyperglycemia in High-Fat/Ethanol Diet-Induced Rats. Molecules 2016, 21, 269.
Note that from the first issue of 2016, MDPI journals use article numbers instead of page numbers. See further details here.
Related Articles
Comments
[Return to top]