3β-
O

-Tigloylmelianol from

Guarea kunthiana

: A New Potential Agent to Control

Rhipicephalus (Boophilus) microplus

, a Cattle Tick of Veterinary Significance

1

Laboratório de Pesquisa de Produtos Naturais Bioativos, Instituto de Química, Universidade Federal de Mato Grosso do Sul, 79074-460 Campo Grande, MS, Brazil

2

Laboratório de Parasitologia Animal, Universidade Estadual de Mato Grosso do Sul, 79200-000 Aquidauana, MS, Brazil

3

Instituto de Pesquisas de Produtos Naturais, Universidade Federal do Rio de Janeiro, 21941-902 Rio de Janeiro, RJ, Brazil

4

Laboratório de Insetos Frugíforos, Faculdade de Ciências Biológicas e Ambientais, Universidade Federal da Grande Dourados, 79804-970 Dourados, MS, Brazil

*

Author to whom correspondence should be addressed.

Academic Editor: Derek J. McPhee

Received: 6 November 2014 / Accepted: 12 December 2014 / Published: 23 December 2014
Abstract
Chemical investigation of
Guarea kunthiana
fruits, guided by their effect on the reproductive cycle of engorged females of the cattle tick
Rhipicephalus (Boophilus) microplus
—a major economic problem to the livestock industry worldwide—led to isolation of 3β-
O
-tigloylmelianol, a new protolimonoid, from the bioactive hexane phase obtained by partitioning the crude ethanol extract. An adult immersion test was performed. The compound strongly inhibited egg-laying and hatchability (99.2% effectiveness at a 0.01% concentration). Melianone, isolated from the same phase, yielded unremarkable results in the adult immersion test. From the dichloromethane phase, melianol, melianodiol, meliantriol, and a new protolimonoid, 3β-
O
-tigloylmeliantriol, were isolated, all of which, in the same manner as melianone, exhibited unremarkable results in the test. The structures of new and known compounds were mostly established by 1D- and 2D-NMR analyses and mass spectrometry data. This is the first report on the bioactivity of protolimonoids on the reproductive cycle of engorged females of
R. (B.) microplus
. 3β-
O
-Tigloylmelianol proved a promising candidate for the development of a biocontrol agent against the cattle tick investigated, as an alternative to environmentally hazardous synthetic acaricides.
View Full-Text
►

▼

Figures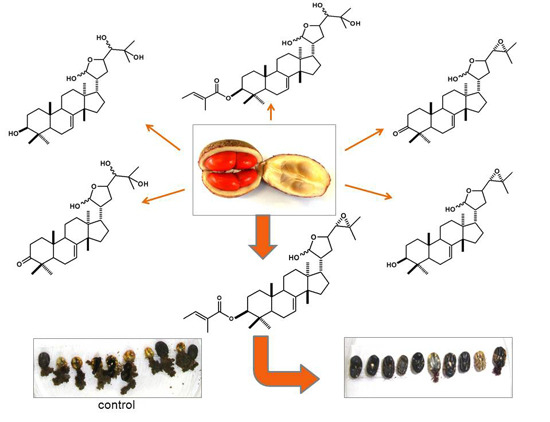 Graphical abstract
This is an open access article distributed under the
Creative Commons Attribution License
which permits unrestricted use, distribution, and reproduction in any medium, provided the original work is properly cited (CC BY 4.0).

Share & Cite This Article
MDPI and ACS Style
Miguita, C.H.; Barbosa, C.D.S.; Hamerski, L.; Sarmento, U.C.; Nascimento, J.N.; Garcez, W.S.; Garcez, F.R. 3β-O-Tigloylmelianol from Guarea kunthiana: A New Potential Agent to Control Rhipicephalus (Boophilus) microplus, a Cattle Tick of Veterinary Significance. Molecules 2015, 20, 111-126.
Related Articles
Comments
[Return to top]