Several Human Cyclin-Dependent Kinase Inhibitors, Structurally Related to Roscovitine, As New Anti-Malarial Agents
1
Laboratoire de Parasitologie, CNR du Paludisme, AP-HP, Hôpital Bichat & UMR 216 IRD, Université Paris Descartes, Sorbonne Paris Cité, UFR des Sciences Pharmaceutiques, 4 avenue de l'Observatoire, Paris 75006, France
2
Laboratoire de Chimie et Biochimie Pharmacologiques et Toxicologiques (LCBPT), UMR 8601 CNRS, Université Paris Descartes, Sorbonne Paris Cité, UFR Biomédicale des Saints Pères, 45 rue des Saints-Pères, Paris 75270, France
3
Protein Phosphorylation and Human Diseases Group, CNRS, USR 3151, Station biologique, Roscoff 29680, France
4
ManRos Therapeutics, Hôtel de Recherche, Centre de Perharidy, Roscoff 29680, France
5
Laboratoire de Pharmacochimie, INSERM U 1022, Université Paris Descartes, Sorbonne Paris Cité, UFR des Sciences Pharmaceutiques, 4 avenue de l'Observatoire, Paris 75006, France
6
Institut de Chimie de Nice (ICN), UMR 7272 CNRS, Université de Nice Sophia-Antipolis, Parc Valrose, Nice 06108, France
*
Author to whom correspondence should be addressed.
Received: 31 July 2014 / Revised: 8 September 2014 / Accepted: 11 September 2014 / Published: 23 September 2014
Abstract
In Africa, malaria kills one child each minute. It is also responsible for about one million deaths worldwide each year.
Plasmodium falciparum
, is the protozoan responsible for the most lethal form of the disease, with resistance developing against the available anti-malarial drugs. Among newly proposed anti-malaria targets, are the
P. falciparum
cyclin-dependent kinases (
Pf
CDKs). There are involved in different stages of the protozoan growth and development but share high sequence homology with human cyclin-dependent kinases (CDKs). We previously reported the synthesis of CDKs inhibitors that are structurally-related to (
R
)-roscovitine, a 2,6,9-trisubstituted purine, and they showed activity against neuronal diseases and cancers. In this report, we describe the synthesis and the characterization of new CDK inhibitors, active in reducing the
in vitro
growth of
P. falciparum
(3D7 and 7G8 strains). Six compounds are more potent inhibitors than roscovitine, and three exhibited IC
50
values close to 1 µM for both 3D7 and 7G8 strains. Although, such molecules do inhibit
P. falciparum
growth, they require further studies to improve their selectivity for
Pf
CDKs.
View Full-Text
►

▼

Figures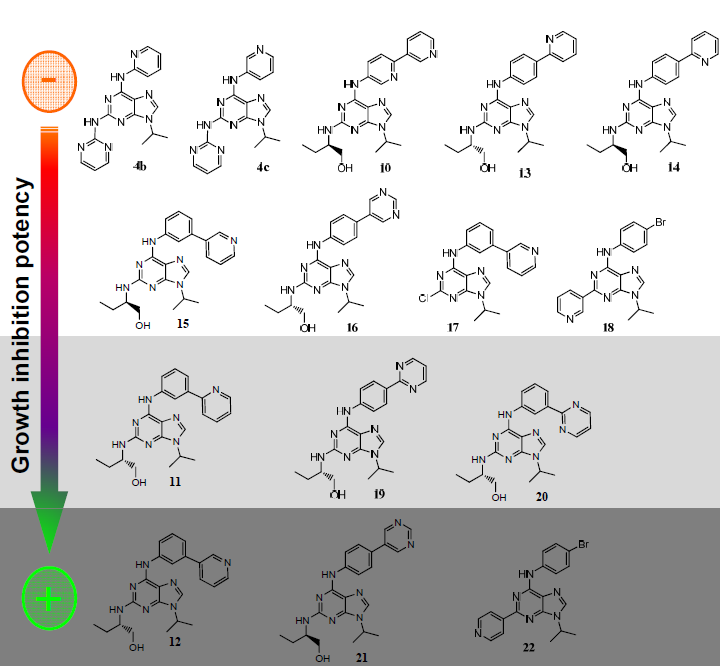 Graphical abstract

Share & Cite This Article
MDPI and ACS Style
Houzé, S.; Hoang, N.-T.; Lozach, O.; Le Bras, J.; Meijer, L.; Galons, H.; Demange, L. Several Human Cyclin-Dependent Kinase Inhibitors, Structurally Related to Roscovitine, As New Anti-Malarial Agents. Molecules 2014, 19, 15237-15257.
Related Articles
Comments
[Return to top]