Searching for Stable SinCn Clusters: Combination of Stochastic Potential Surface Search and Pseudopotential Plane-Wave Car-Parinello Simulated Annealing Simulations
1
Air Force Research Laboratory DoD Supercomputer Resource Center, Wright-Patterson Air Force Base, OH 45433, USA
2
Air Force Institute of Technology, Wright-Patterson Air Force Base, OH 45433, USA
3
College of Agriculture, Food Science and Sustainable Systems, Kentucky State University, Frankfort, KY 40601, USA
*
Author to whom correspondence should be addressed.
Received: 22 April 2013 / Revised: 11 July 2013 / Accepted: 16 July 2013 / Published: 22 July 2013
Abstract
To find low energy Si
n
C
n
structures out of hundreds to thousands of isomers we have developed a general method to search for stable isomeric structures that combines Stochastic Potential Surface Search and Pseudopotential Plane-Wave Density Functional Theory Car-Parinello Molecular Dynamics simulated annealing (PSPW-CPMD-SA). We enhanced the Sunders stochastic search method to generate random cluster structures used as seed structures for PSPW-CPMD-SA simulations. This method ensures that each SA simulation samples a different potential surface region to find the regional minimum structure. By iterations of this automated, parallel process on a high performance computer we located hundreds to more than a thousand stable isomers for each Si
n
C
n
cluster. Among these, five to 10 of the lowest energy isomers were further optimized using B3LYP/cc-pVTZ method. We applied this method to Si
n
C
n
(
n
= 4–12) clusters and found the lowest energy structures, most not previously reported. By analyzing the bonding patterns of low energy structures of each Si
n
C
n
cluster, we observed that carbon segregations tend to form condensed conjugated rings while Si connects to unsaturated bonds at the periphery of the carbon segregation as single atoms or clusters when
n
is small and when
n
is large a silicon network spans over the carbon segregation region.
View Full-Text
►

▼

Figures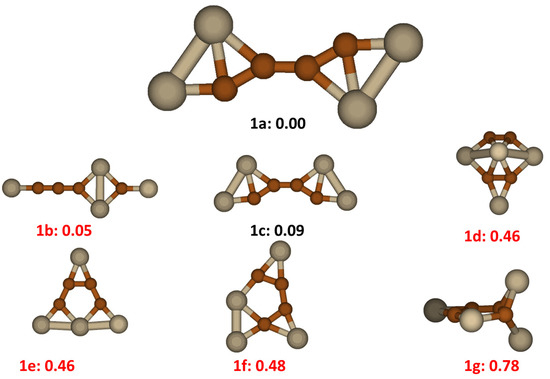 Figure 1

Share & Cite This Article
MDPI and ACS Style
Duan, X.F.; Burggraf, L.W.; Huang, L. Searching for Stable SinCn Clusters: Combination of Stochastic Potential Surface Search and Pseudopotential Plane-Wave Car-Parinello Simulated Annealing Simulations. Molecules 2013, 18, 8591-8606.
Related Articles
Comments
[Return to top]