Article Synthesis and Trypanocidal Activity of Novel 2,4,5-Triaryl-
N

-Hydroxylimidazole Derivatives

1

Instituto de Tecnologia em Fármacos — Farmanguinhos, Fundação Oswaldo Cruz, 21041-250, Rio de Janeiro, RJ, Brazil

2

Programa de Pós-Graduação em Química, Instituto de Química, Universidade Federal do Rio de Janeiro, 21949-900, Rio de Janeiro, RJ, Brazil

3

Laboratório de Biologia Celular, Instituto Oswaldo Cruz, Fundação Oswaldo Cruz, 21040-900, Rio de Janeiro, RJ, Brazil

4

Centro de Desenvolvimento Tecnológico em Saúde (CDTS), Fundação Oswaldo Cruz, 21040-900, Rio de Janeiro, RJ, Brazil

5

CHEMSOL, 1 Harcourt Road, Aberdeen AB15 5NY, Scotland, UK

6

Programa de Pesquisa em Desenvolvimento de Fármacos, Instituto de Ciências Biomédicas, Universidade Federal do Rio de Janeiro, PO Box 68023, 21941-902, Rio de Janeiro, RJ, Brazil

*

Author to whom correspondence should be addressed.

Received: 7 February 2013 / Revised: 25 February 2013 / Accepted: 8 March 2013 / Published: 15 March 2013
Abstract
Herein, we report the design, synthesis and trypanocidal activity of some novel trisubstituted imidazole derivatives. These heterocyclic derivatives were structurally planned by exploring the concept of molecular hybridisation between two arylhydrazones derived from megazol, which has potent trypanocidal activity. The trypanocidal activity of these triarylimidazole derivatives was evaluated against infective trypomastigote forms of
T. cruzi
and the derivative 2'-(4-bromophenyl)-1-methyl-5'-phenyl-1
H
,3'
H
-2,4'-biimidazol-3'-ol showed moderate biological activity (IC
50
= 23.9 µM) when compared to benznidazole, a standard trypanocidal drug. These compounds did not present cytotoxic effects at concentrations near the trypanocidal IC
50
, being considered a good starting point for the development of new anti-Chagas drug candidates.
View Full-Text
►

▼

Figures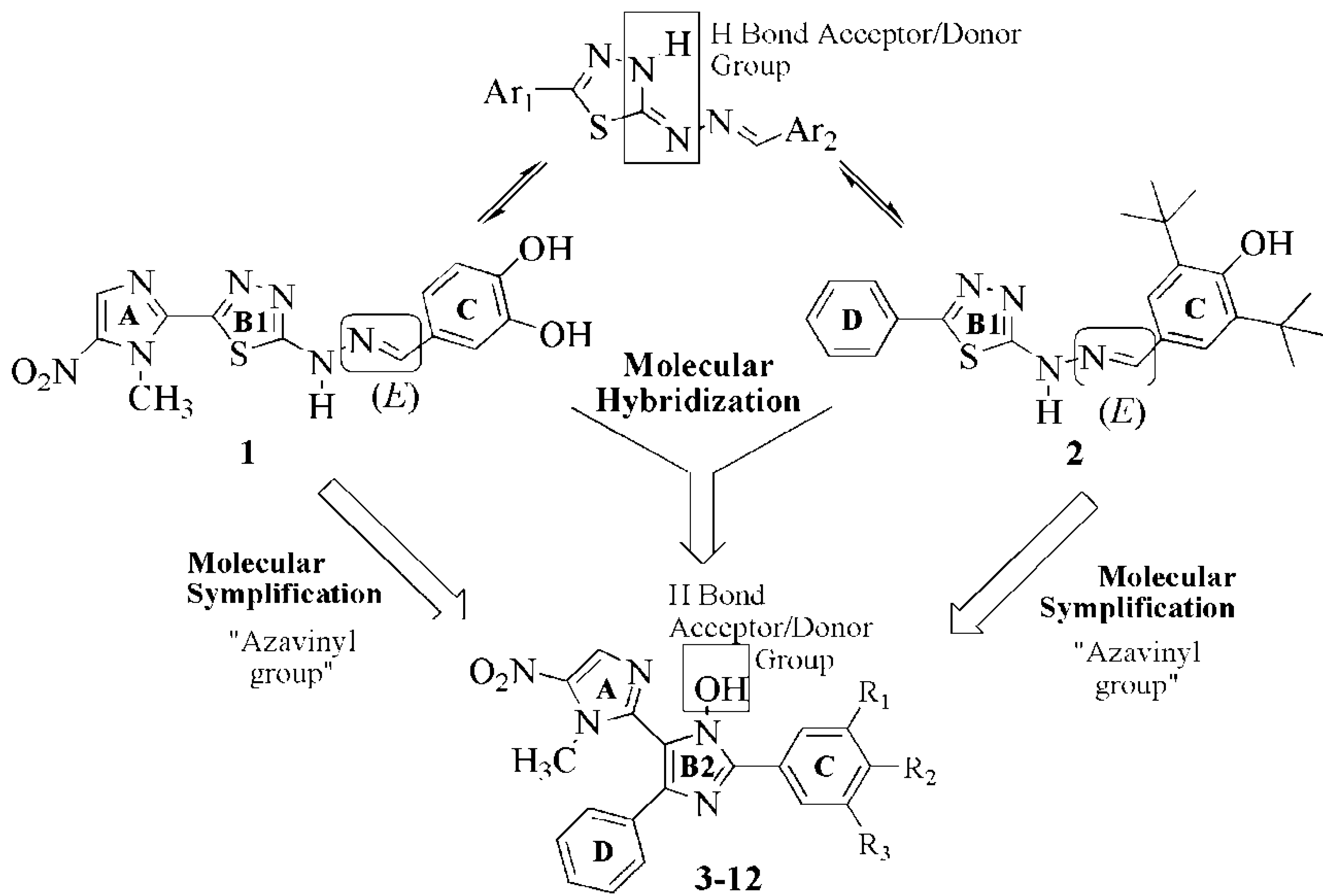 Figure 1

Share & Cite This Article
MDPI and ACS Style
Da Silva, R.B.; Loback, V.B.; Salomão, K.; De Castro, S.L.; Wardell, J.L.; Wardell, S.M.S.V.; Costa, T.E.M.M.; Penido, C.; De Henriques, M.D.G.M.O.; Carvalho, S.A.; Da Silva, E.F.; Fraga, C.A.M. Article Synthesis and Trypanocidal Activity of Novel 2,4,5-Triaryl-N-Hydroxylimidazole Derivatives. Molecules 2013, 18, 3445-3457.
Related Articles
Comments
[Return to top]