Sesquiterpene Lactones and Their Derivatives Inhibit High Glucose-Induced NF-κB Activation and MCP-1 and TGF-β1 Expression in Rat Mesangial Cells
1
Department of Nephrology, Zhujiang Hospital, Southern Medical University, Guangzhou 510000, China
2
College of Pharmacy, the State Key Laboratory of Elemento-Organic Chemistry, and Tianjin Key Laboratory of Molecular Drug Research, Nankai University, Tianjin 300071, China
*
Author to whom correspondence should be addressed.
†
These authors contributed equally to this study.
Received: 12 September 2013 / Revised: 12 September 2013 / Accepted: 14 October 2013 / Published: 21 October 2013
Abstract
Diabetic nephropathy (DN) is one of the most common and serious chronic complications of diabetes mellitus, however, no efficient clinical drugs exist for the treatment of DN. We selected and synthesized several sesquiterpene lactones (SLs), and then used the MTT assay to detect rat mesangial cells (MCs) proliferation, ELISA to measure the expression level of monocyte chemoattractant protein-1 (MCP-1), transforming growth factor beta (TGF-β1) and fibronectin(FN), real-time fluorescent quantitative PCR analysis to measure the MCP-1 and TGF-β1 gene expression, western blot to detect the level of IκBα protein and EMSA to measure the activation of nuclear factor kappa B (NF-κB). We discovered that SLs, including parthenolide (PTL), micheliolide (MCL), arglabin, and isoalantolactone (IAL), as well as several synthetic analogs of these molecules, could effectively attenuate the high glucose-stimulated activation of NF-κB, the degradation of IκBα, and the expression of MCP-1, TGF-β1 and FN in rat mesangial cells (MCs). These findings suggest that SLs and their derivatives have potential as candidate drugs for the treatment of DN.
View Full-Text
►

▼

Figures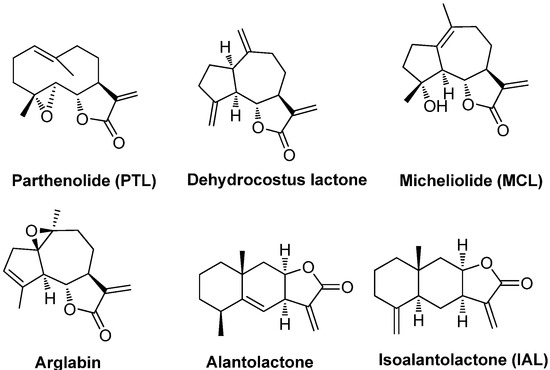 Figure 1

Share & Cite This Article
MDPI and ACS Style
Jia, Q.-Q.; Wang, J.-C.; Long, J.; Zhao, Y.; Chen, S.-J.; Zhai, J.-D.; Wei, L.-B.; Zhang, Q.; Chen, Y.; Long, H.-B. Sesquiterpene Lactones and Their Derivatives Inhibit High Glucose-Induced NF-κB Activation and MCP-1 and TGF-β1 Expression in Rat Mesangial Cells. Molecules 2013, 18, 13061-13077.
Related Articles
Comments
[Return to top]