Mechanisms of Suppression and Enhancement of Photocurrent/Conversion Efficiency in Dye-Sensitized Solar-Cells Using Carotenoid and Chlorophyll Derivatives as Sensitizers
1
Faculty of Science and Technology, Kwansei Gakuin University, 2-1 Gakuen, Sanda 669-1337, Japan
2
Kobe City University of Foreign Studies, 9-1 Gakuen-Higashimachi, Nishi-ku, Kobe 651-2187, Japan
*
Author to whom correspondence should be addressed.
Received: 10 December 2011 / Revised: 14 February 2012 / Accepted: 15 February 2012 / Published: 22 February 2012
(This article belongs to the Special Issue
Carotenoids
)
Abstract
The mechanisms of suppression and enhancement of photocurrent/conversion efficiency (performance) in dye-sensitized solar cells, using carotenoid and chlorophyll derivatives as sensitizers, were compared systematically. The key factor to enhance the performance was found to be how to minimize interaction among the excited-state dye-sensitizer(s). In a set of retinoic-acid (RA) and carotenoic-acid (CA) sensitizers, having
n
conjugated double bonds, CA7 gave rise to the highest performance, which was reduced toward RA5 and CA13. The former was ascribed to the generation of triplet and the resultant singlet-triplet annihilation reaction, while the latter, to the intrinsic electron injection efficiency. In a set of shorter polyene sensitizers having different polarizabilities, the one with the highest polarizability (the highest trend of aggregate formation) exhibited the higher performance toward the lower dye concentration and the lower light intensity, contrary to our expectation. This is ascribed to a decrease in the singlet-triplet annihilation reaction. The performance of cosensitization, by a pair of pheophorbide sensitizers without and with the central metal, Mg or Zn, was enhanced by the light absorption (complementary rather than competitive), the transition-dipole moments (orthogonal rather than parallel) and by the pathways of electron injection (energetically independent rather than interactive).
View Full-Text
►

▼

Figures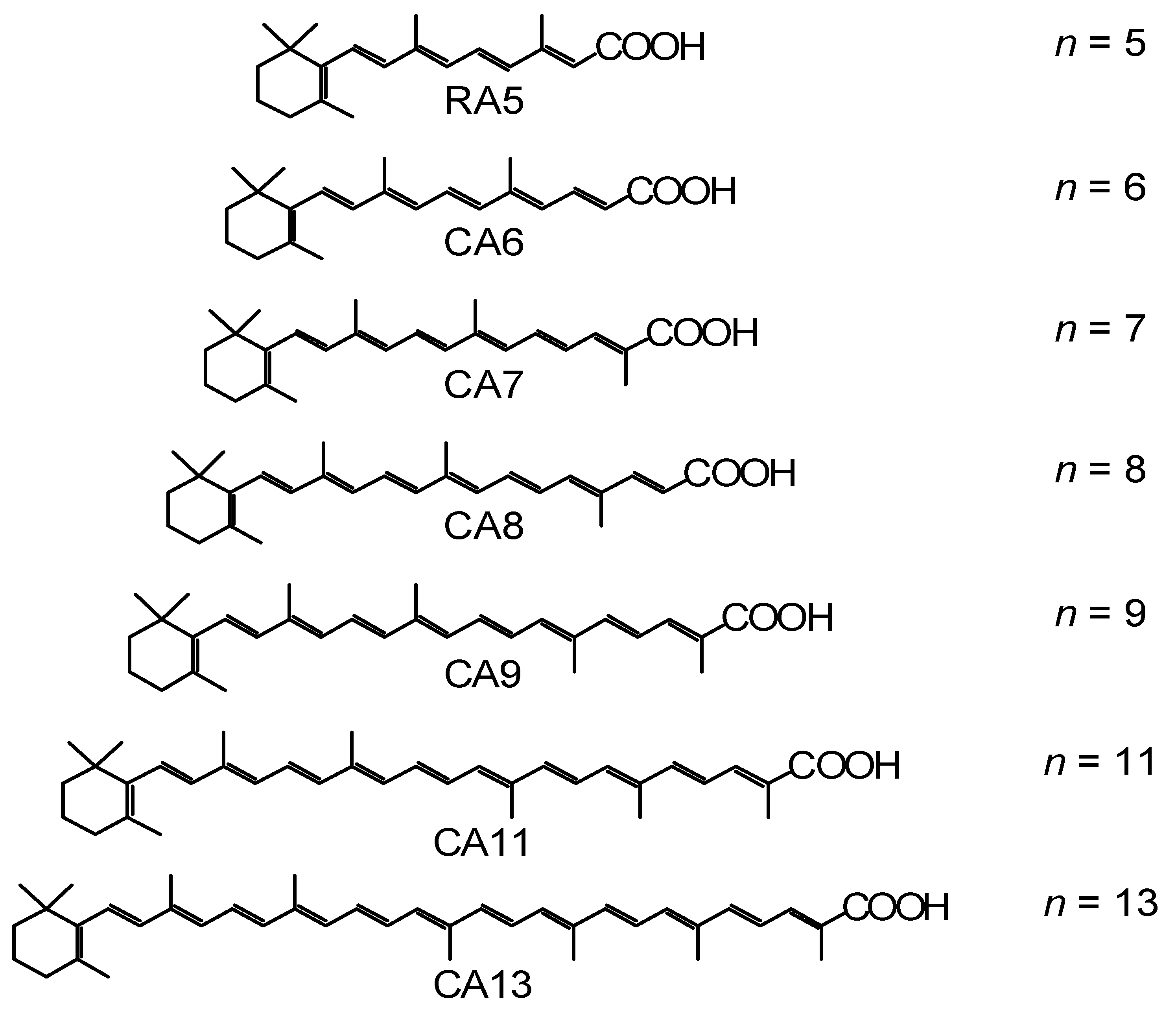 Figure 1

Share & Cite This Article
MDPI and ACS Style
Koyama, Y.; Kakitani, Y.; Nagae, H. Mechanisms of Suppression and Enhancement of Photocurrent/Conversion Efficiency in Dye-Sensitized Solar-Cells Using Carotenoid and Chlorophyll Derivatives as Sensitizers. Molecules 2012, 17, 2188-2218.
Related Articles
Comments
[Return to top]