Optimization of Ultrasound-Assisted Extraction of Crude Oil from Winter Melon (
Benincasa hispida

) Seed Using Response Surface Methodology and Evaluation of Its Antioxidant Activity, Total Phenolic Content and Fatty Acid Composition

1

Department of Food Technology, Faculty of Food Science and Technology, Universiti Putra Malaysia, 43400 Serdang, Selangor, Malaysia

2

Department of Process and Food Engineering, Faculty of Engineering, Universiti Putra Malaysia, 43400 Serdang, Selangor, Malaysia

3

Halal Product Research Institute, Universiti Putra Malaysia, 43400 Serdang, Selangor, Malaysia

4

Department of Pharmaceutical Technology, Faculty of Pharmacy, International Islamic Universiti Malaysia, 25200 Kuantan, Pahang, Malaysia

5

Department of Food Science and Technology, Faculty of Agriculture, Zanjan University, Zanjan P.O. Box 313, Iran

*

Author to whom correspondence should be addressed.

Received: 27 August 2012 / Revised: 4 September 2012 / Accepted: 11 September 2012 / Published: 8 October 2012
Abstract
In the present study, ultrasound-assisted extraction of crude oil from winter melon seeds was investigated through response surface methodology (RSM). Process variables were power level (25–75%), temperature (45–55 °C) and sonication time (20–40 min). It was found that all process variables have significant (
p
< 0.05) effects on the response variable. A central composite design (CCD) was used to determine the optimum process conditions. Optimal conditions were identified as 65% power level, 52 °C temperature and 36 min sonication time for maximum crude yield (108.62 mg-extract/g-dried matter). The antioxidant activity, total phenolic content and fatty acid composition of extract obtained under optimized conditions were determined and compared with those of oil obtained by the Soxhlet method. It was found that crude extract yield (CEY) of ultrasound-assisted extraction was lower than that of the Soxhlet method, whereas antioxidant activity and total phenolic content of the extract obtained by ultrasound-assisted extraction were clearly higher than those of the Soxhlet extract. Furthermore, both extracts were rich in unsaturated fatty acids. The major fatty acids of the both extracts were linoleic acid and oleic acid.
View Full-Text
►

▼

Figures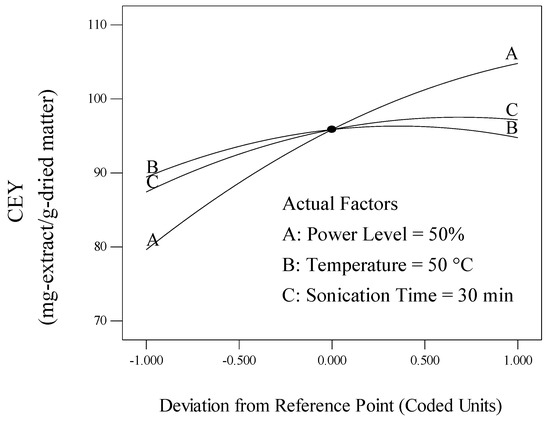 Figure 1

Share & Cite This Article
MDPI and ACS Style
Bimakr, M.; Rahman, R.A.; Taip, F.S.; Adzahan, N.M.; Sarker, M.Z.I.; Ganjloo, A. Optimization of Ultrasound-Assisted Extraction of Crude Oil from Winter Melon (Benincasa hispida) Seed Using Response Surface Methodology and Evaluation of Its Antioxidant Activity, Total Phenolic Content and Fatty Acid Composition. Molecules 2012, 17, 11748-11762.
Related Articles
Comments
[Return to top]