Camptothecin-20(s)-
O

-[

N

-(3'α,12'α-dihydroxy-24'-carbonyl-5'β-cholan)]-lysine, a Novel Camptothecin Analogue, Induces Apoptosis towards Hepatocellular Carcinoma SMMC-7721 Cells

The Key Laboratory of Forest Plant Ecology, Northeast Forestry University, Ministry of Education, Harbin 150040, China

*

Author to whom correspondence should be addressed.

Received: 28 July 2011 / Revised: 25 August 2011 / Accepted: 6 September 2011 / Published: 13 September 2011
Abstract
Camptothecin-20(s)-
O
-[
N
-(3'α,12'α-dihydroxy-24'-carbonyl-5'β-cholan)]-lysine (B2) is a novel camptothecin analogue. Our previous study had shown that it displayed higher cytoxicity activity towards hepatocellular carcinoma SMMC-7721 cells than camptothecin (CPT)
in vitro
. In this paper, the underlying mechanism of anti-proliferation of B2 towards SMMC-7721 cells was further examined. Cell growth inhibition of B2 was determined using the 3-(4,5-dimethylthiazol-2-yl)-2,5-diphenyltetrazolium bromide (MTT) assay; morphological changes were observed under Laser Scanning Confocal Microscope (LSCM); cell cycle distribution, apoptotic population, changes in mitochondrial membrane potential, intracellular calcium concentration and reactive oxygen species (ROS) production were determined by flow cytometry (FCM). Activities of caspase-3 and caspase-9 were measured, and the expression level of Bcl-2 and Bax proteins were analyzed by Western blot. The results suggested that B2 inhibited SMMC-7721 cell growth by causing cell cycle arrest at the S and G2/M phases, and induced apoptosis involving a mitochondrial pathway. B2 appears to cause a high induction of apoptosis on SMMC-7721 cells
in vitro
, which suggests it might be a potential drug for cancer therapy.
View Full-Text
►

▼

Figures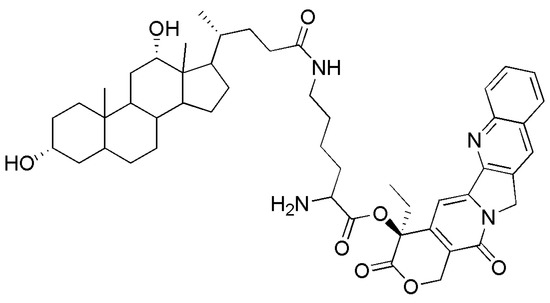 Figure 1

Share & Cite This Article
MDPI and ACS Style
Li, Q.; Qiu, W.; Zhu, Q.; Zu, Y.; Deng, X.; Zhao, T.; Jiang, C.; Zhang, L. Camptothecin-20(s)-O-[N-(3'α,12'α-dihydroxy-24'-carbonyl-5'β-cholan)]-lysine, a Novel Camptothecin Analogue, Induces Apoptosis towards Hepatocellular Carcinoma SMMC-7721 Cells. Molecules 2011, 16, 7803-7814.
Related Articles
Comments
[Return to top]