Microwave Irradiation-Assisted Synthesis of a Novel Crown Ether Crosslinked Chitosan as a Chelating Agent for Heavy Metal Ions (M+n)
1
College of Pharmacy, King Saud University, P.O. Box 2457, Riyadh 11451, Saudi Arabia
2
Department of Pharmaceutical Organic Chemistry, Faculty of Pharmacy, Assiut University, Assiut-71527, Egypt
3
Department of Pharmaceutics, College of Pharmacy, King Saud University, P.O. Box 2457, Riyadh 11451, Saudi Arabia
4
Center of Excellence for Research in Engineering Materials, CEREM, Room 2A-138, College of Engineering, King Saud University, P. O. Box 800, Riyadh 11421, Saudi Arabia
*
Author to whom correspondence should be addressed.
Received: 23 June 2010 / Revised: 18 August 2010 / Accepted: 2 September 2010 / Published: 6 September 2010
Abstract
Microwave irradiation was used to obtain a di-Schiff base type crosslinked chitosan dibenzocrown ether (CCdBE) via the reaction between the –NH
2
and –CHO groups in chitosan and 4,4′-diformyldibenzo-18-c-6, respectively. The structure of the synthesized compound was characterized by elemental analysis, solid state
13
C-NMR and FT-IR spectra analysis. The results showed that the mass fraction of nitrogen in the CCdBE derivative was much lower than those of chitosan. The FT-IR spectra of CCdBE revealed the expected chitosan-crown ether structure, as evidenced by the presence of the characteristic C=N and Ar peaks. The adsorption properties of CCdBE for Pd
2+
and Hg
2+
were investigated and the results demonstrated that the adsorbent has both desirable adsorption properties with a high particular adsorption selectivity for Hg
2+
when in the presence of Pb
2+
as well as selectivity coefficients for metal ions of
K
Hg
2+
/Pb
2+
= 8.00 and
K
Hg
2+
/Pb
2+
= 10.62 at pH values of 4 and 6, respectively. The reusability tests for CCdBE for Pb
2+
adsorption showed that complete recovery of the ion was possible with CCdBE after 10-multiple reuses while CTS had no reusability at acidic solution because of its higher dissolution. The studied features of CCdBE suggested that the material could be considered as a new adsorbent. It is envisaged that the crosslinking of CTS into CCdBE would enhance practicality and effectiveness of adsorption in ion separation and removal procedures.
View Full-Text
►

▼

Figures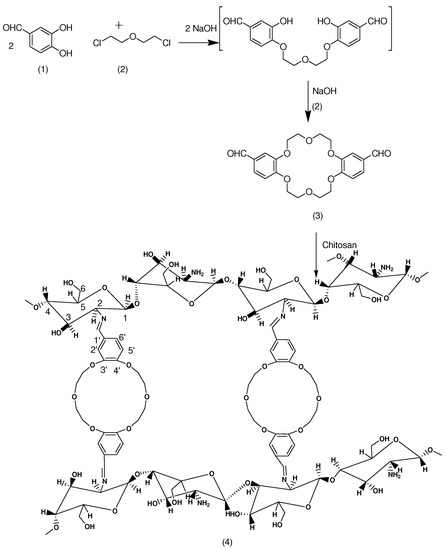 Figure 1

Share & Cite This Article
MDPI and ACS Style
Radwan, A.A.; Alanazi, F.K.; Alsarra, I.A. Microwave Irradiation-Assisted Synthesis of a Novel Crown Ether Crosslinked Chitosan as a Chelating Agent for Heavy Metal Ions (M+n). Molecules 2010, 15, 6257-6268.
Related Articles
Comments
[Return to top]