Contextuality Analysis of the Double Slit Experiment (with a Glimpse into Three Slits)
1
Department of Psychological Sciences, Purdue University, West Lafayette, IN 47907, USA
2
Department of Mathematical Information Technology, University of Jyväskylä, FI-40014 Jyväskylä, Finland
*
Author to whom correspondence should be addressed.
†
Both authors contributed equally to this work.
Received: 31 January 2018 / Revised: 26 March 2018 / Accepted: 9 April 2018 / Published: 12 April 2018
Abstract
The Contextuality-by-Default theory is illustrated on contextuality analysis of the idealized double-slit experiment. The experiment is described by a system of contextually labeled binary random variables each of which answers the question: Has the particle hit the detector, having passed through a given slit (left or right) in a given state (open or closed)? This system of random variables is a cyclic system of rank 4, formally the same as the system describing the Einsten-Podolsky-Rosen-Bell paradigm with signaling. Unlike the latter, however, the system describing the double-slit experiment is always noncontextual, i.e., the context-dependence in it is entirely explainable in terms of direct influences of contexts (closed-open arrangements of the slits) upon the marginal distributions of the random variables involved. The analysis presented is entirely within the framework of abstract classical probability theory (with contextually labeled random variables). The only physical constraint used in the analysis is that a particle cannot pass through a closed slit. The noncontextuality of the double-slit system does not generalize to systems describing experiments with more than two slits: in an abstract triple-slit system, almost any set of observable detection probabilities is compatible with both a contextual scenario and a noncontextual scenario of the particle passing though various combinations of open and closed slits (although the issue of physical realizability of these scenarios remains open).
View Full-Text
►

▼

Figures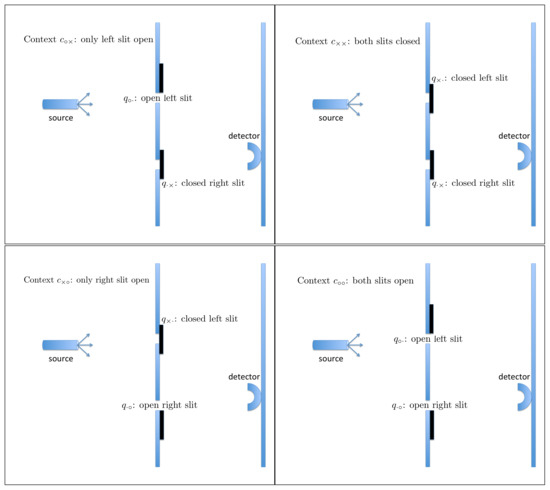 Figure 1
This is an open access article distributed under the
Creative Commons Attribution License
which permits unrestricted use, distribution, and reproduction in any medium, provided the original work is properly cited (CC BY 4.0).

Share & Cite This Article
MDPI and ACS Style
Dzhafarov, E.N.; Kujala, J.V. Contextuality Analysis of the Double Slit Experiment (with a Glimpse into Three Slits). Entropy 2018, 20, 278.
Note that from the first issue of 2016, MDPI journals use article numbers instead of page numbers. See further details here.
Related Articles
Comments
[Return to top]