10th Anniversary of Biomolecules
The year 2020 marks the 10th anniversary of Biomolecules, a peer-reviewed open access journal on biogenic substances. Biomolecules has published more than 2600 papers from more than 5000 authors. We value the contributions made by authors and reviewers. To celebrate this 10th anniversary, we are arranging a series of special content and events. We hope you can join us in celebrating this milestone for our journal and enjoy the collection below.
Development and Achievements
View the 10-year timeline infographic here. Trace the development of
Biomolecules
from its origins with remarkable events.
The inaugural issue is released and Biomolecules is published as a quarterly journal
Founding Editor-in-Chief: Prof. Dr. Jürg Bähler
Biomolecules is indexed in PubMed and PubMed Central (PMC)
Biomolecules is selected for inclusion in the Emerging Sources Citation Index (ESCI)
Biomolecules is accepted for coverage in Scopus
Biomolecules is accepted for inclusion in the Science Citation Index Expanded (SCIE) and BIOSIS Previews in Web of Science
Prof. Dr. Vladimir N. Uversky serve as Editor-in-Chief

Biomolecules changed from quarterly to monthly issue release
Biomolecules Reached 2000 Article Milestone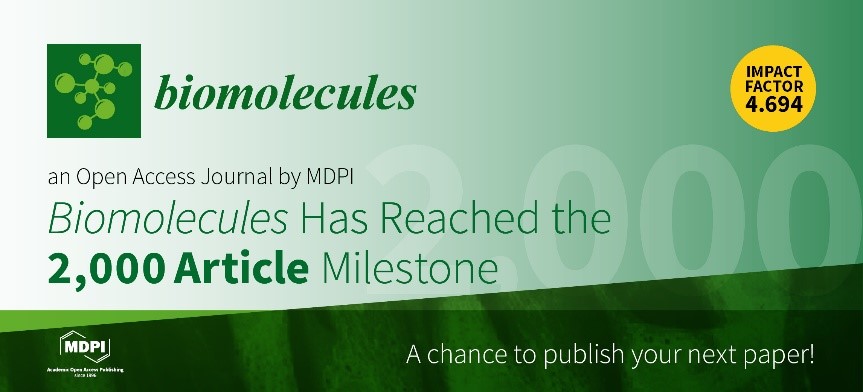 Celebration Activities
Biomolecules 2020 Best Paper Awards for Anniversary Special Issues

In 2020, we are celebrating the 10th anniversary of our journal Biomolecules. In recognition of our authors' continued support, Biomolecules is pleased to announce that the "Biomolecules 2020 Best Paper Awards for Anniversary Special Issues" will be launched and granted to the best papers published in the "Anniversary Special Issues".
Biomolecules Best Cover Awards

Biomolecules will have 28 cover stories in 2018–2020. Many cover stories report important research results or innovative methods with impressive images. To reward those authors who have published important research results in Biomolecules, we are announcing the 10th Anniversary Best Cover Awards.
Collection of Excellent Works