Open Access This article is
freely available
re-usable
Article
Laser Surface Structuring of Cemented Carbide for improving the Strength of Induction Brazed Joints
Fachgebiet Trennende und Fügende Fertigungsverfahren (tff), Universität Kassel, Kurt-Wolters-Str. 3, 34125 Kassel, Germany
*
Author to whom correspondence should be addressed.
Received: 1 April 2019 / Accepted: 29 May 2019 / Published: 3 June 2019
Abstract
:
The effect of micro patterning of cemented carbide surface using nanosecond diode pumped solid-state pulsed laser on the strength of induction brazed carbide and steel joints has been investigated. Surface patterns increase the total surface area of the joint and, for an originally hydrophilic surface, increase the wettability of a liquid on a solid surface such that, instead of building droplets, the liquid spreads and flows on the surface. Microcomputed tomography (µ-CT) was used to observe the filler/carbide interface after brazing and to analyze the presence of porosity or remnant flux in the joint. Microstructures of the brazed joints with various surface patterns were analyzed using scanning electron microscopy. The strength of the joints was measured using shear tests. Results have shown that the groove pattern on the surface of carbide increases the joint strength by 70–80%, whereas, surface patterns of bi-directional grooves (grid) reduced the joint strength drastically. Dimples on the carbide surface did not show any improvement in the strength of the brazed joints compared to samples with no surface pattern.
Keywords:
brazing; carbide; surface structuring; laser ablation
1. Introduction
Geometrically defined polycrystalline diamond (PCD) saw tips with a backing layer of cemented carbide (WC-Co) represent an alternative to sintered diamond blades with geometrically undefined cutting edges for sawing of natural stones like granite, marble etc. [
1
,
2
,
3
]. It has been shown that using a high negative rake angle on the saw tips, which is advantageous for reduction of tool wear, results in failure in the brazed joints of the saw tips [
1
]. The saw tips used particularly on the band saws, because of their small size, cannot be screw clamped to the tool body as in the case of a typical indexed milling cutter. Brazing is the most common process of joining carbide or carbide backed PCD tips to the body of the saw blades. Most of the sawing tools are still brazed in an air atmosphere with an oxy-acetylene flame or an induction coil. However, the strength of the brazed joints varies widely because of various factors such as filler metal composition [
4
], gap thickness [
5
], brazing time and temperature [
6
], surface roughness [
7
], surface chemical composition [
8
,
9
,
10
], cleanliness of the surface, incomplete removal of oxides and inclusions of flux, presence of porosity, and thermal cracks [
11
].
Tungsten carbide, especially the grades with high hardness and low binder content, shows poor wettability by most brazing alloy standards, especially when brazing in air [
12
,
13
]. The filler metal forms a metallic bond with the metal (binder) present on the surface and for carbide grades containing low binder content, the surface contains very little binder for the filler metal to form a bond with. The state-of-the-art solution is the galvanic coating of the carbide surface with a metal usually cobalt or nickel (metalizing). However, due to the health and safety issues the electrolytes used in the process are classified as hazardous substances by the European Union (EU) and their production and application will be gradually limited [
14
,
15
,
16
]. A novel approach for enhancing the wettability of the surfaces is the process of "laser structuring". Whereby the surface of the material is ablated using Nano-, pico-, or femtosecond pulsed lasers so as to generate specific surface textures to achieve desirable optical, electrical or mechanical characteristics. Recent studies have shown the potential of this technique to improve the wettability of ceramic [
17
] as well as metallic materials [
18
]. Zhang et al. used this technique to improve wettability characteristics (and in turn the joint strength) of Al
2
O
3
surface for brazing with stainless steel under vacuum [
19
]. It was shown that the surface grooves not only cause mechanical pinning at the ceramic/filler interface, but also result in periodic tensile and compressive residual stress peaks, which hinder crack propagation. Similarly, Otero et al. generated grooves and dimple structures on a Nimonic N75 alloy surface and studied the effect of surface structures on wettability and joint strength [
20
]. The results showed a 2–2.5× increase in the shear strength of brazed joint. However, this technique has not been tried on tungsten carbide/steel brazed joints and specifically air atmosphere brazed joints. This work is intended to enhance the strength of the uncoated tungsten carbide/steel brazed joints by structuring the surface of the carbide using a short-pulsed laser. Furthermore, computer tomography is used as a non-destructive testing approach to assess the quality of the brazed joints.
Pulsed Laser Ablation
Laser ablation refers to the material removal by using short high-intensity laser pulses as the heating source. Pulsed lasers produce shorter bursts of energy, which result in much higher peak energy levels than a continuous wave (CW) laser source [
21
]. Pulse durations may be in micro- or nanoseconds (short pulses) or in pico- and femtoseconds (i.e., ultra-short pulses).
For pulse durations above 10 picoseconds (ps), the ablation process consists of heat conduction, melting, evaporation and plasma formation as shown in
Figure 1
[
22
]. Pulse durations of less than 10 ps (ultrashort pulses) are shorter than the time required for electrons, which absorb the energy of the photons, to transfer their energy to the lattice. Therefore, ablation processes with ultrashort pulses involve no melting and virtually no heat affected zone [
23
]. Although ultrashort laser ablation is extremely precise, the ablation rate is significantly lower than with laser ablation in a nanosecond regime, which allows the highest ablation efficiency [
22
].
2. Materials and Methods
For this work, tungsten carbide (WC-8%Co) type K-20F (ISO K20-K30) with a grain size of 0.7 µm from HHT-Hartmetall, Germany, was used in a cylindrical form with a 9 mm diameter and 10 mm height. These were brazed on to 20 mm diameter and 15 mm high cylinders made of S235JR steel. Both carbide and steel parts were sand blasted using 10 µm corundum particles and then cleaned in an ultrasonic bath of ethanol. Sand blasting was necessary as the carbide surface in an 'as-delivered' condition was oxidized and had a pale-yellow tint most likely due to the presence of tungsten oxide on the surface. The roughness of the blank surface after sand blasting and ultrasonic cleaning was measured optically using white light interferometry and the roughness parameters were found to be R
a
3 µm and R
z
12.3 µm. Three classes of surface structures namely the grooves, grid, and holes were created using a nanosecond pulsed laser source (
Section 2.1
). For each surface type, four samples were produced and were used according to
Table 1
. Samples with a blank surface were only used for shear tests for comparison.
3. Results and Discussion
4. Conclusions
Carbide surfaces consisting of grooves perpendicular to the direction of load have been shown to improve the strength of the induction-brazed joints of cemented carbide and steel by up to 80% compared to unstructured carbide surface. This result affirms the results of shear strength measurement of Al

2

O

3

/304 stainless steel joint containing grooves on the ceramic component obtained by femtosecond laser ablation, as presented in [

19

]. However, the extent of the increase of strength is only 80% compared to 250% for the authors of [

19

]. One of the reasons is the application of a nano-second pulsed laser instead of a femtosecond pulsed laser, which markedly reduced the quality of the laser ablated surface due to melt zones and deposition, as shown in

Figure 1

, thus hindering the molten filler metal from spreading and flowing smoothly. Secondly, the authors of [

19

] brazed the ceramic samples under vacuum, thereby eliminating the requirement of flux for brazing.

The bi-directional grooves or the grid structure reduced the joint shear strength drastically from about 175 MPa in blank surface condition to only 25 MPa. The SEM images of the cross section showed that the reason is primarily loose tungsten carbide grains on the carbide surface that deposit on the surface during laser ablation and during brazing, hindering a metallurgical bond between the binder metal of the cemented carbide and the filler metal.

This work has shown that the surface structuring or patterning of a cemented carbide surface with pulsed laser ablation can lead to a significant increase in the strength of brazed joints. However, for greater strength, there is a lower benefit in terms of the cost ratio, and ultrashort laser pulses (pulse duration < 10 ps) must be used for surface structuring and brazing should be performed without flux either under vacuum or in a controlled atmosphere.
Author Contributions
Conceptualization, methodology, writing and editing of draft manuscript: A.A.; Micro-computer tomography analysis: I.K.; Supervision and review of manuscript: S.B.
Funding
This research was funded by the Federal Ministry of Education and Research (
German: Bundesministerium für Bildung und Forschung
) 'BMBF' of Germany under the project 'Development of a production facility for resource and energy efficient manufacturing of natural stone plates' (
German: Entwicklung einer Produktionsanlage zur ressourcen- und energieeffizienten Plattenherstellung aus Naturwerkstein
) (Acronym: Re
2
RockCut), grant number 02P14A060.
Conflicts of Interest
The authors declare no conflict of interest.

Figure 1.
Pulsed laser beam and matter interaction (
a
) short pulse laser (µs, ns)—matter interaction; (
b
) ultrashort pulse (ps, fs) beam-matter interaction [
22
].

Figure 2. 3D White light interferometry (left) and SEM images (middle and right) of the structured carbide surfaces having (a) Grooves, (b) Holes and (c) Grid.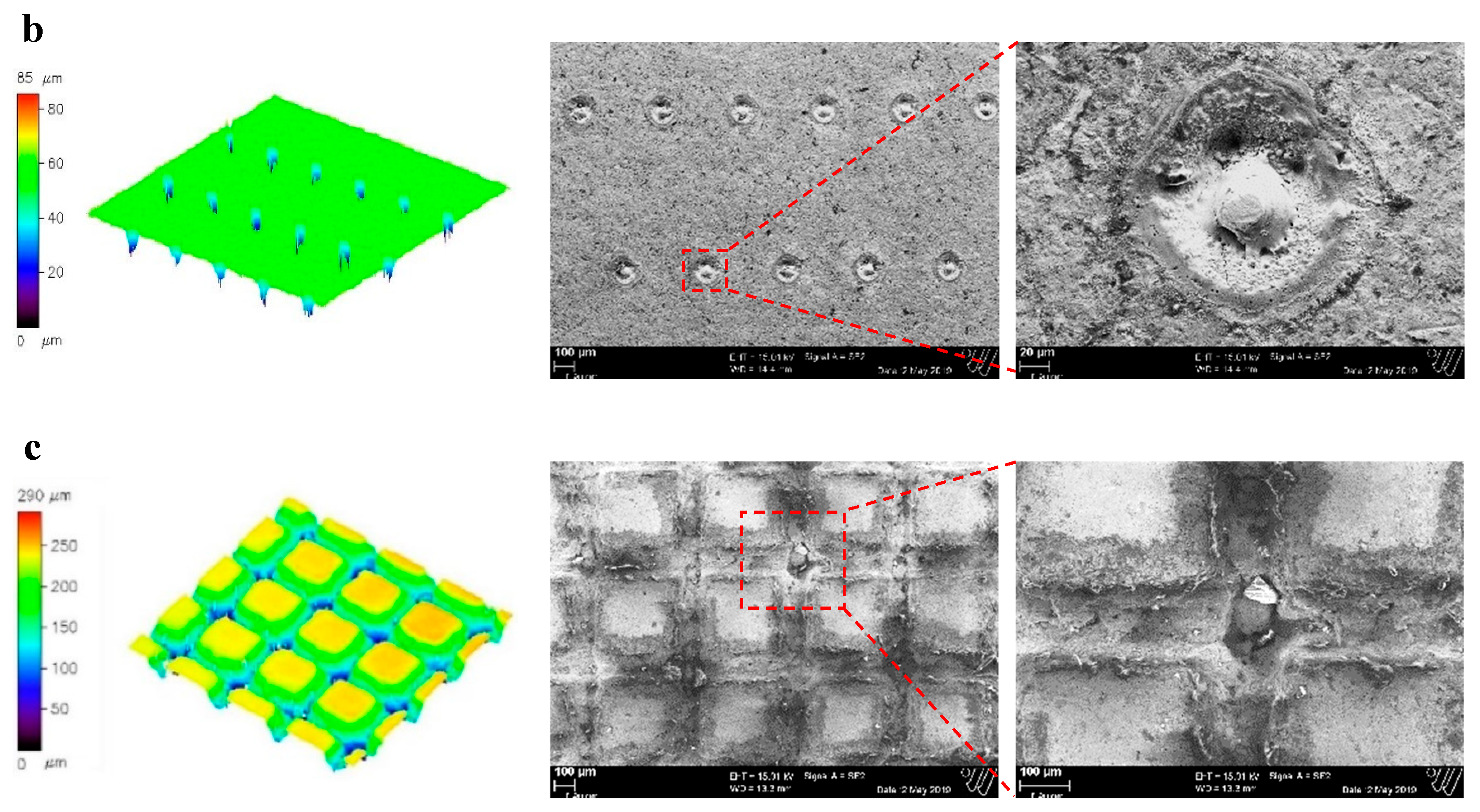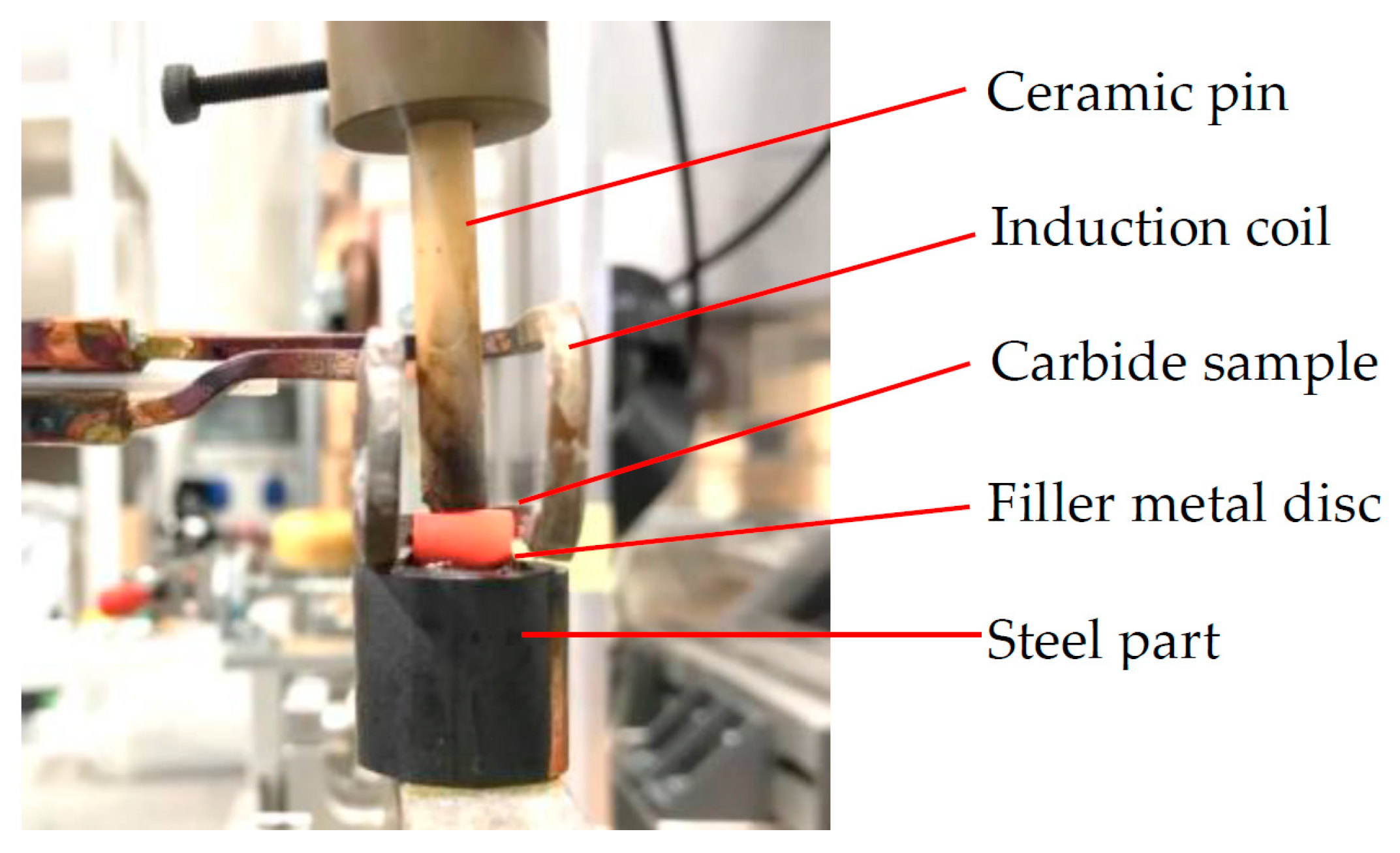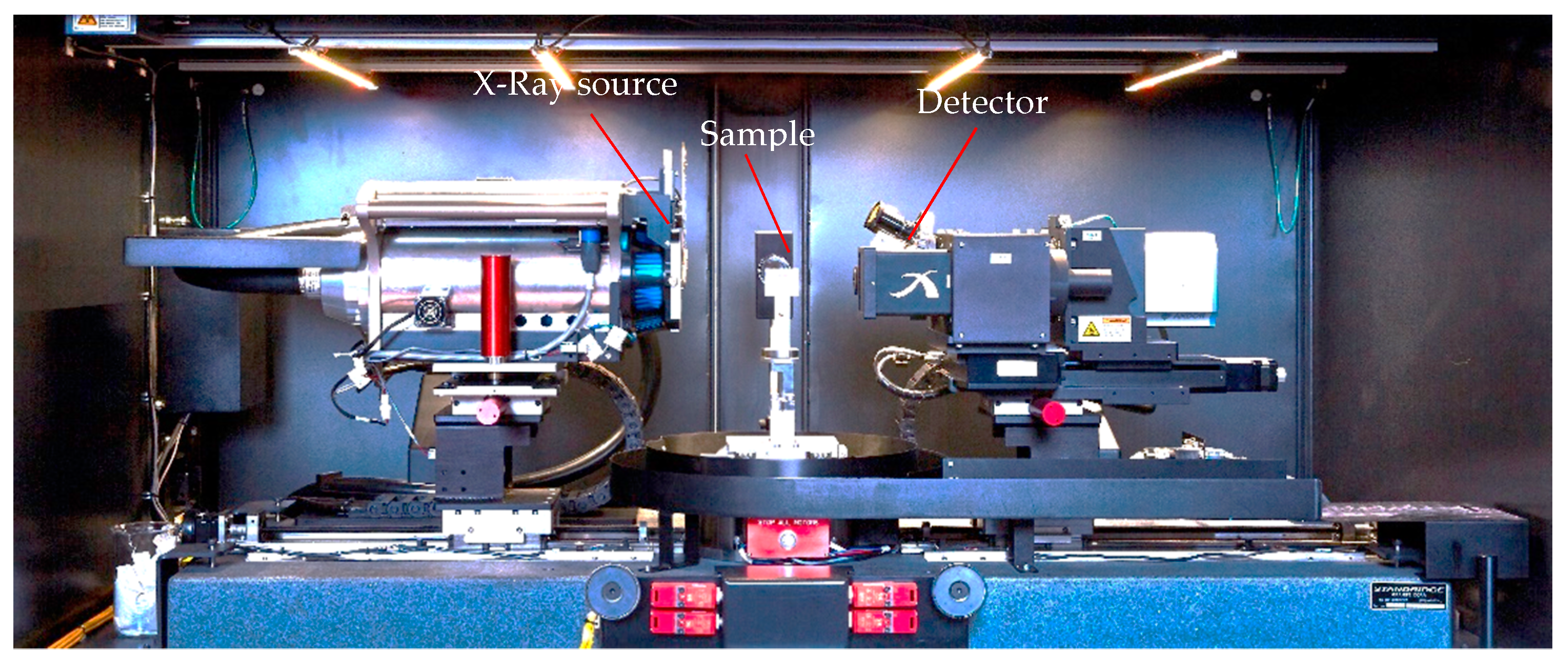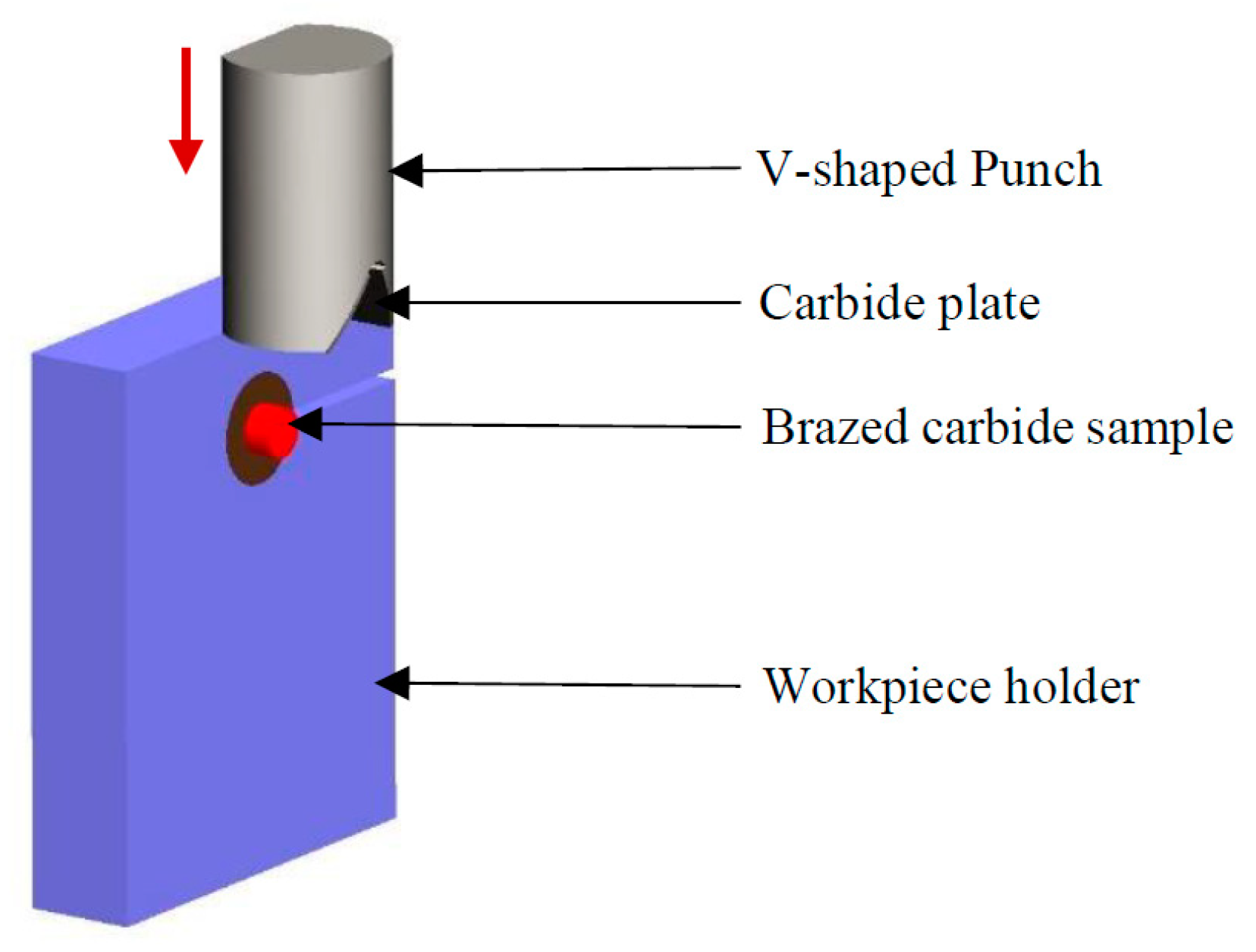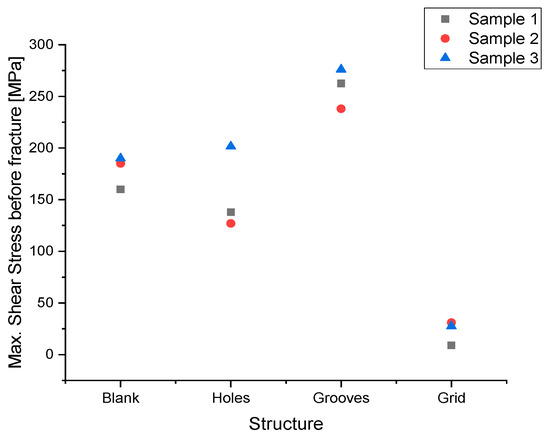 Figure 6. Shear strengths of the carbide/steel brazed joints having no structure (blank), holes, grooves and grid patterns on carbide surface.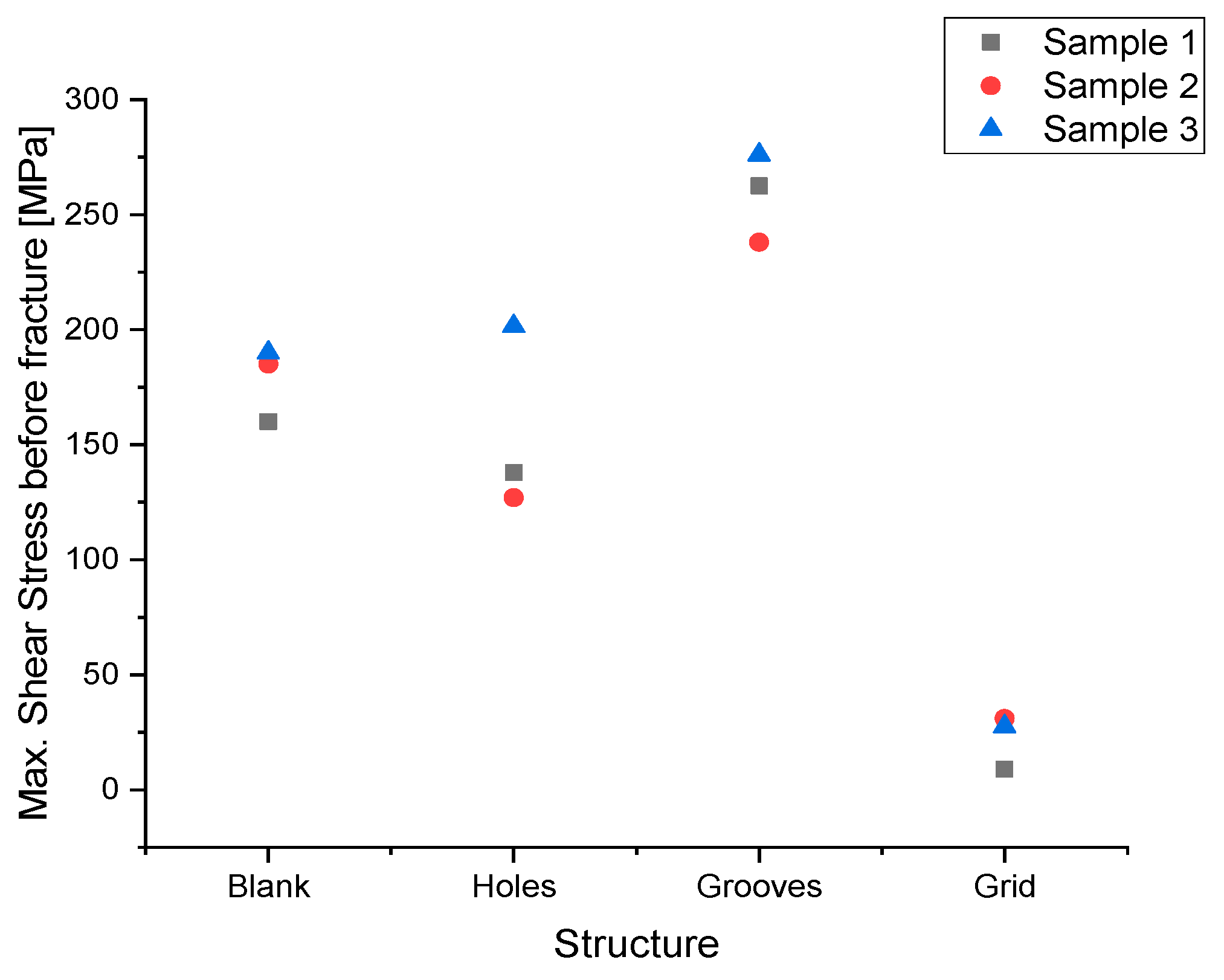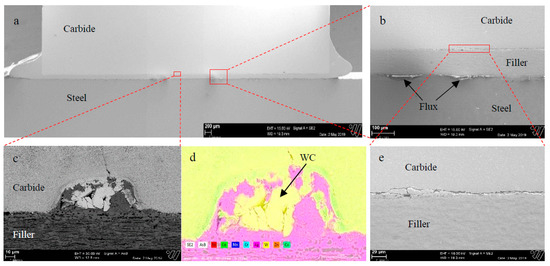 Figure 7. SEM image of (a) complete cross section of a sample 4 of brazed joint with holes on carbide surface (b) Cross section of surface hole (c) Cross section of region without holes showing remnant flux (d) energy dispersive X-ray spectroscopy (EDX) color mapping of hole (e) carbide/filler interface.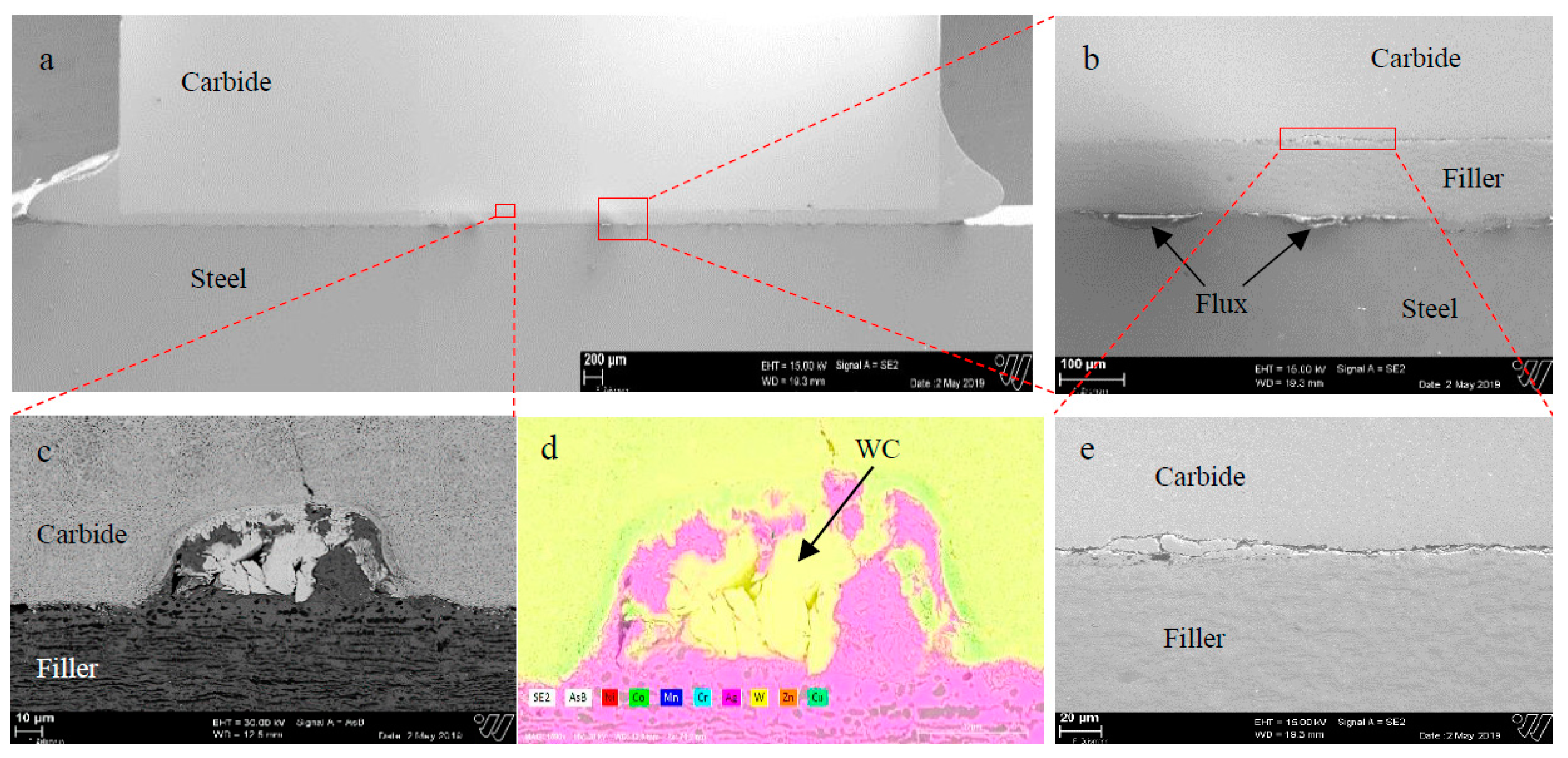 Figure 8. (a) Cross section of a groove (b) Groove with redeposited tungsten carbide and large void in the filler layer and (c) brazed region without grooves.


Figure 9. SEM micrograph of brazed sample with grid pattern on carbide showing (a) loose tungsten carbide (WC) grains at the filler/carbide interface (b) Porosity and remnant flux in the grooves.

Sample 1
Sample 2
Sample 3
Sample 4
Blank
s
s
s
Grooves
s, m
s, m
s
e
Grid
s, m
s, m
s
e
Holes
s, m
s, m
s
e

s: shear test; m: µ-CT analysis; e: SEM microscopy
| Parameter | Value |
| --- | --- |
| Software | Scan2D |
| Wavelength | 1064 nm |
| Pulse frequency | 200 kHz |
| Pulse duration | 100 ns |
| Average source power | 50 W |
| Applied power | 100% |
| Pulse energy | 0.25 mJ |
| Focal spot radius | 88 µm |
| Structure | Sample 1 | Sample 2 |
| --- | --- | --- |
| Blank | | |
| Holes | | |
| Grooves | | |
| Grid | | |

© 2019 by the authors. Licensee MDPI, Basel, Switzerland. This article is an open access article distributed under the terms and conditions of the Creative Commons Attribution (CC BY) license (http://creativecommons.org/licenses/by/4.0/).