The Modulation of NMDA and AMPA/Kainate Receptors by Tocotrienol-Rich Fraction and Α-Tocopherol in Glutamate-Induced Injury of Primary Astrocytes
1
Department of Biomedical Science, Faculty of Medicine and Health Science, University Putra Malaysia, Jalan Upm, 43400 Serdang, Malaysia
2
Department of Pathology, Faculty of Medicine and Health Science, University Putra Malaysia, Jalan Upm, 43400 Serdang, Malaysia
3
Department of Nutrition and Dietetics, Faculty of Medicine and Health Science, University Putra Malaysia, Jalan Upm, 43400 Serdang, Malaysia
*
Author to whom correspondence should be addressed.
Received: 25 September 2017 / Revised: 15 November 2017 / Accepted: 28 November 2017 / Published: 1 December 2017
Abstract
Astrocytes are known as structural and supporting cells in the central nervous system (CNS). Glutamate, as a main excitatory amino acid neurotransmitter in the mammalian central nervous system, can be excitotoxic, playing a key role in many chronic neurodegenerative diseases. The aim of the current study was to elucidate the potential of vitamin E in protecting glutamate-injured primary astrocytes. Hence, primary astrocytes were isolated from mixed glial cells of C57BL/6 mice by applying the EasySep
®
Mouse CD11b Positive Selection Kit, cultured in Dulbecco's modified Eagle medium (DMEM) and supplemented with special nutrients. The IC
20
and IC
50
values of glutamate, as well as the cell viability of primary astrocytes, were assessed with 100 ng/mL, 200 ng/mL, and 300 ng/mL of tocotrienol-rich fraction (TRF) and alpha-tocopherol (α-TCP), as determined by an 3-(4,5-dimethylthiazol-2-yl)-2,5-diphenyltetrazolium bromide (MTT) assay. The mitochondrial membrane potential (MMP) detected in primary astrocytes was assessed with the same concentrations of TRF and α-TCP. The expression levels of the ionotropic glutamate receptor genes (
Gria2
,
Grin2A
,
GRIK1
) were independently determined using RT-PCR. The purification rate of astrocytes was measured by a flow-cytometer as circa 79.4%. The IC
20
and IC
50
values of glutamate were determined as 10 mM and 100 mM, respectively. Exposure to 100 mM of glutamate in primary astrocytes caused the inhibition of cell viability of approximately 64.75% and 61.10% in pre- and post-study, respectively (
p
< 0.05). Both TRF and α-TCP (at the lowest and highest concentrations, respectively) were able to increase the MMP to 88.46% and 93.31% pre-treatment, and 78.43% and 81.22% post-treatment, respectively. Additionally, the findings showed a similar pattern for the expression level of the ionotropic glutamate receptor genes. Increased extracellular calcium concentrations were also observed, indicating that the presence of vitamin E altered the polarization of astrocytes. In conclusion, α-TCP showed better recovery and prophylactic effects as compared to TRF in the pre-treatment of glutamate-injured primary astrocytes.
View Full-Text
►

▼

Figures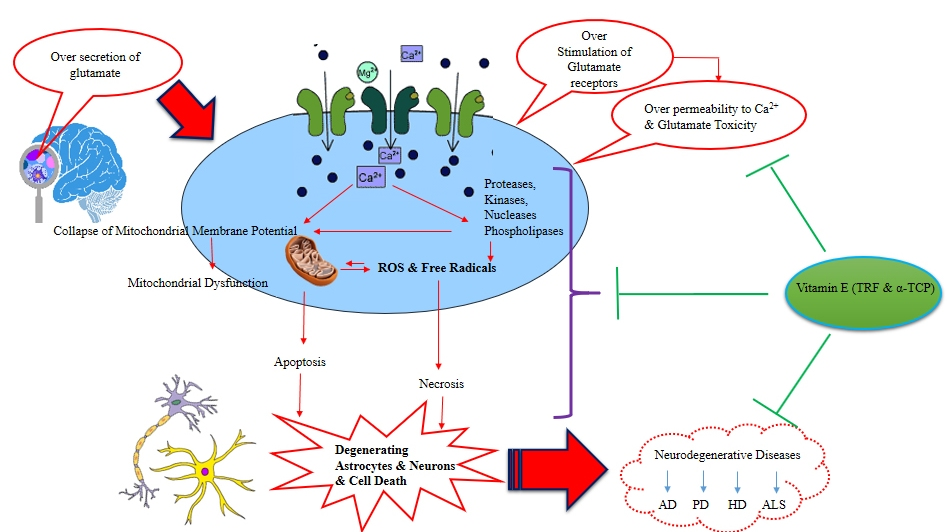 Graphical abstract
This is an open access article distributed under the
Creative Commons Attribution License
which permits unrestricted use, distribution, and reproduction in any medium, provided the original work is properly cited (CC BY 4.0).

Share & Cite This Article
MDPI and ACS Style
Abedi, Z.; Khaza'ai, H.; Vidyadaran, S.; Mutalib, M.S.A. The Modulation of NMDA and AMPA/Kainate Receptors by Tocotrienol-Rich Fraction and Α-Tocopherol in Glutamate-Induced Injury of Primary Astrocytes. Biomedicines 2017, 5, 68.
Note that from the first issue of 2016, MDPI journals use article numbers instead of page numbers. See further details here.
Related Articles
Comments
[Return to top]