Open Access This article is
freely available
re-usable
Review
Reactive Carbonyl Species: A Missing Link in ROS Signaling
1
Science Research Center, Organization of Research Initiatives, Yamaguchi University, Yamaguchi 753-8511, Japan
2
Graduate School of Science and Technology for Innovation, Yamaguchi University, Yamaguchi 753-8511, Japan
3
Department of Horticulture, Bangabandhu Sheikh Mujibur Rahman Agricultural University, Gazipur 1706, Bangladesh
*
Author to whom correspondence should be addressed.
Received: 28 August 2019 / Accepted: 27 September 2019 / Published: 30 September 2019
Abstract
:
As reactive oxygen species (ROS) play critical roles in plants to determine cell fate in various physiological situations, there is keen interest in the biochemical processes of ROS signal transmission. Reactive carbonyl species (RCS), the
α
,
β
-unsaturated aldehydes and ketones produced from lipid peroxides, due to their chemical property to covalently modify protein, can mediate ROS signals to proteins. Comprehensive carbonyl analysis in plants has revealed that more than a dozen different RCS, e.g., acrolein, 4-hydroxy-(
E
)-2-nonenal and malondialdehyde, are produced from various membranes, and some of them increase and modify proteins in response to oxidative stimuli. At early stages of response, specific subsets of proteins are selectively modified with RCS. The involvement of RCS in ROS signaling can be judged on three criteria: (1) A stimulus to increase the ROS level in plants leads to the enhancement of RCS levels. (2) Suppression of the increase of RCS by scavenging enzymes or chemicals diminishes the ROS-induced response. (3) Addition of RCS to plants evokes responses similar to those induced by ROS. On these criteria, the RCS action as damaging/signaling agents has been demonstrated for root injury, programmed cell death, senescence of siliques, stomata response to abscisic acid, and root response to auxin. RCS thus act as damage/signal mediators downstream of ROS in a variety of physiological situations. A current picture and perspectives of RCS research are presented in this article.
Keywords:
abscisic acid; acrolein; auxin; lipid peroxide; oxidative stress; oxylipin; RCS; reactive electrophile species (RES); redox signal; ROS
Funding
This research was funded by Japan Society for the Promotion of Science, KAKENHI Grant number 17H03700.
Conflicts of Interest
The authors declare no conflict of interest. The funders had no role in the design of the study; in the collection, analyses, or interpretation of data; in the writing of the manuscript, or in the decision to publish the results.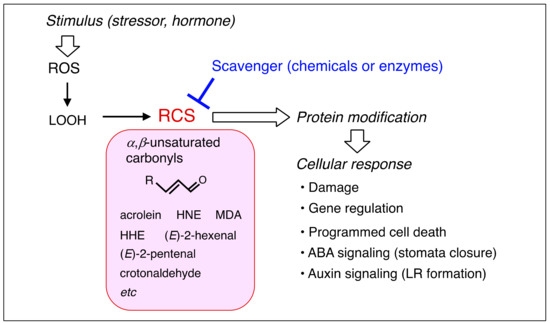 Figure 1.
Involvement of reactive carbonyl species (RCS) in reactive oxygen species (ROS) signaling. The involvement is validated by the scavengers' effects to suppress both RCS levels and a ROS-initiated phenomenon. ABA, abscisic acid; HNE, 4-hydroxy-(
E
)-2-nonenal; HHE, 4-hydroxy-(
E
)-2-hexenal, MDA, malondialdehyde; LR, lateral root.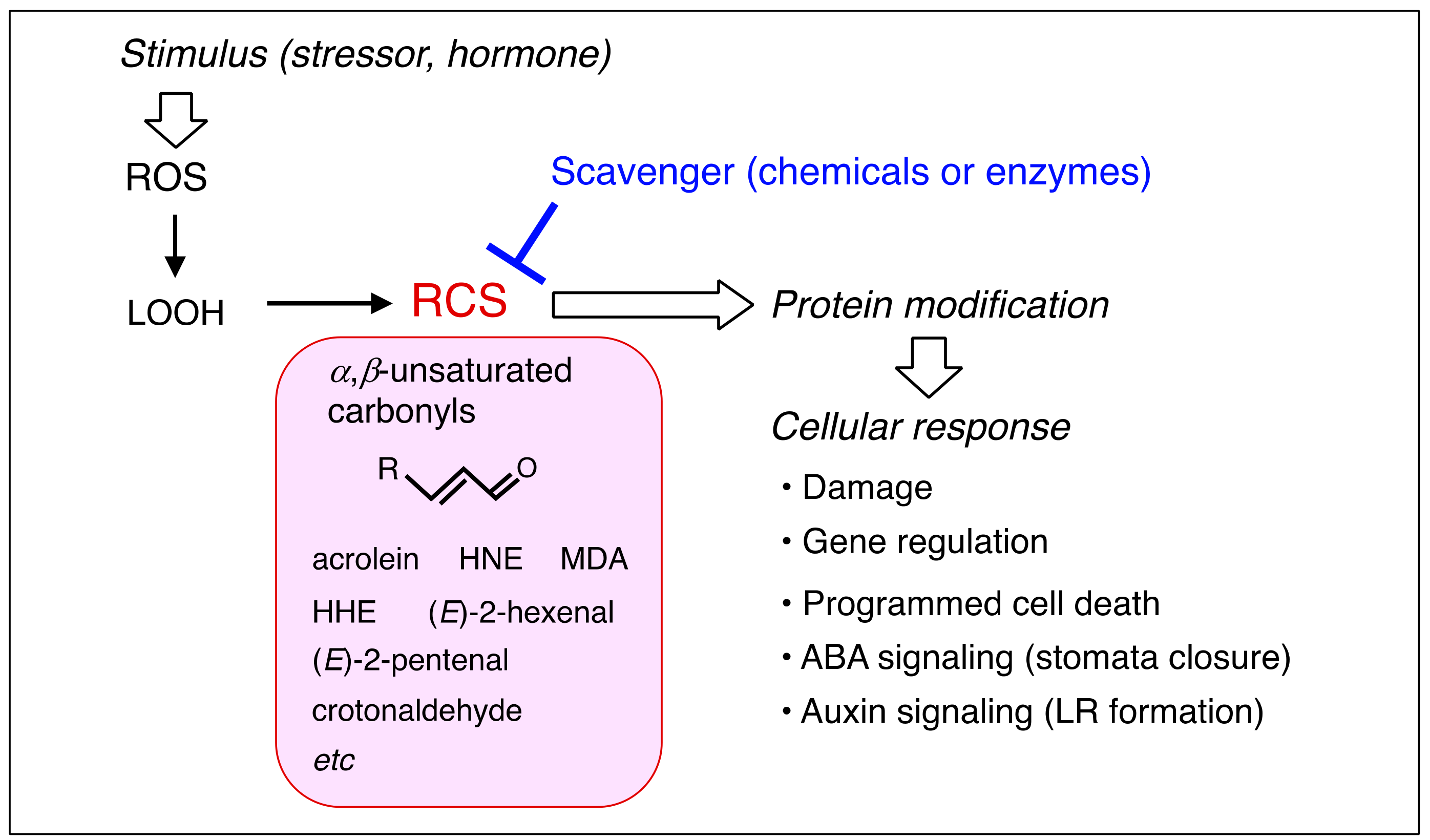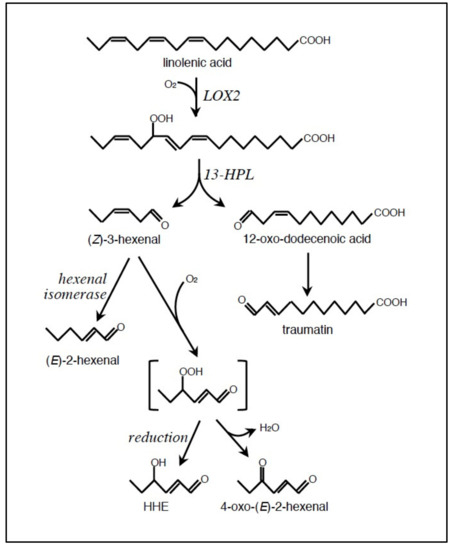 Figure 2.
Enzymatic formation of RCS from linolenic acid (18:3) in
A. thaliana
. The oxygenation with LOX2 produces 13-hydroperoxo-octadecatrienoic acid (13-HPOTE) as shown, while with the isozyme 9-LOX, 9-HPOTE is produced. 13-HPOTE is cleaved by the 13-hydroperoxide lyase (13-HPL), while 9-HPOTE by the isozyme 9-HPL, producing C9 aldehydes. When the reaction starts with different unsaturated fatty acids such as linoleic acid (18:2), other sets of aldehydes are formed via a similar series of enzyme reactions.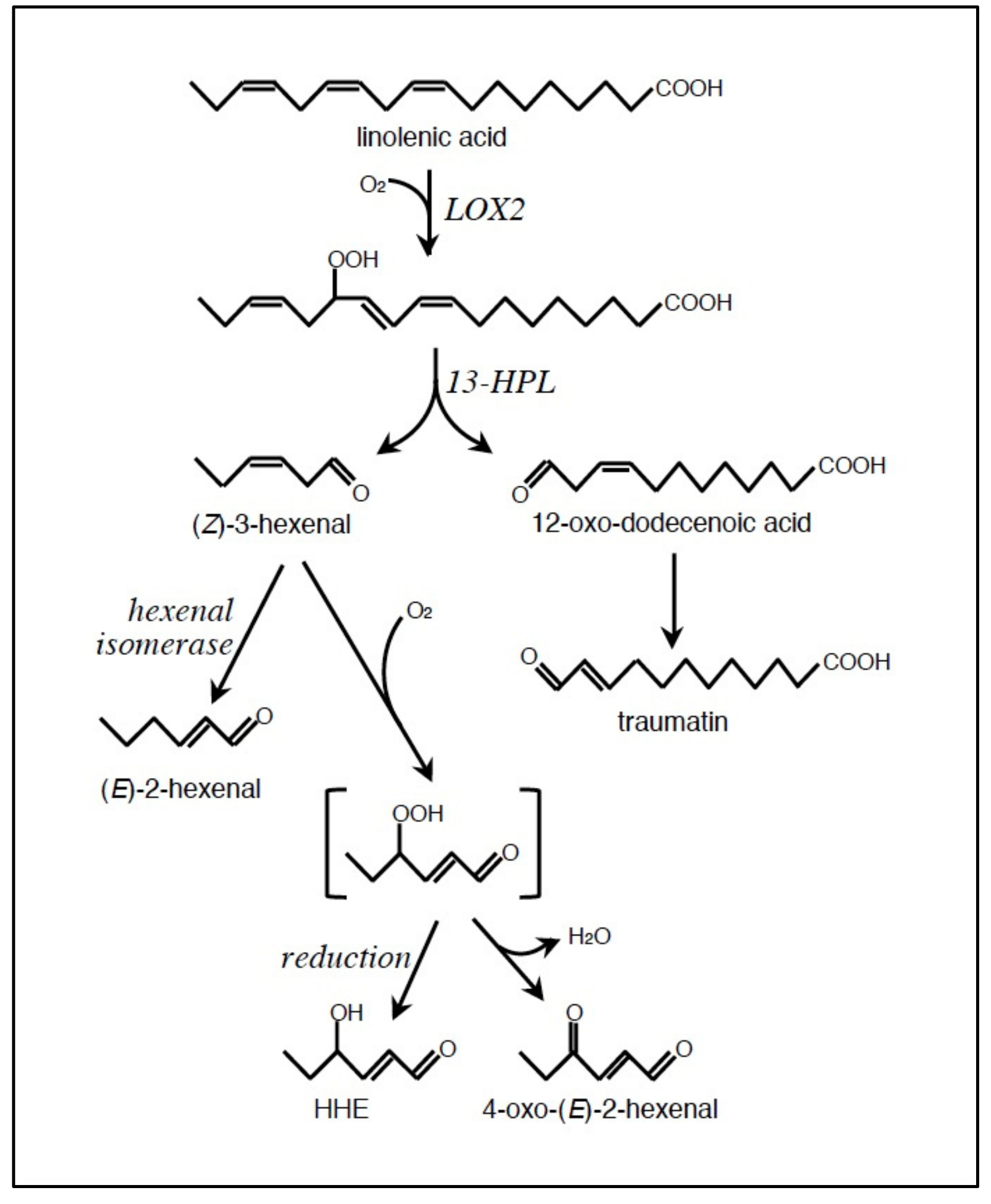 Figure 3.
Modification of amino acid residues on a protein with carbonyls.
Panel A
. Schiff base formation on an amino group with an aldehyde and possible secondary reactions.
Panel B. Top
, Michael addition of an RCS to a nucleophilic (-XH) group. X is for sulfur in Cys, ε-amino nitrogen in Lys and imidazole τ-nitrogen in His residues.
From 2nd to bottom
, Michael addition of a 4-hydroxy-(
E
)-2-alkenal to Cys, His and Lys residues. Primary adducts may undergo cyclization.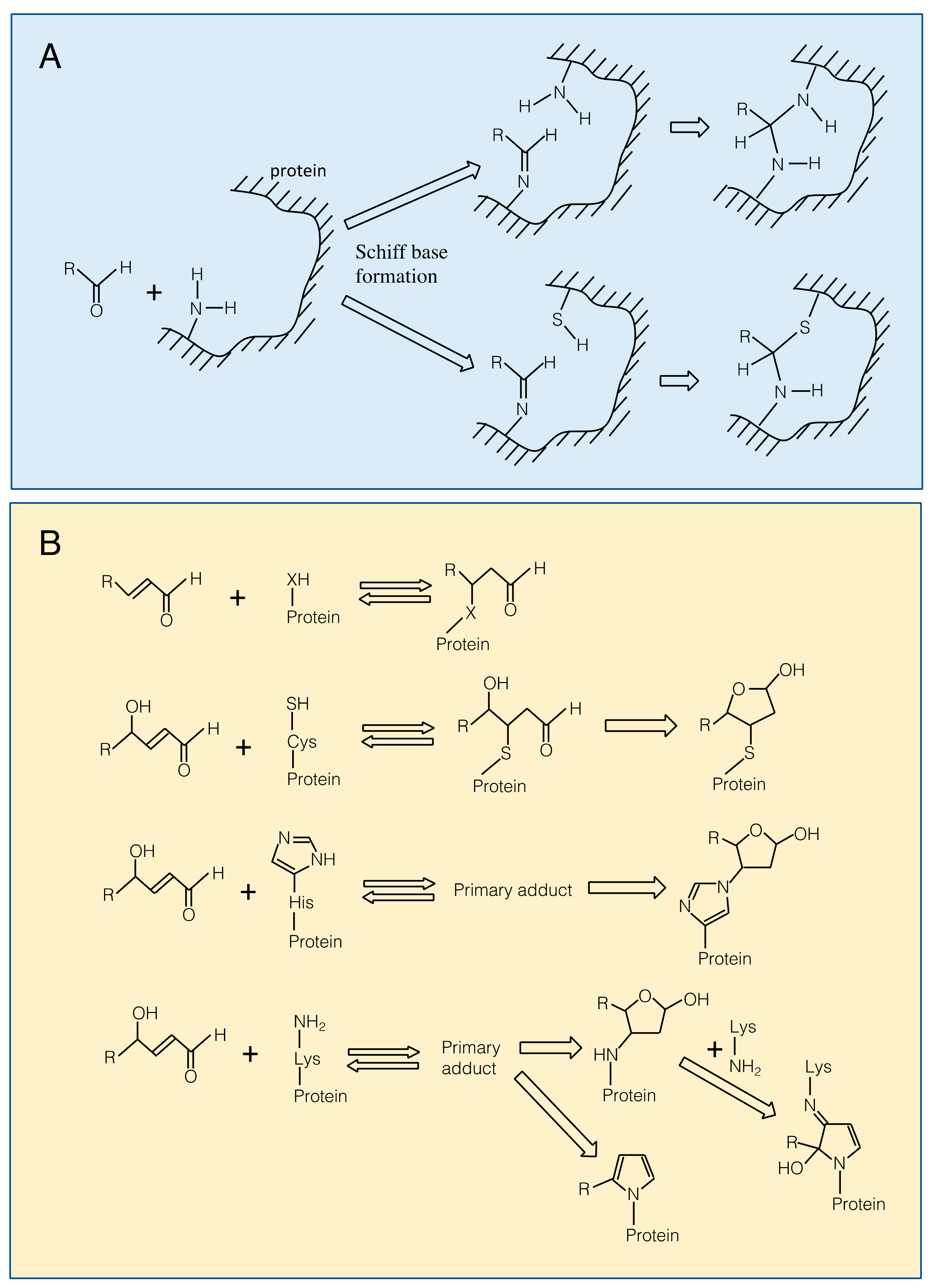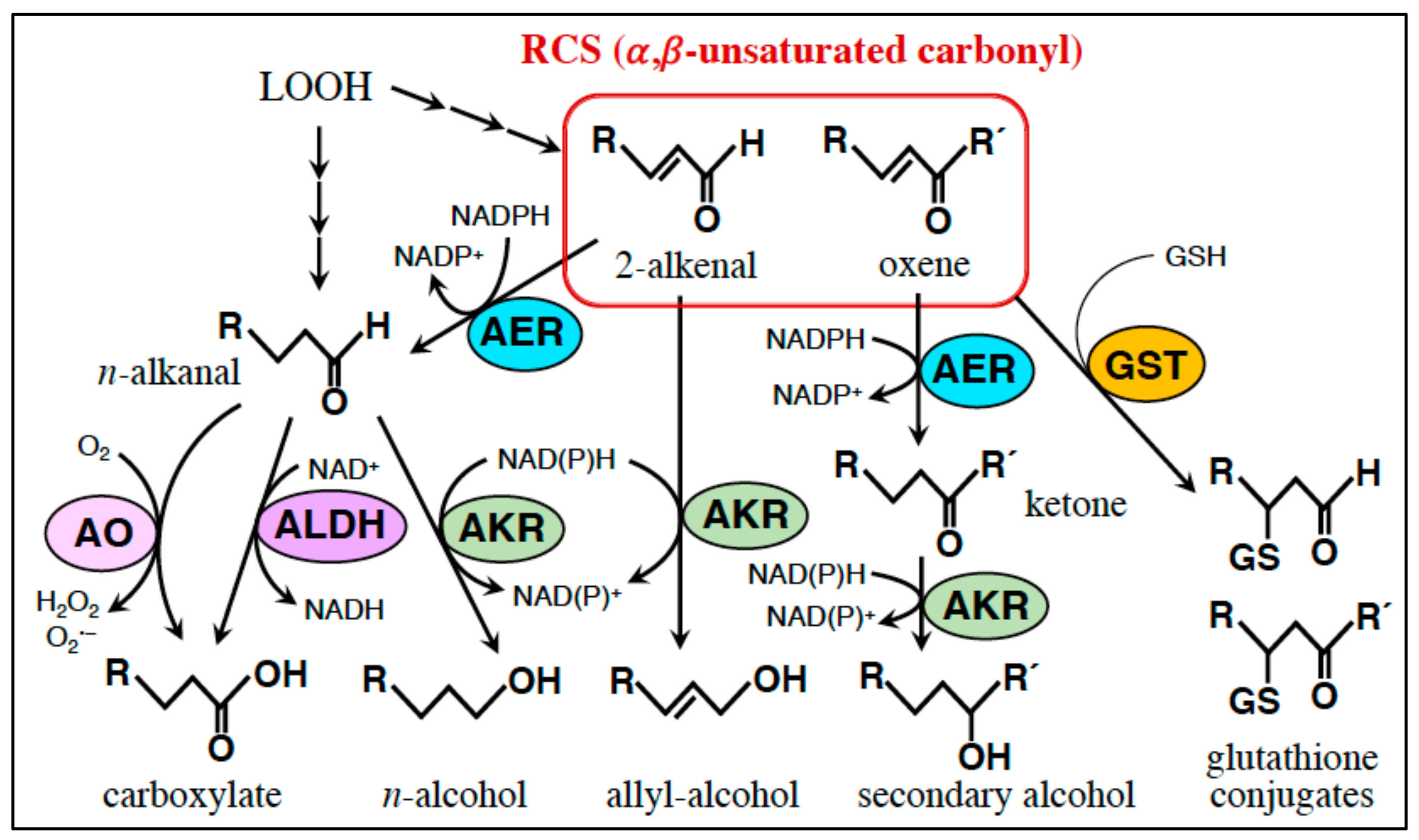 Compartment
Protein
RCS
Effect
Ref
Mitochondrion
GDC H-SU and other lipoate enzymes
HNE
Modified, Inactivated
[63]
Alternative oxidase
HNE
Inactivated
[64]
Succinate dehydrogenase

α-

SU
ATP synthase

β

-SU
Pyruvate dehydrogenase E1

β

-SU
Elongation factor Tu
Voltage-dependent anion channel
Adenine nucleotide translocator
HNE
Modified
[52]
Chloroplast
OEC33
LHCII
MDA
Modified
[51]
Phosphoribulokinase
Glyceraldehyde-3-phosphate dehydrogenase
Fructose-1,6-bisphosphatase
acrolein
Inactivated
[13]
Cyclophilin 20-3
HNE
Modified
[53]
OPDA
Modified, Activated
[66]
Cytosol
Triosephosphate isomerase
Cysteine synthase
Ascorbate peroxidase
Heat shock cognate 70 kDa protein 3
HNE
Modified
[53]
C1LP, C3LP
acrolein, HNE
Activated
[65]
Peroxisome
Nitrile-specifier protein 5
Gly-rich RNA binding protein 7
Nucleotide diphosphate kinase
HNE
Modified
[53]
Apoplast
Germin-like protein subfamily 3 number 1
Peroxidase 34
HNE
Modified
[53]

© 2019 by the authors. Licensee MDPI, Basel, Switzerland. This article is an open access article distributed under the terms and conditions of the Creative Commons Attribution (CC BY) license (http://creativecommons.org/licenses/by/4.0/).