Open Access This article is
freely available
re-usable
Article
Review of Modern Techniques for the Assessment of Skin Hydration
Research Centre for Biomedical Engineering (RCBE), City, University of London, Northampton square, London EC1V 0HB, UK
†
These authors contributed equally to this work.

Received: 11 February 2019 / Accepted: 6 March 2019 / Published: 9 March 2019
Abstract
:
Skin hydration is a complex process that influences the physical and mechanical properties of skin. Various technologies have emerged over the years to assess this parameter, with the current standard being electrical probe-based instruments. Nevertheless, their inability to provide detailed information has prompted the use of sophisticated spectroscopic and imaging methodologies, which are capable of in-depth skin analysis that includes structural and composition details. Modern imaging and spectroscopic techniques have transformed skin research in the dermatological and cosmetics disciplines, and are now commonly employed in conjunction with traditional methods for comprehensive assessment of both healthy and pathological skin. This article reviews current techniques employed in measuring skin hydration, and gives an account on their principle of operation and applications in skin-related research.
Keywords:
skin hydration; barrier function; stratum corneum
1. Introduction
The skin is the interface between humans and their environment. It acts as a means of adjusting to variations in environmental temperatures through elegant controls that regulate microcirculation, and as an impermeable barrier that allows the body to intake water without flooding its internal organs, all while prohibiting the intrusion of various xenobiotics. The outermost layer of the skin, known as the stratum corneum (SC), consists of piled-up layers of flattened corneocytes separated by lipids in the intercellular space. Together, they serve as the primary skin barrier. The skin's functions and dysfunctions, which include many pathological conditions, have huge impact on both the physical health and self-esteem of a person [
1
,
2
].
Over the years, numerous studies have contributed to understanding the skin, and provided many tools for treatment and diagnostic purposes. An absolute interdisciplinary approach has been taken to envelop many disciplines such as analytical sciences, instrumentation, and traditional dermatological and cosmetic sciences, the latter playing a major role in assessing the ingredients of personal care products and evaluating their functional efficacy.
Such advancements have greatly extended our understanding of the structural arrangement and functional characteristics of skin, and led to the development of various instruments that can be used for this purpose. Since previous interpretations of dry skin assumed a lack of water in the SC, earlier methods and devices were focused on determining the water content of the SC, while more recent techniques such as Raman analysers and infrared spectrometers, have aimed at addressing not only the water content, but also other skin constituents such as lipids and proteins, and their overall relationship with skin hydration.
This paper reviews current techniques used for the assessment of skin hydration, including traditional probe-based devices as well as spectroscopic and imaging modalities. Several techniques are correlated with the gold standard skin capacitance method, and hence correlations and comparisons are also briefly discussed within.
2. Differential Scanning Calorimetry
DSC instrumentation operate using heat flux or power compensation methods, both of which measure the heat in or out of a sample relative to a reference. A sample of SC layer is usually studied relative to a reference of distilled water, giving an output DSC thermogram that shows the instant power provided or the absorbed power related to the transition phenomenon observed. Calculating the area under each peak gives the enthalpy of the coinciding transition.
3. Electrical-Based Methods
The skin possesses electrical properties that relate to SC hydration through various types of electroconductivity elements, with protonic conduction being the predominant type in electrical measurements of skin hydration. Electrical-based methods consider a simple electrical model of the skin as a resistor connected in parallel with a capacitor, which together, contribute to the total skin impedance, Z. When an alternating current of frequency, f, is applied to the skin, the value of Z will depend on the contribution of the resistance, R, and capacitance, C: . By using measuring electrodes of adequate geometry, and a suitable applied frequency and design of oscillating electronic circuit, electrical-based devices can determine either the capacitance, conductance, or impedance contributions related to skin hydration.
Skin capacitance and conductance
: This principle is based on the classical operation of a capacitor, whose main role is to store electrical charge when it comes close to a charged field, and is comprised of at least two electrical conductors separated by an insulating material acting as a dielectric [
25
]. The dielectric constant of water differs from other substances, and is 81 compared to roughly <7 from most others. Thus, water is much more powerful at enhancing the capacity of a capacitor, and this leads to the assumption that skin capacitance is directly proportional to skin water content, and the higher the hydration level in the SC, the higher the capacitance [
25
].
The skin capacitance method is widespread and has become the standard measure of skin moisture, especially with a handheld device known as the Corneometer® (Courage & Khazaka, Cologne, Germany). Since its development in 1980, the Corneometer® has been used in numerous cosmetics and dermatological studies, either on its own or in conjunction with other devices, and is still used in correlation studies of comparable methods. The MoistureMeter(Delphin Technologies Ltd., Kuopio, Finland) is another commercial device based on capacitance measurements.
Skin conductance is an alternative approach for measurement of skin moisture derived from alterations in the electrical properties of the SC. A layer of SC with high water content produces stronger and more sensitive electrical conductivity than dehydrated SC, and increases the induction of the dielectric constant [
25
]. Generally, this gives larger conductance and capacitance values but reduces the impedance value of skin. A popular device implementing this method is the Skicon
®
(IBS Co., Hamamatsu, Japan), which is often preferred because it overcomes the issue of false or inaccurate readings experienced by capacitance and impedance measurements due to external influences. The Skicon
®
can reduce these influences by applying a higher frequency of 3.5 MHz on closely spaced electrodes inside a probe that maintains the electric field within the superficial layers of skin [
25
].
More recently, a new technique based on image micro-sensing has been developed, which performs in vivo mapping of skin surface capacitance and provides a non-optical image of SC moisture [
26
]. The first device, known as the SkinChip
®
was developed by L'Oreal, with others such as the MoistureMap (Courage & Khazaka, Cologne, Germany) soon following. A typical sensor of this kind is composed of an array of micro-capacitors distributed on a thin silicon oxide plate that produces grey level images once applied onto the skin with sustainable pressure at a level of every 50 m [
27
,
28
]. Further analysis of the image via computer software gives the average grey level of the image histogram, which can then be used to obtain the average capacitance of skin surface (
Figure 1
). Comparative studies between the SkinChip
®
and Corneometer
®
showed a good correlation between the two devices, and deemed it a necessary tool for complete analysis and quantification of skin surface hydration [
27
,
29
].
The combination of skin surface imaging and detailed analytical quantification of corneocyte hydration provided by capacitance imaging has created new research opportunities in investigating SC hydration [
30
,
31
,
32
], sweat gland activity [
33
,
34
,
35
], skin microrelief and ageing [
36
,
37
], and the effects of topical applications [
38
,
39
,
40
]. The technique has also been used for diagnostic purposes or general examinations of skin physiology [
26
,
27
]. Furthermore, skin capacitance mapping has recently been incorporated into the revised EEMCO guidelines for in vivo measurement of skin water [
41
].
Skin impedance: Opposite to capacitance and conductance, skin impedance evaluates the resistance of skin, which increases with dehydration of the SC layer and is influenced by the composition and metabolic activity of skin. Commercial products implementing this principle include the Nova® Dermal Phase Meter (Nova, Waltham, MA, USA) and the Surface-Characterizing Impedance monitor (SCIM) (U.S. Pat. No. 5353802, issued 11 October 1994). These instruments integrate the readings taken at separate frequencies of the applied alternating current, and generate impedance-based capacitance values. Unlike the Corneometer® and Skicon®, which use a low frequency range or a fixed frequency, the Nova® Dermal Phase Meter measures samples along a controlled rise time of up to 1 MHz. The Surface-Characterizing Impedance monitor is also capable of magnitude and phase outputs.
4. Transepidermal Water Loss
Transepidermal Water Loss (TEWL) is characterised by the constitutive evaporation of water that initiates from the deeper, more hydrated layers of the epidermis and dermis and then moves towards the more superficial SC layer, in the absence of sweat gland activity. Depending on climate conditions, a portion of this water evaporates through the SC whilst some is preserved within by the presence of NMFs, which in turn, directly relate to skin hydration and barrier function. If the integrity of SC barrier function is compromised, more water can escape, and TEWL increases. Nevertheless, elevated levels of TEWL is not an indication of SC damage, particularly when is accompanied by alterations in temperature and hydration, but it is a very valuable and commonly used tool in dermato-cosmetic tests, particularly when examining the effects of various products and conditions on SC barrier function.
TEWL can be measured through four different mechanisms:
5. Skin Elasticity
Skin elasticity relates to the elastic properties of skin and its flexibility. It is determined through measurement of tensile, rheological, and biochemical parameters under mechanical stress. Assessment of skin elasticity is important in both cosmetics and dermatology because it is believed to decrease with chronological and photo- ageing, and has experimentally proved to rise with hydration levels.
Measurements of skin elasticity are typically performed using non-invasive techniques, of which two methodologies exist that apply skin deformation either in the plane of the skin e.g., torsion, or horizontally to it e.g., suction or indentation. In this case, measured parameters are obtained indirectly and can reveal complex skin attributes including the arrangement of dermal collagen and elastic fibres, and the desquamation process. Therefore, it is difficult to solely rely on mechanical methods for hydration measurements and additional techniques are often incorporated into this assessment.
6. Photothermal Radiometry
7. Attenuated Total Reflection Infrared Spectroscopy
Attenuated Total Reflection Infrared (ATR-IR or ATR-FTIR) spectroscopy is based on the attenuation of the evanescent wave generated by totally reflected IR radiation on an internal reflectance element (IRE) crystal. Every time a reflection occurs by the surface of the attached crystal, the skin absorbs part of the energy due to the evanescent wave theory and the electromagnetic nature of light. The amount of energy absorbed by the skin is recorded on a spectrum by a suitable infrared detector, and has the advantage of only analysing the first micron of the SC due to the submicronic penetration of evanescent waves.
For skin hydration measurements, a beam of polychromatic IR light is shone on the skin surface, and depending on the type of crystal used, several reflections are produced between the upper surface of the crystal and that of the skin before light is returned to the spectrometer. Every time a reflection occurs on the skin, the beam penetrates a small distance into the SC, where it is absorbed. The generated IR spectrum shows the IR absorption bands of the SC.
Various approaches have been reported for measuring SC water content using this technique, including calculating the ratio between the amide I and amide II bands at 6.06 and 6.45 m, or between the absorbance at 1.95 and 1.8 m, or by measuring the absorbance at 8.94 m and 9.65 m and then calculating the area of the water absorbance peak at 4.76 m. Nevertheless, measurements may require calibration with standards, and absorption intensities are susceptible to influences from the presence of moisturisers or other products on the skin surface. As mentioned earlier, results are also limited to superficial SC layers due to weak IR beam penetrations, which are only capable of reaching a depth of 5–20 m.
An early study by Potts et al. [
117
] used this technique to quantitatively determine the water content in the SC through a combination of in vivo and in vitro examinations, and again later by Bommannan [
118
] to assess the SC barrier function in vivo. Boncheva et al. [
119
] used second derivative IR spectra for evaluation of lateral lipid chain packing, and was able to detect the presence and extent of OR and HEX phases. The report suggested that ATR-FTIR can be used for both in vivo and ex vivo assessments of SC barrier function and lateral lipid organisation changes resulting from topical application of products, and to provide information on the molecular basis of interactions. It has also been possible to study lipid molecular organisation in relation to SC integrity and cohesion in healthy human skin [
120
] using ATR-FTIR, as well as lipid-lamellae phase behaviours in the axilla, which showed reduced barrier function in this anatomical region [
121
]. At present, the technique is commonly combined with additional modalities such as Raman Spectroscopy for evaluation of molecular organisation of SC lipids and corneocytes in drug penetration [
122
,
123
,
124
,
125
,
126
] and detection of unwanted drug crystallisation within skin [
127
], as well as in cosmetic studies of the distribution of phospholipids-based formulations [
128
] and moisturiser penetration [
129
,
130
].
The main limitation of ATR-IR/FTIR stems from the pressure required to obtain a good signal-to-noise ratio, which can cause occlusion and accumulation of water at the test site. Furthermore, the water band at 1640 cm
−1
exhibits a frequency that coincides with the protein amide I vibration at 1645 cm
−1
, and is thus susceptible to variations from moisture levels. Although Potts et al. [
96
] substituted this band with 2100 cm
−1
, which had the betterment of being in the mid-IR region and away from protein or formulation ingredients peaks, it is very weak and sometimes inconspicuous in dry skin [
131
].
8. Nuclear Magnetic Resonance
Nuclear Magnetic Resonance (NMR) takes advantage of the magnetic properties of the nucleus to sense the proximity of electronegative atoms, double bonds, and other magnetic nuclei nearby in the molecular structure. In practice, NMR measurements are acquired by placing a sample in an intense magnetic field, causing a nuclear spin that is aligned with the field axis. Radiofrequency waves are then used to excite the nuclei, resulting in vibrations or resonance perpendicular to the field axis. At the end of the excitation process, the induced spin begins to relax and finally returns to a state of equilibrium. This relaxation creates the NMR signal, which is then used to specify the atoms and molecules of the sample in question. The final NMR signal can be portrayed as a spectrum of resonance by magnetic resonance spectroscopy or as an image, using Magnetic Resonance Imaging (MRI).
9. Optical Coherence Tomography
Optical Coherence Tomography (OCT) is an imaging technique that uses broadband near-IR light waves, and works by reconstructing a depth profile of a sample's structure using the time-delay information present in the light waves that were reflected from different depths inside the sample. A 3-dimensional image can then be produced by scanning a light beam laterally across the surface of the sample. The lateral resolution is arbitrated by the spot size of the light beam, whereas the depth resolution relies primarily on the optical bandwidth of the radiation source. As a result, OCT methods can give high axial resolutions with large field depths, and are useful for in vivo imaging of thick sections of biological mediums.
OCT instrumentation come in two categories: Time-Domain OCT (TDOCT) or Spectral-Domain OCT (FDOCT or SDOCT). Early OCT systems were mostly based on TDOCT technology and used in earlier experiments. However, SDOCT is more sensitive and offers higher image acquisition speed, thereby rapidly replacing TDOCT in many applications.
For healthy skin measurements, OCT allows real-time in vivo imaging that is capable of distinguishing thickened layers of SC as shown in
Figure 4
, and can clearly identify the epidermis, the dermo-epidermal junction, as well as the normal regional differences and well defined anatomical sites [
60
,
151
,
152
,
153
]. The information acquired at each depth of skin is achieved by adjusting the reference beam path length by scanning with the mirror.
Due to short coherence length, spatial depth resolution can be less than 10 m, but owing to multiple scattering, this can be restricted to reconnaissance depths of a few 100 m, increasing accordingly with depth. Deeper exploration depths of >1 mm are attainable with a decline in resolution.
It was revealed by multiple studies [
155
,
156
,
157
] that by altering the focus of light in the measurement arm at different refractive index (
n
) of skin and if the focal point is found for varying lens configurations by analysing the acquired image data,
n
can be quantitatively reconstructed (
Figure 4
). In turn, the refractive index of skin is significantly linked to its water content, and so the technique can be used for skin hydration measurements. Knuttel et al. [
157
] extracted optical scattering properties using the Huygens-Fresnel model simultaneously with refractive index measurements, and related the effects of skin hydration levels to the optical characteristics retrieved from OCT images.
Furthermore, OCT has been extensively used in investigations of skin pathology including Nonmelanoma skin cancer [
158
,
159
,
160
,
161
,
162
,
163
,
164
,
165
,
166
,
167
,
168
], and inflammatory skin conditions such as contact dermatitis and psoriasis [
151
,
167
,
169
]. Welzel [
151
] applied OCT in patients suffering from contact dermatitis and psoriasis, and found that light scattering in the upper dermis was reduced in healthy skin, indicating that edema provided enhanced optical settings for imaging of collagen fibres. Although variations in OCT images did not entirely correlate with those shown by other methods, the technique can effectively determine epidermal thickness and the signal attenuation coefficient in the upper dermis in both skin conditions. The use of OCT for measurement of SC, epidermal and full skin thickness remains employed in current reports on the effects of topical moisturisers [
170
,
171
,
172
], and on skin ageing [
173
,
174
].
10. Raman Spectroscopy
When a ray of light becomes incident on a sample, several processes can occur. Light may travel through and remain unaltered, or it can be reflected or absorbed. It can also be scattered in different directions while maintaining its energy. The latter is known as elastic or Rayleigh scattering. Alternatively, light can undergo an inelastic scattering process, whereby energy is transferred to or from the medium, and the scattered photon has less or more energy than that of the incident photon. When the scattered photon has less energy, the process is known as Raman stokes scattering, while the opposite is referred to as Raman anti-stokes scattering. This is the mechanism of Raman scattering which forms the basis of Raman Spectroscopy (RS), and deals with the Raman Effect resulting from energy exchange between incident photons and molecular scattering.
Because Raman signals are generally weak, all commercial Raman spectrometers employ a laser as a source of radiation, accompanied by very sensitive detectors particularly in in vivo applications. Other essential components include a sampling stage and a spectrometer that separates and records the different frequency components. A typical output of a Raman spectrometer is a spectrum of scattered intensity versus the frequency shift between the incident and scattered photons. This frequency shift is proportional to the energy difference, and is distinctive of the molecule that the photon collided with. The final spectrum features a series of Raman bands that are consistent with the various vibrational modes of the sample molecule. Raman peaks are often spectrally narrow and mostly relate to the vibration of a specific molecular bond.
Most biological molecules are Raman-active and have fingerprint spectral properties. Therefore, Raman spectra include information pertaining to the molecular composition or chemical fingerprint, structure, phase, orientation, and even concentration of chemical substances, hence the technique is especially suited to studies of molecular composition in pathological skin [
175
,
176
,
177
,
178
,
179
,
180
,
181
,
182
,
183
,
184
,
185
,
186
,
187
].
Due to the natural fluorescence of mammalian skin presenting an obstacle in Raman spectroscopic measurements, it is only when longer wavelength near-IR excitation was developed that the technique was applied to the skin [
188
]. Earlier reports focused on identifying key Raman biomarkers that could be implemented to investigate skin molecular components, and the possibility of characterising healthy and diseased skin tissue [
189
]. Such reports included investigations into the state of skin hydration [
190
,
191
], on the role of skin NMFs [
192
,
193
,
194
,
195
], and the effects of UV protective agents, photoageing, and chronic ageing on water and protein structure [
196
,
197
].
The use of RS to examine lateral packing and conformational order of SC lipids is well established, as well as in evaluations of SC water profiles [
198
], and determinations of lipid/protein ratio through calculations of lipid and protein intensity peaks [
199
]. Such attributes have been employed in a variety of skin-related studies of barrier permeability in dry skin conditions [
199
,
200
,
201
,
202
], substance penetration [
203
], and evaluations of the efficacy of moisturisers [
204
] and anti-ageing ingredients and formulations [
56
,
205
].
11. Confocal Raman Microscopy
Confocal Raman Microscopy (CRM), also termed Confocal Raman Spectroscopy, combines a Raman spectrometer and a standard optical microscope, together offering highly magnified sample visualisation as well as Raman analysis with a microscopic laser spot. The arrangement includes a spatial filter, which enables spatial filtering of the analysis volume of the sample in the xy (lateral) and z (depth) axes. This makes it possible to analyse individual particles or layers with dimensions down to 1 m and below.
For an ideal confocal design, the extents of spatial resolution are illustrated principally by the laser wavelength, the quality of the employed laser beam, and the selected type of microscope objective. As this poses a significant technical challenge, it was some time before commercial instruments suitable for skin measurements became available, the first being the Raman skin analyzer® 3510 (RiverD International B.V., Rotterdam, The Netherlands).
In recent years, CRM has gained much interest and is considered a powerful technique in biomolecular analysis that can directly measure skin molecular composition and structure, and allow acquisition of depth profiles of SC and deeper skin layers. In relation to skin hydration, the first series of studies were carried out by Caspers et al. [
192
,
193
,
194
,
195
] who performed in vivo studies of human skin, and demonstrated the variations in water concentration within the SC and epidermis at penetration depths of up to 100 m (
Figure 5
). The same author investigated skin components that produced Raman signals [
193
], and reported temporal and spatial changes for the penetration-enhancer dimethyl sulfoxide in the SC [
192
]. Moreover, the technique allowed construction of water concentration profiles of human SC with obvious consequences for penetration of exogenous hydrophilic molecules [
193
,
206
,
207
].
Further studies from cosmetics research focused on the effects of moisturising ingredients and the ability to monitor Raman-active molecules which have been topically applied on the skin, to study the evolution in time of concentration profiles. One performed by Sieg et al. [
208
] compared the efficacy of three different moisturisers in vivo over a period of 3 weeks. The obtained Raman spectra were used to build concentration profiles of water and NMFs, and the thickness of SC was determined at different anatomic sites from the water concentration profiles.
Furthermore, evaluations of intercellular lipids packing and ordering, and SC thickness are commonly performed using CRM [
209
,
210
,
211
,
212
,
213
,
214
], and include applications in skin ageing [
211
,
212
] and topical oils [
209
]. Eklouh-Molinier [
211
] combined CRM and cutometric data into a Partial Least-Squares (PLS) model in an attempt to profile spectral markers associated with ageing, and used this to create a "biological age" chart that mapped skin age based on its molecular state rather than its chronological age. Besides SC thickness and water content, measurements of ceramides/fatty acids and NMF content are possible with CRM, and can be used to assess barrier function [
215
,
216
], as well as the penetration of sunscreens [
217
,
218
], cosmetic ingredients [
219
,
220
,
221
], and other substances [
220
,
222
,
223
,
224
,
225
,
226
,
227
,
228
].
12. Near Infrared Spectroscopy
Near Infrared (NIR) Spectroscopy is a subset of IR spectroscopy that addresses the broad and less intense peaks in the NIR region between 750–2500 nm of the electromagnetic spectrum. Unlike mid-IR measurements, NIR spectroscopy is capable of deeper sample penetrations and gives the absorptivity of the given species based on its molecular overtone and combination vibrations.
Nonetheless, due to the broad nature of these vibrations and the complexity of NIR spectra, it is difficult to assign specific attributes to a definite chemical component, and therefore, multivariate calibrations techniques such as Principal Component Analysis (PCA), PLS, or Artificial Neural Networks (ANN) are often necessary to extract relevant information.
13. Discussion
Traditional methods such as capacitance, TEWL and mechanical-based techniques are considered the standard in skin-related measurements, and use SC water content as a primary factor in determining SC hydration and barrier function without precisely analysing its composition nor its structure. However, it is important to evaluate additional skin parameters such as lipid and protein compositions to truly understand the phenomena quantified by indirect methods that are normally used, and monitor the efficacy of various formulations applied on the skin. For this purpose, several spectroscopic and imaging techniques have been employed in recent years.
Capacitance/resistance measuring probes that determine skin moisture by means of skin conductivity or impedance are often occlusive, which can lead to inaccuracies resulting from water build up on the examination site [
131
], and according to their theory of operation, the flow of electrical current through the SC is associated with its water content, but this flow is also influenced by alterations in ion movement and by re-orientation of protein dipole moments. Therefore, the presence of salts from formulations or perspiration can impact ion mobility, and other chemicals can disrupt the protein arrangement, thereby modifying the orientation of protein dipole moments. Besides their principal drawbacks, electrical-based devices provide arbitrary outputs, without further details on additional factors that influence this parameter, though their quick operation is beneficial in many settings.
Similarly, TEWL and mechanical-based devices have proved excellent in highlighting the biomechanical nature of SC, but nonetheless, they do not provide direct measurements of skin hydration or barrier function and merely serve as indicators of changes in these parameters.
In recent years, the availability of spectroscopic and imaging techniques suitable for skin measurements has placed greater interest on detailed analysis of skin structure and composition in relation to skin hydration and barrier function. Prior to this, evaluations of the state of SC water and characterisation of SC water types were only possible using DSC, which remains the standard but involves complex and time-consuming procedures, and only feasible for ex vivo measurements. Furthermore, emerging techniques such as multimodal sensors of skin hydration [
254
,
255
,
256
] claim to offer "skin-like" devices that integrate with skin without application of pressure for real-time, in vivo hydration assessment but these remain in early research.
Spectroscopic techniques such as OTTER, IR, NIR, and Raman are well established for skin-related measurements and enable assessment of multiple attributes including SC thickness, water concentration gradient within the SC, and lipid molecular organisation. This is the same for imaging techniques such as MRI, OCT, and CRM, which can provide clear images of skin layers and constituents that encompass structural details on morphology, thickness, and water content. CRM is even able to establish water concentration profiles of skin in regions such as the palms and forearm, with a 5 cm−1 resolution and up to 100 mm in depth.
The mentioned spectroscopic and imaging techniques are capable of direct measurements, but due to the complex nature of acquired data, advanced data analysis techniques e.g., multivariate methods, are often necessary, though their primary limitations are the expensive costs of instrumentation, and as most are bench-top instruments, measurements are restricted to specific anatomical sites. Exceptions to this are NIR spectroscopy and OTTER. NIR spectroscopic instrumentation can be easily coupled with flexible fibre optics and portable spectrometers for reduced costs and restrictions on selection of examination site, and can offer increased stability against environmental conditions such as temperature and relative humidity [
248
,
250
,
257
]. Moreover, techniques such as ATR-IR are occlusive, which can cause accumulation of water at the test site, and as for OCT, the coherence length is short, and resolution can be less than 10 m. Despite their limitations, sophisticated spectroscopic and imaging techniques provide detailed analysis of various skin attributes, and although traditional methods remain employed, they are now commonly accompanied by spectral or imaging data for comprehensive assessment of skin.
Author Contributions
Conceptualization, M.Q.; investigation, M.Q.; data curation, M.Q.; writing–original draft preparation, M.Q.; writing–review and editing, M.Q. and P.K.; supervision, P.K.; project administration, P.K.
Funding
This research received no external funding.
Conflicts of Interest
The authors declare no conflict of interest.
Abbreviations
The following abbreviations are used in this manuscript:
| | |
| --- | --- |
| SC | Stratum Corneum |
| RH | Relative Humidity |
| DSC | Differential Scanning Calorimetry |
| SCIM | Surface-Characterizing Impedance monitor |
| TEWL | Transepidermal Water Loss |
| OTTER | Opto-Thermal Transient Emission Radiometry |
| WVFD | Water vapor flux density |
| ATR-IR | Attenuated Total Reflection Infrared |
| ATR-FTIR | Attenuated Total Reflection Fourier Transform Infrared |
| IRE | Internal Reflectance Element |
| NMR | Nuclear Magnetic Resonance |
| MRI | Magnetic Resonance imaging |
| OCT | Optical Coherence Tomography |
| TDOCT | Time-Domain Optical Coherence Tomography |
| SDOCT | Spectral-Domain Optical Coherence Tomography |
| RS | Raman Spectroscopy |
| CRM | Confocal Raman Microscopy |
| PLS | Partial Least-Squares |
| NIR | Near Infrared |
| PCA | Principal Component Analysis |
| ANN | Artificial Neural Networks |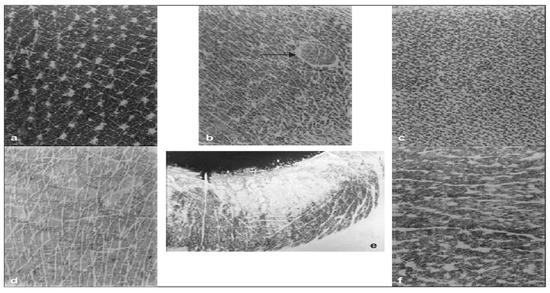 Figure 1.
Capacitance imageing of skin surface at six anatomical sites. (
a
) Lateral side of the neck, (
b
) Abdomen. The arrow points to a ruby angioma appearing as a circumscribed lesion with an altered pattern of skin linenetwork. (
c
) Inner aspect of the arm with a very dense network of microrelief lines. (
d
) Dorsum of the hand, (
e
) Lower lip, (
f
) Forehead [
29
].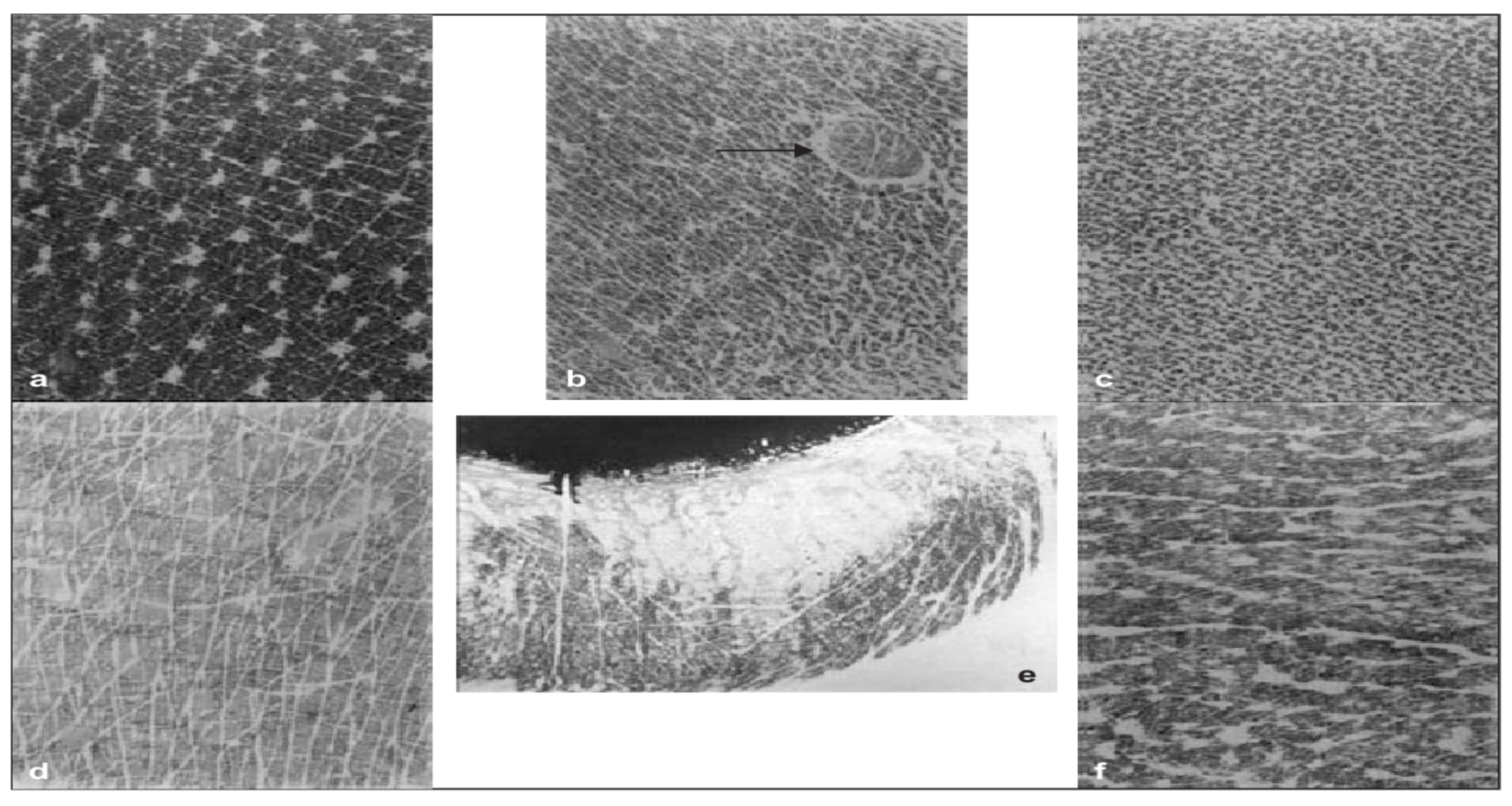 Figure 2.
Water vapour flux density (WVFD) data (Method A) versus opto-thermal transient emission radiometry (OTTER) (Method B) from the volar forearm [
102
].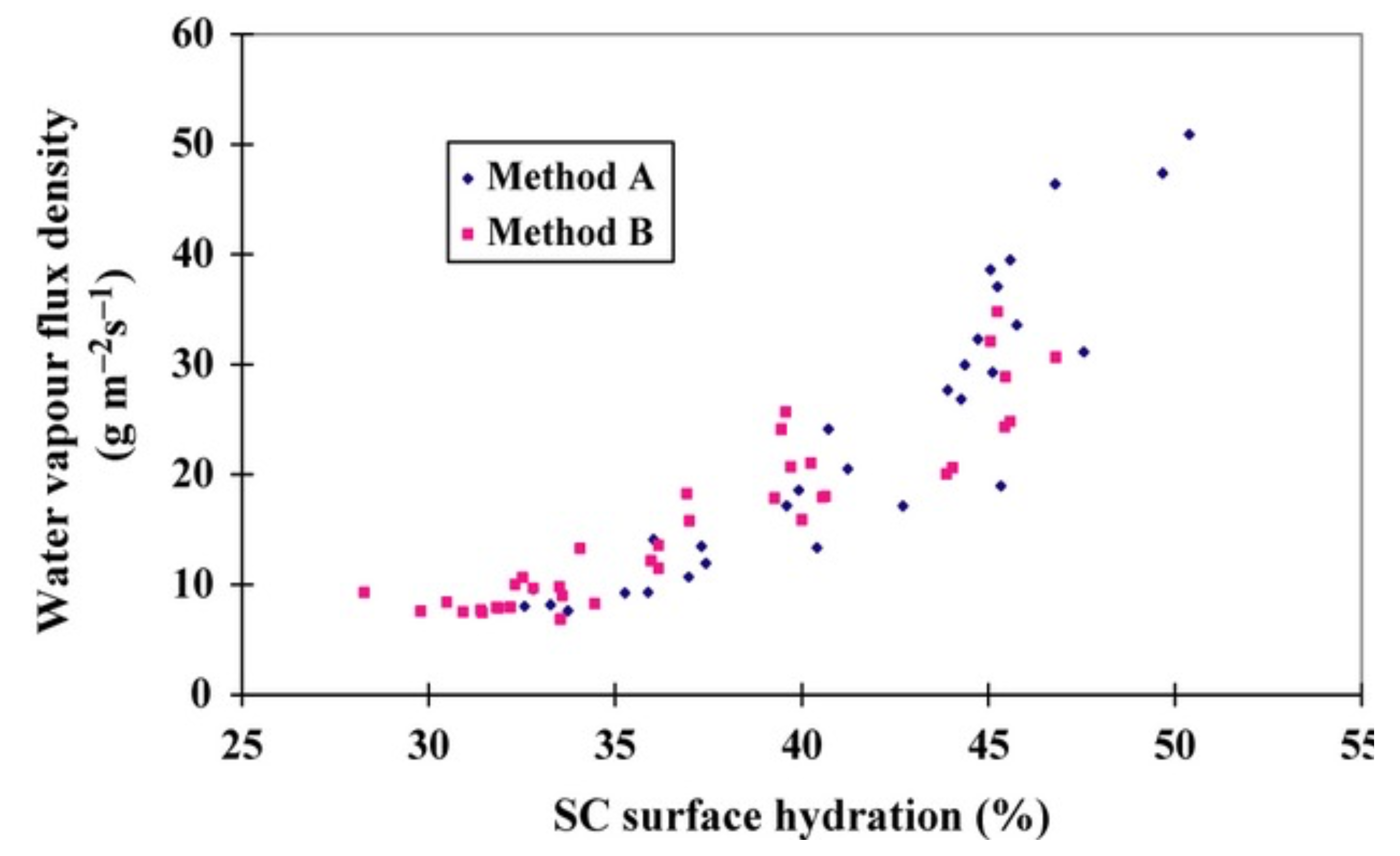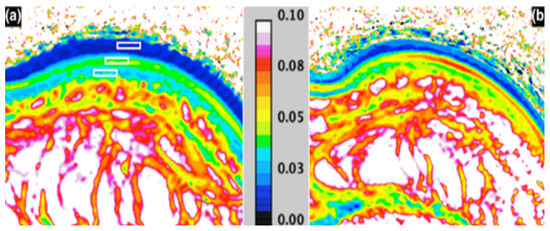 Figure 3.
MRI T2 mapping (seconds); (
a
) before—with ROI's in the stratum corneum, epidermis and dermis; and (
b
) 1 h after moisturiser application [
148
].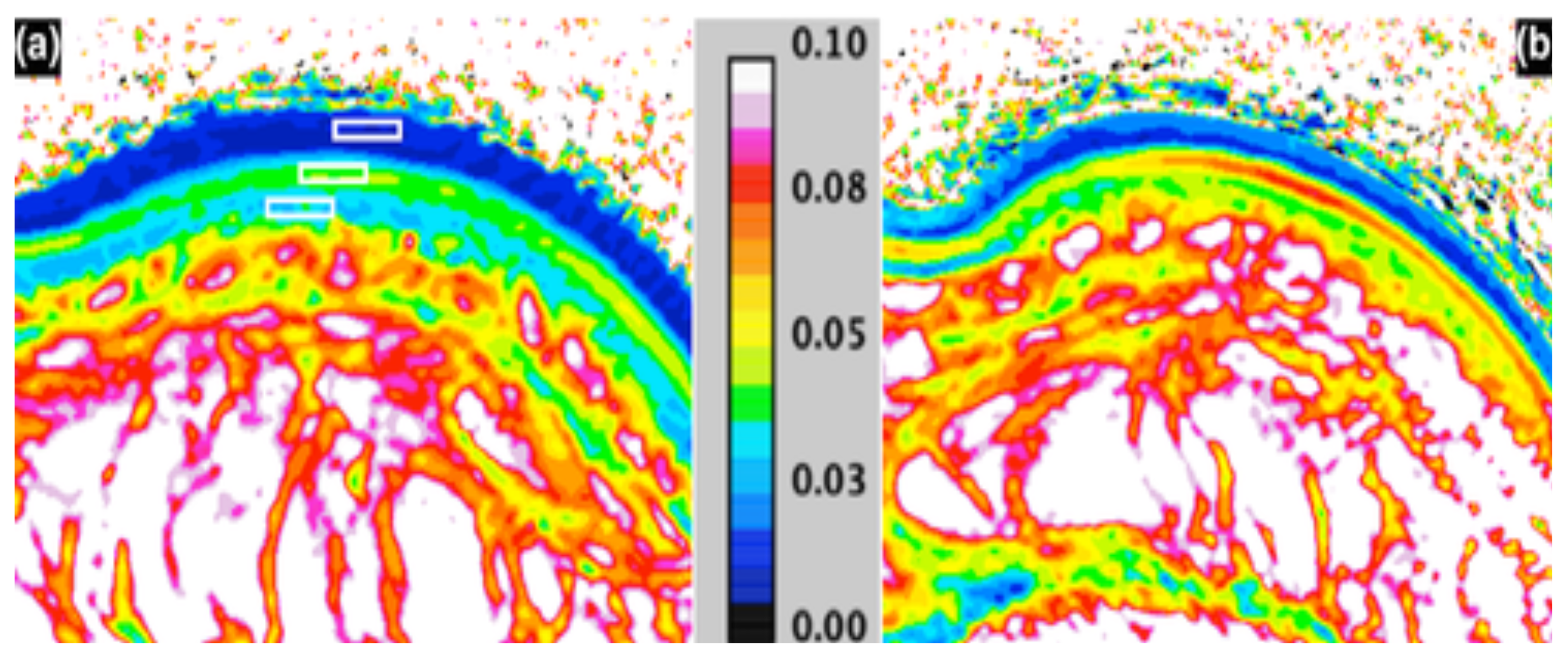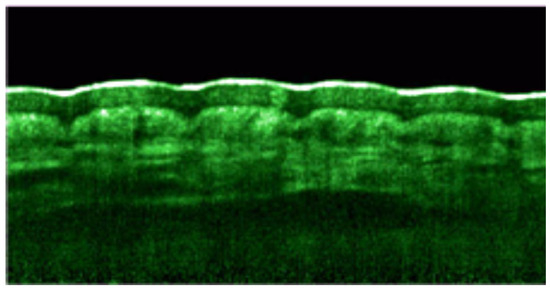 Figure 4.
Speckle reduced OCT image obtained by combining 8 individual scans to suppress speckle noise. The SC is marked by the white-coloured top layer [
154
].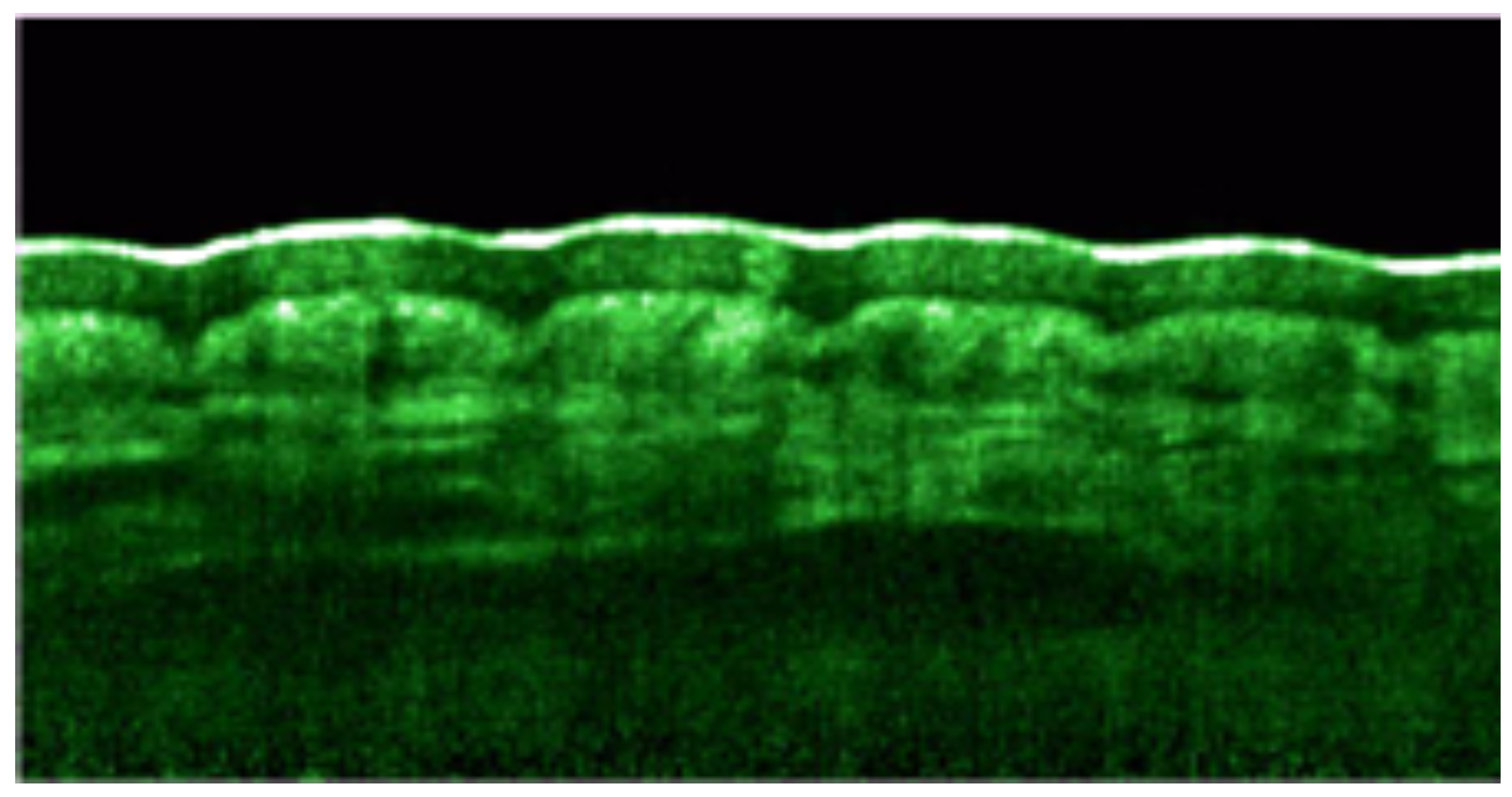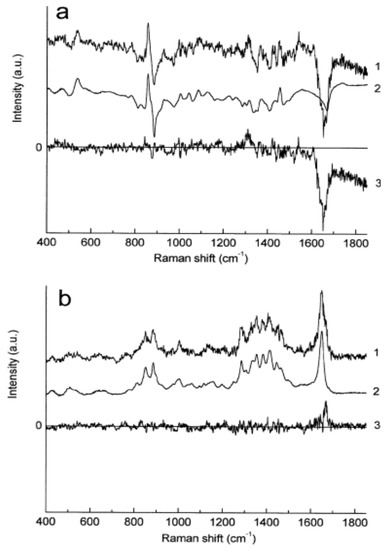 Figure 5.
Raman spectra obtained at different depths below the skin surface by means of the qualitative least-squares fit. (
a
) (1) Difference between Raman spectra obtained at the skin surface and at 10 m below; (2) fit result; (3) residual (curve 1–curve 2). (
b
) (1) Difference between Raman spectra obtained at 60 m and 70 m below skin surface; (2) fit result; (3) residual (curve 1–curve 2) [
193
].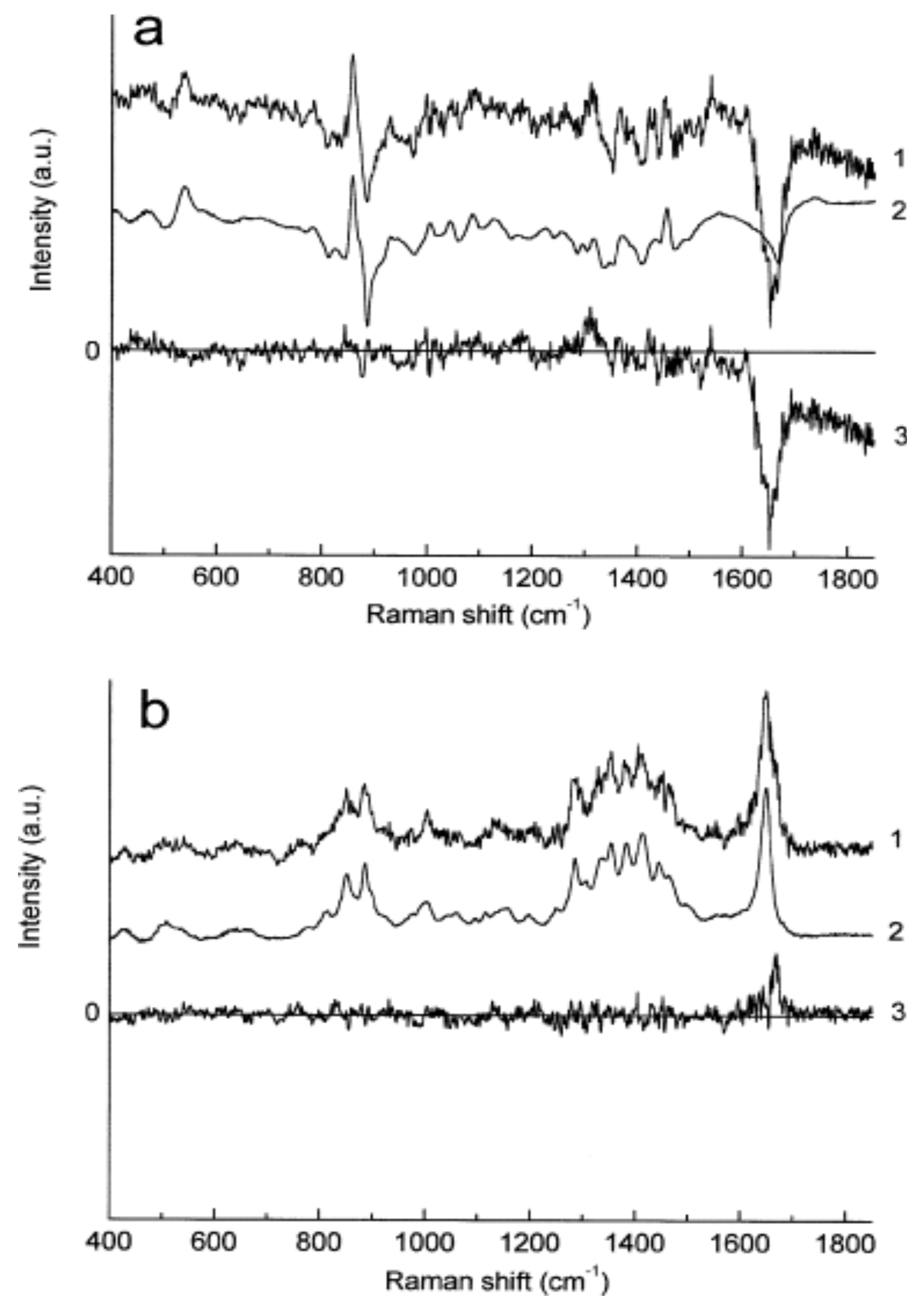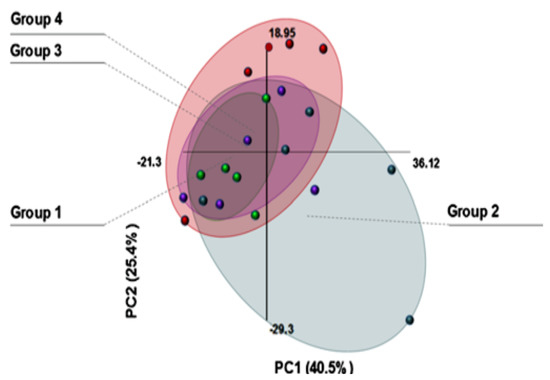 Figure 6.
Scores plot of PCA analysis of NIR spectra acquired from individuals with varied moisturizing patterns. (Group 1) daily, (Group 2) none, (Group 3) daily & dry skin, and (Group 4) random. Vairability indicated by size of oval grouping [
250
].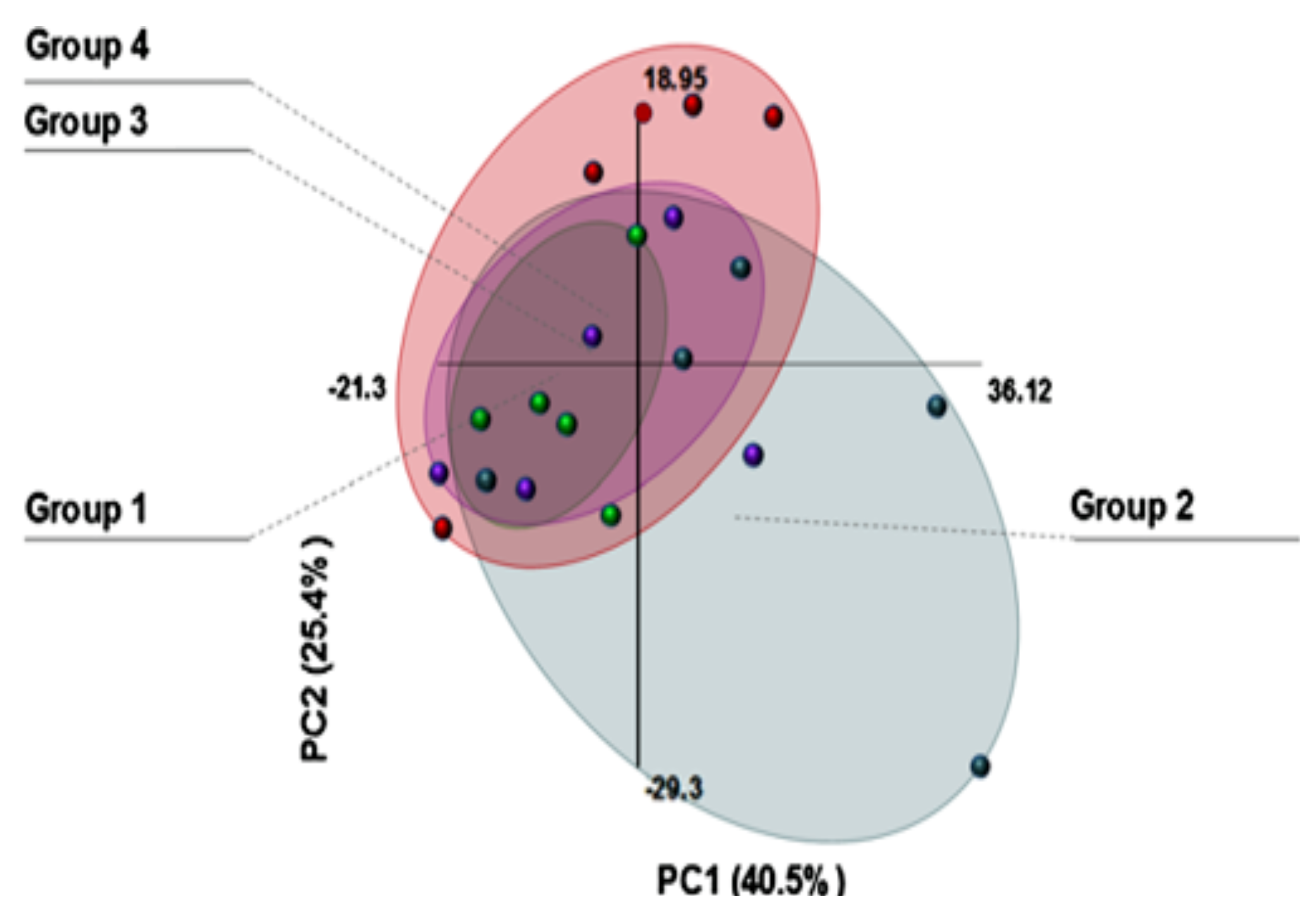 © 2019 by the authors. Licensee MDPI, Basel, Switzerland. This article is an open access article distributed under the terms and conditions of the Creative Commons Attribution (CC BY) license (http://creativecommons.org/licenses/by/4.0/).