Open Access This article is
freely available
re-usable
Article
Polysialic Acid Modulates the Binding of External Lactoferrin in Neutrophil Extracellular Traps
1
Institute of Reproductive Biology, Leibniz Institute for Farm Animal Biology (FBN), Wilhelm-Stahl-Allee 2, 18196 Dummerstorf, Germany
2
Institute of Biochemistry, Faculty of Medicine, Justus-Liebig-University, Friedrichstr. 24, 35392 Giessen, Germany
3
Institute of Veterinary Physiology and Biochemistry, Justus-Liebig-University Giessen, Frankfurter Str. 100, 35392 Giessen, Germany
†
Current Address: GIP Gesellschaft für innovative Personalwirtschaftssysteme mbH, Strahlenbergerstr. 112, 63067 Offenbach, Germany.

Received: 29 January 2019 / Accepted: 21 March 2019 / Published: 28 March 2019
Abstract
:
Neutrophil extracellular traps (NETs) are formed by neutrophils during inflammation. Among other things, these DNA constructs consist of antimicrobial proteins such as lactoferrin and histones. With these properties, NETs capture and destroy invading microorganisms. The carbohydrate polysialic acid (polySia) interacts with both lactoferrin and histones. Previous experiments demonstrated that, in humans, lactoferrin inhibits the release of NET and that this effect is supported by polySia. In this study, we examined the interplay of lactoferrin and polySia in already-formed NETs from bovine neutrophils. The binding of polySia was considered to occur at the lactoferricin (LFcin)-containing domain of lactoferrin. The interaction with the peptide LFcin was studied in more detail using groups of defined polySia chain lengths, which suggested a chain-length-dependent interaction mechanism with LFcin. The LFcin domain of lactoferrin was found to interact with DNA. Therefore, the possibility that polySia influences the integration of lactoferrin into the DNA-structures of NETs was tested by isolating bovine neutrophils and inducing NETosis. Experiments with NET fibers saturated with lactoferrin demonstrated that polySia initiates the incorporation of external lactoferrin in already-loaded NETs. Thus, polySia may modulate the constituents of NET.
Keywords:
polysialic acid; lactoferrin; neutrophil extracellular traps; innate immune system
Supplementary Materials
The following are available online at
https://zenodo.org/record/2613411#.XJyW_KIRWUk
: Figure S1: Unpolysialylated particles show no specific accumulation on the NET fibers of bovine neutrophils; Figure S2: Rotatable three-dimensional (3D) models of two independently simulated interactions between polySia and lactoferrin; Figure S3: Detailed depiction of the LFcin-containing domain of lactoferrin and the interacting polySia chain (MD simulation result); Figure S4: 3D structural alignment of human and bovine lactoferrin; and Figure S5: Sequence alignment of lactoferrin using the sequences of humans, bovine animals, goats, horses, and camels.
Author Contributions
All authors conceived and designed the experiments. A.K., T.L., and K.F.B. performed the experiments and analyzed along with S.P.G. the data; A.K. and S.P.G. wrote the paper.
Funding
This work was supported by a grant from the Deutsche Forschungsgemeinschaft (GA 1755/1-2).
Acknowledgments
The authors are thankful for the excellent technical help provided by Gesine Krüger and Christina E. Galuska for critical remarks. In addition, we gratefully thank Andreas Vernunft for the blood samples.
Conflicts of Interest
The authors declare no conflicts of interest. The funders had no role in the design of the study, in the collection, analyses, or interpretation of the data, in the writing of the manuscript, or in the decision to publish the results.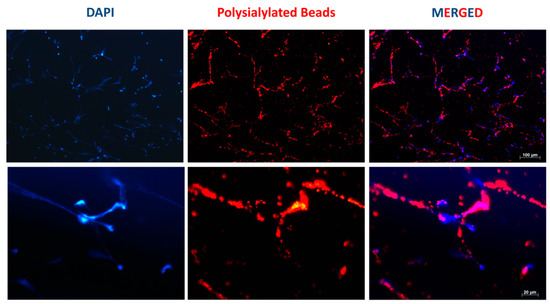 Figure 1. Polysialylated particles accumulating on the neutrophil extracellular trap (NET) fibers of bovine neutrophils. The neutrophils were isolated and stimulated with phorbol myristate acetate (PMA) and ionomycin to induce the formation of the NETs, and red fluorescent polysialylated particles were added. DNA staining was performed using 4′,6-diamidino-2-phenylindole (DAPI) (blue). Scale bars: 100 and 20 µm.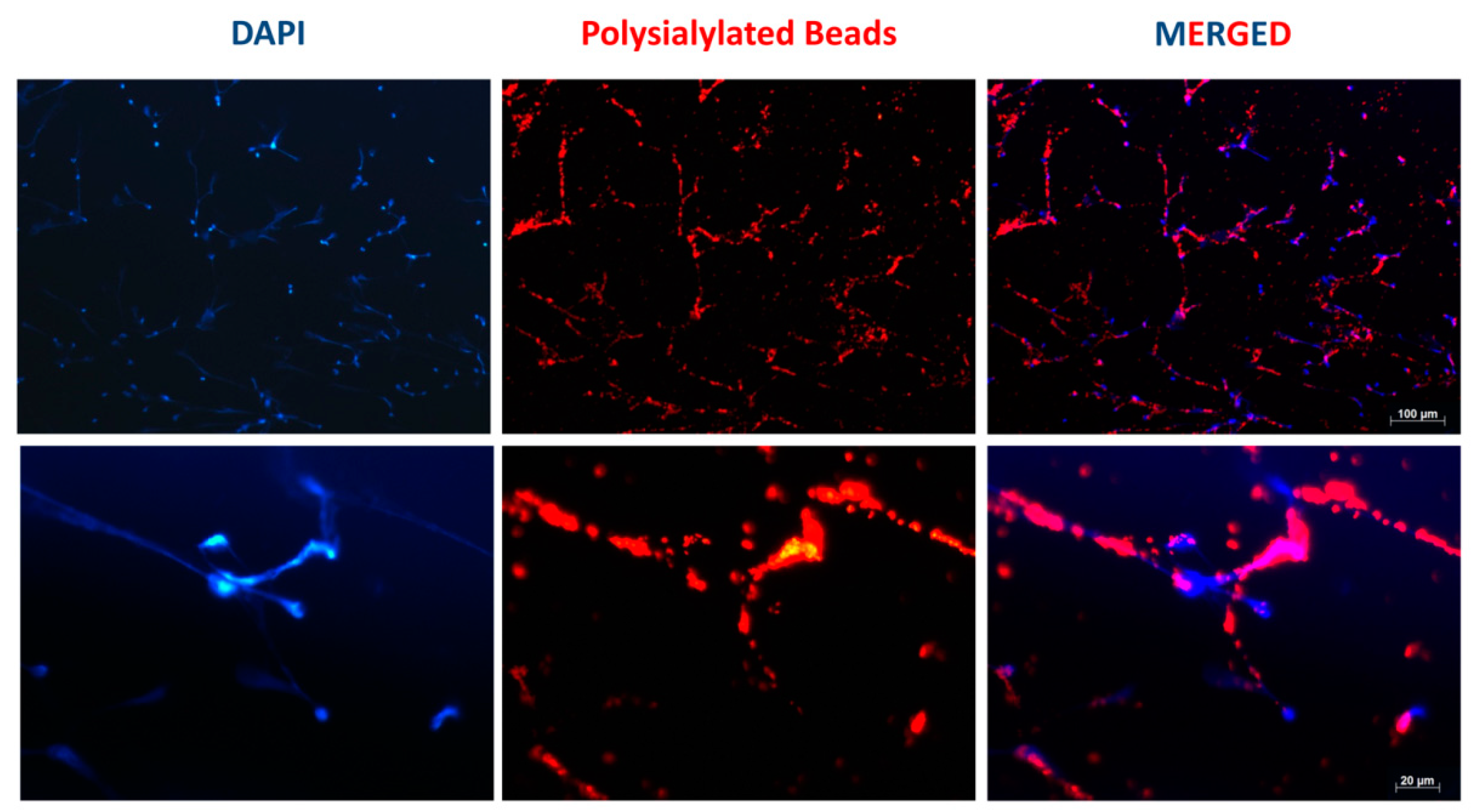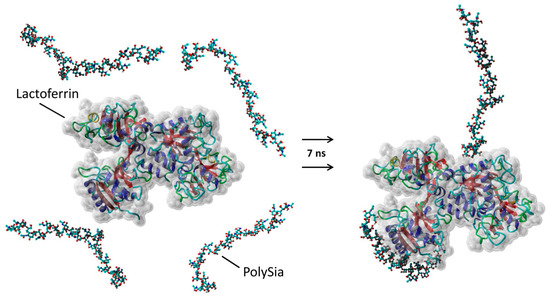 Figure 2. A molecular dynamics simulation of polysialic acid (polySia) binding to lactoferrin. Lactoferrin was placed with four polySia chains (20 sialic acid units) in a water box. After 7 calculated nanoseconds, the simulation showed two possible binding sites for polySia on the lactoferrin. Lactoferrin is displayed in a ribbon form with a dynamic surface. The polySia is shown in a ball-and-stick form, with hydrogen (gray), oxygen (red), carbon (turquoise), and nitrogen (blue) atoms.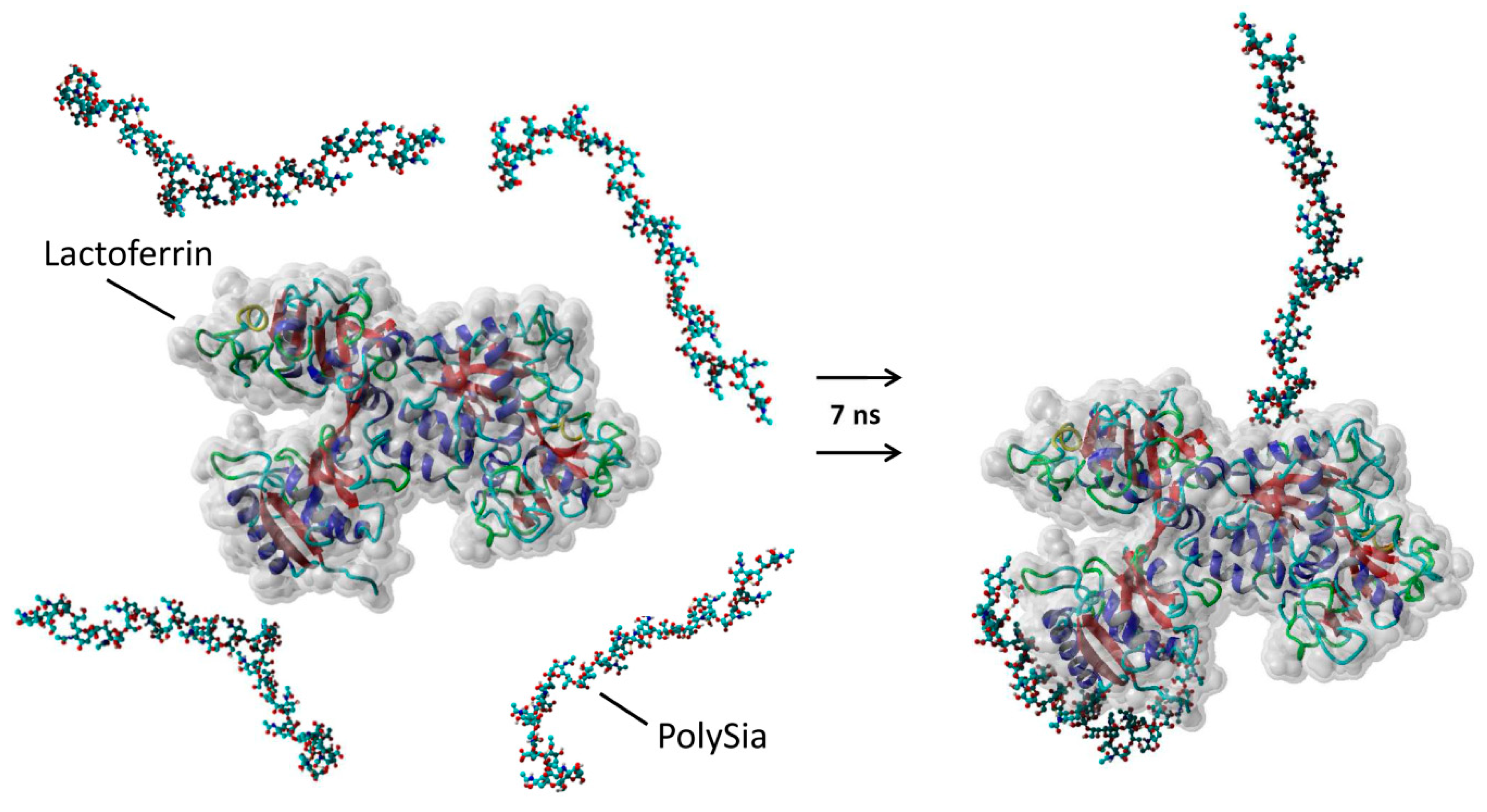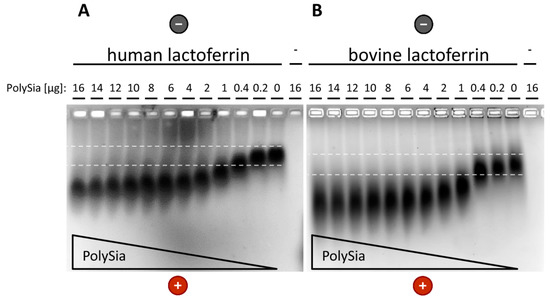 Figure 3. PolySia interacting comparably with (a) human and (b) bovine lactoferrin. The interaction of polySia with human and bovine lactoferrin was analyzed using a native agarose gel system. The lactoferrin (8 µg; molecular weight of lactoferrin: bovine, 87 kDa; human, 82 kDa) was incubated with different amounts of polySia and subsequently separated through electrophoresis. Proteins were stained using Coomassie blue.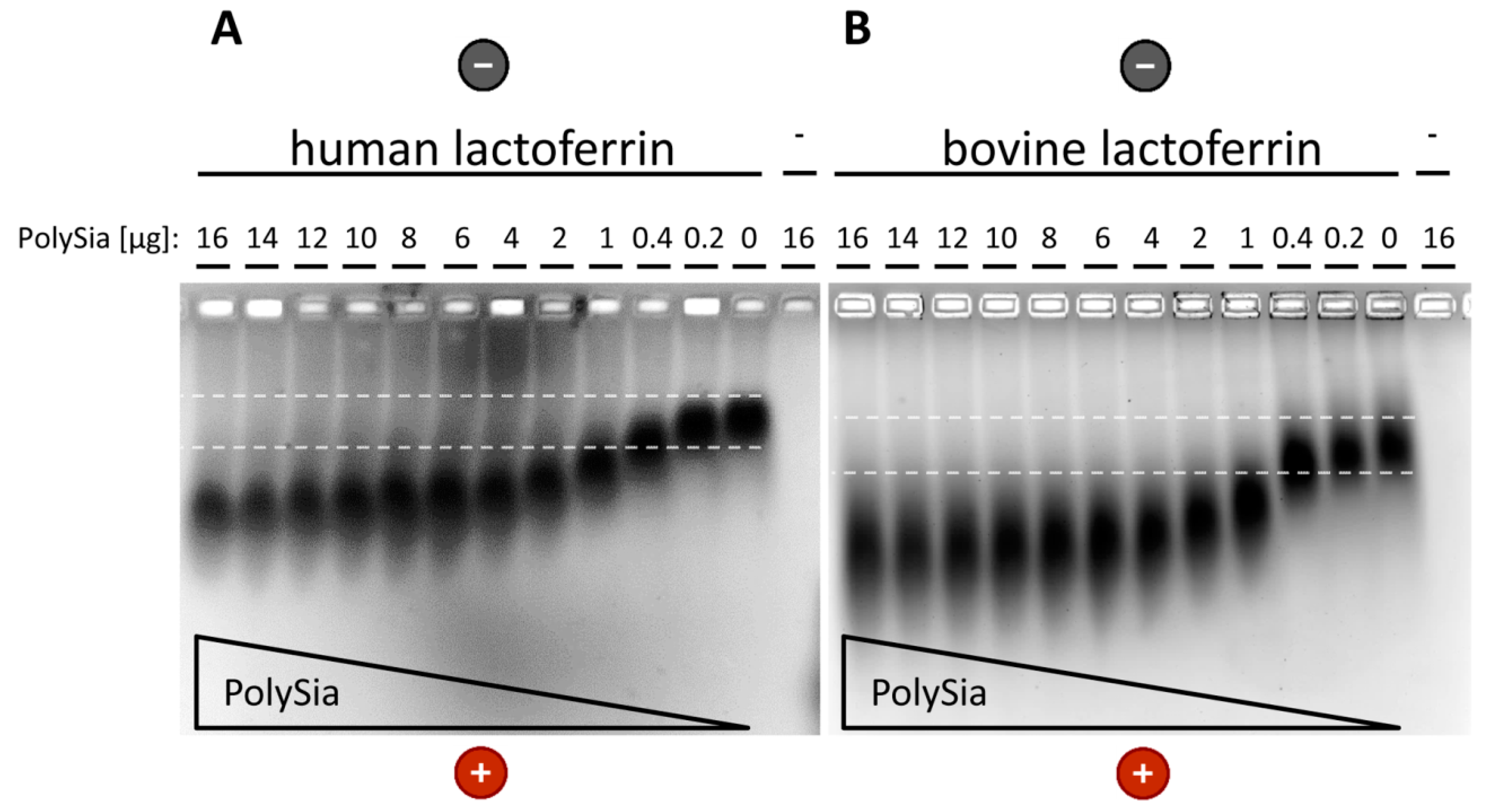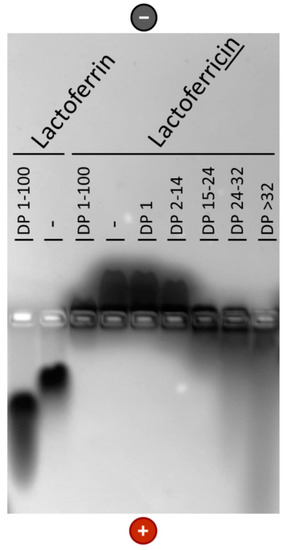 Figure 4. Lactoferricin (LFcin) interacts with polySia in a chain-length-dependent manner. Bovine LFcin (10 µg; molecular weight of 3 kDa) was incubated with polySia (5 µg) using groups with different degree of polymerization (DP). Subsequently, the samples were separated using native agarose gel electrophoresis. As positive control, lactoferrin was used (10µg). Proteins were stained with Coomassie blue.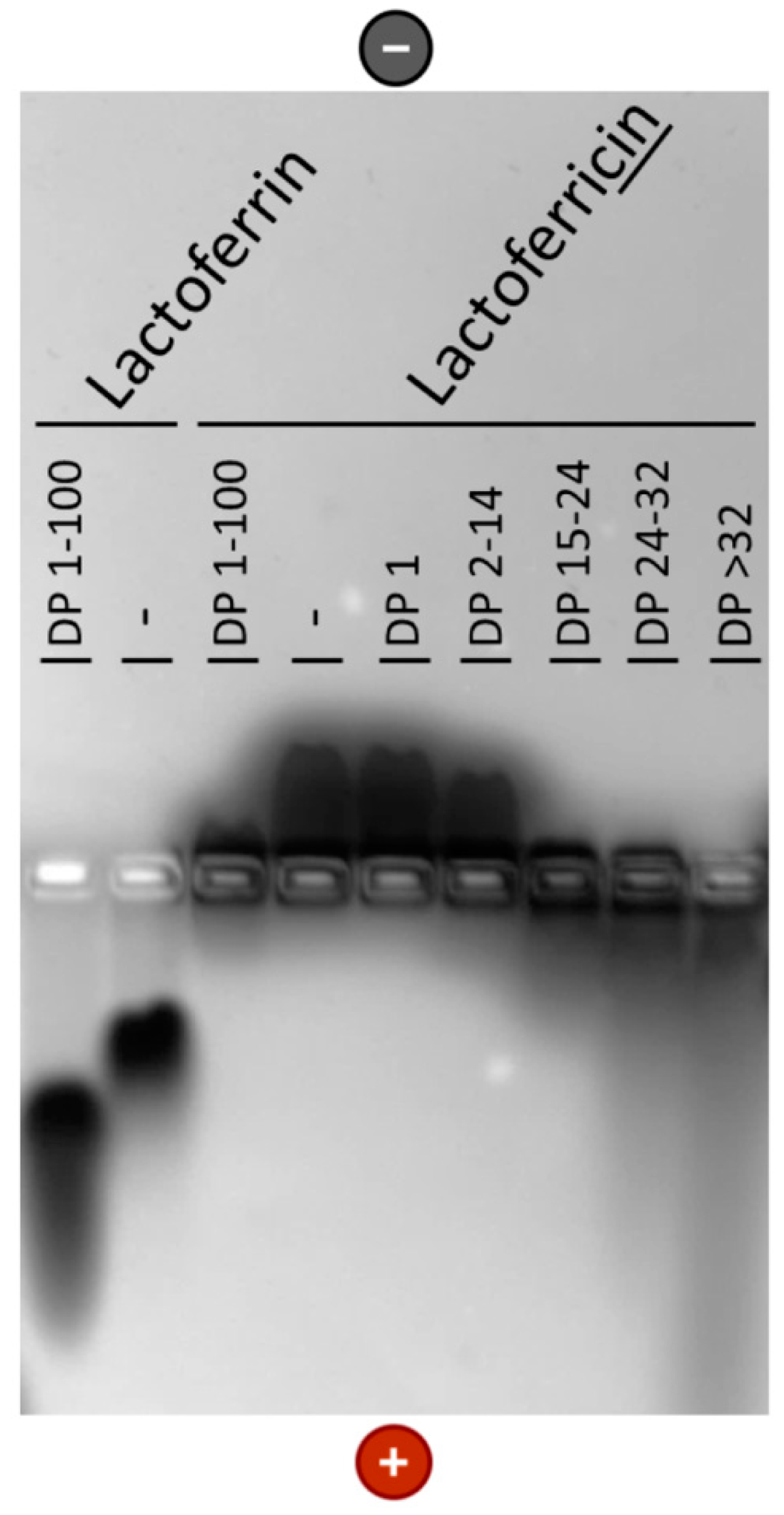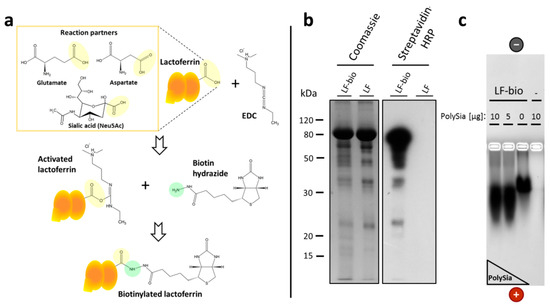 Figure 5. Biotinylation of bovine lactoferrin. (a) Bovine lactoferrin was biotinylated using 1-ethyl-3-(3-dimethylaminopropyl)carbodiimid (EDC) and biotin-hydrazide under acidic conditions. (b) Biotinylation of lactoferrin was controlled using Coomassie staining and streptavidin-horseradish peroxidase (HRP). Therefore, unbiotinylated lactoferrin (LF) and biotinylated lactoferrin (LF-bio) were used. (c) The biotinylated lactoferrin was incubated with different amounts of polySia and subsequently separated using native gel electrophoresis.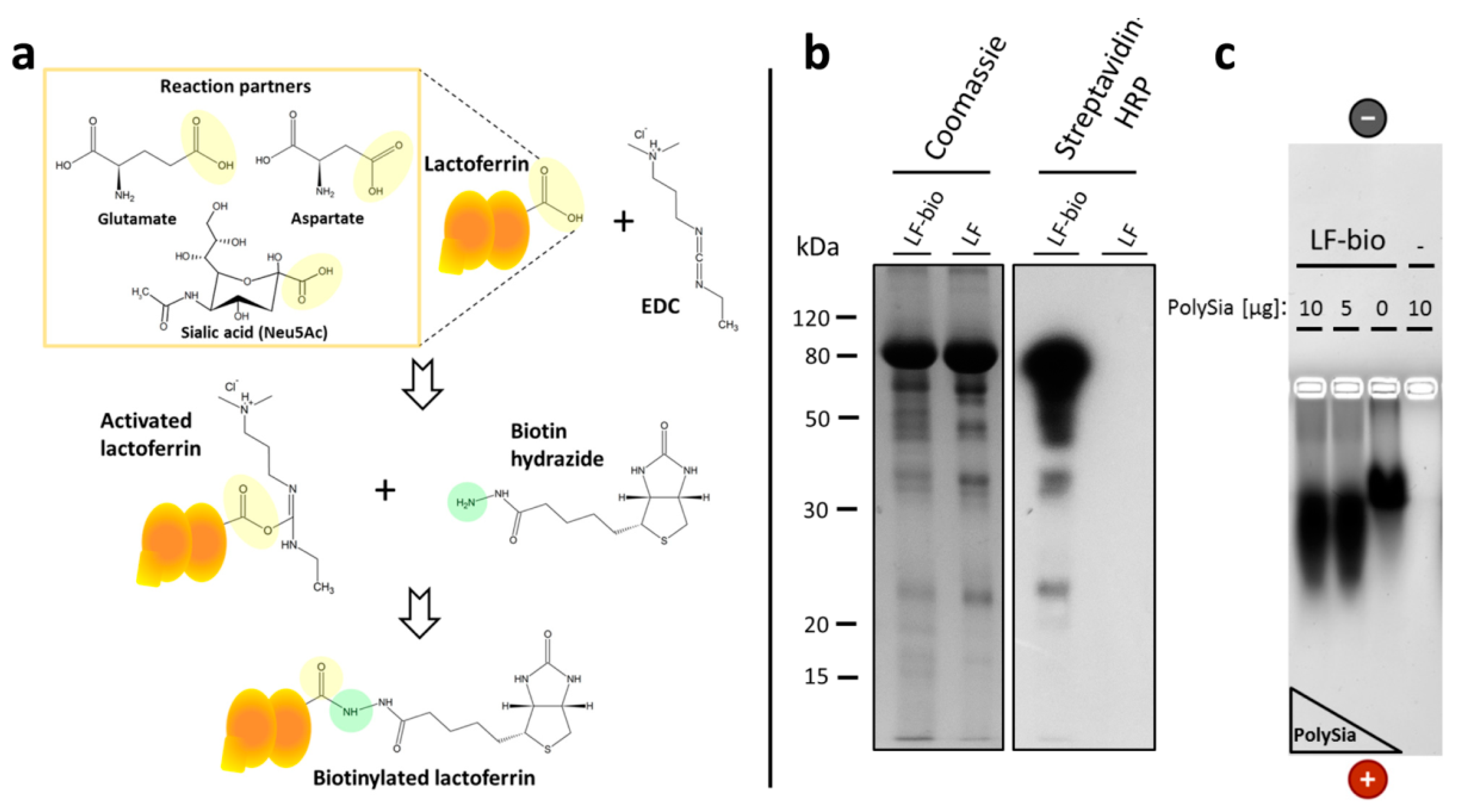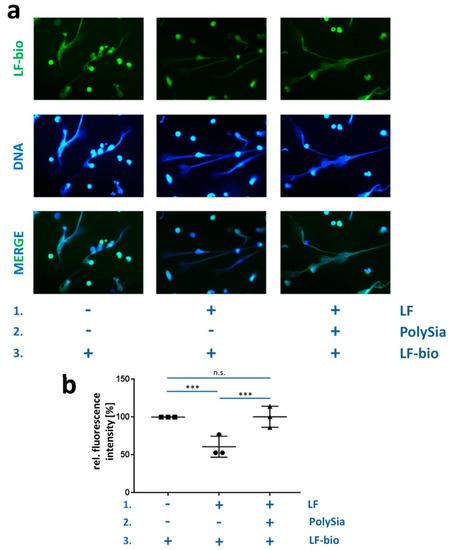 Figure 6.
PolySia modulates the integration of lactoferrin into NETs. (
a
) After the formation of the NET fibers by induced bovine neutrophils, the fibers were treated in three successive steps: (1) Unbiotinylated lactoferrin, (2) polySia, and (3) lactoferrin-biotin. Three different combinations were applied. DAPI (blue) was used to stain the DNA, and lactoferrin-biotin (green) was visualized with an antibody against biotin. The scale bar represents 100 µm. (
b
) Quantification of lactoferrin-staining. The values for lactoferrin-biotin alone were set to 100%. Note: n.s. denotes not significant, *
p
< 0.05, **
p
< 0.01, and ***
p
< 0.001.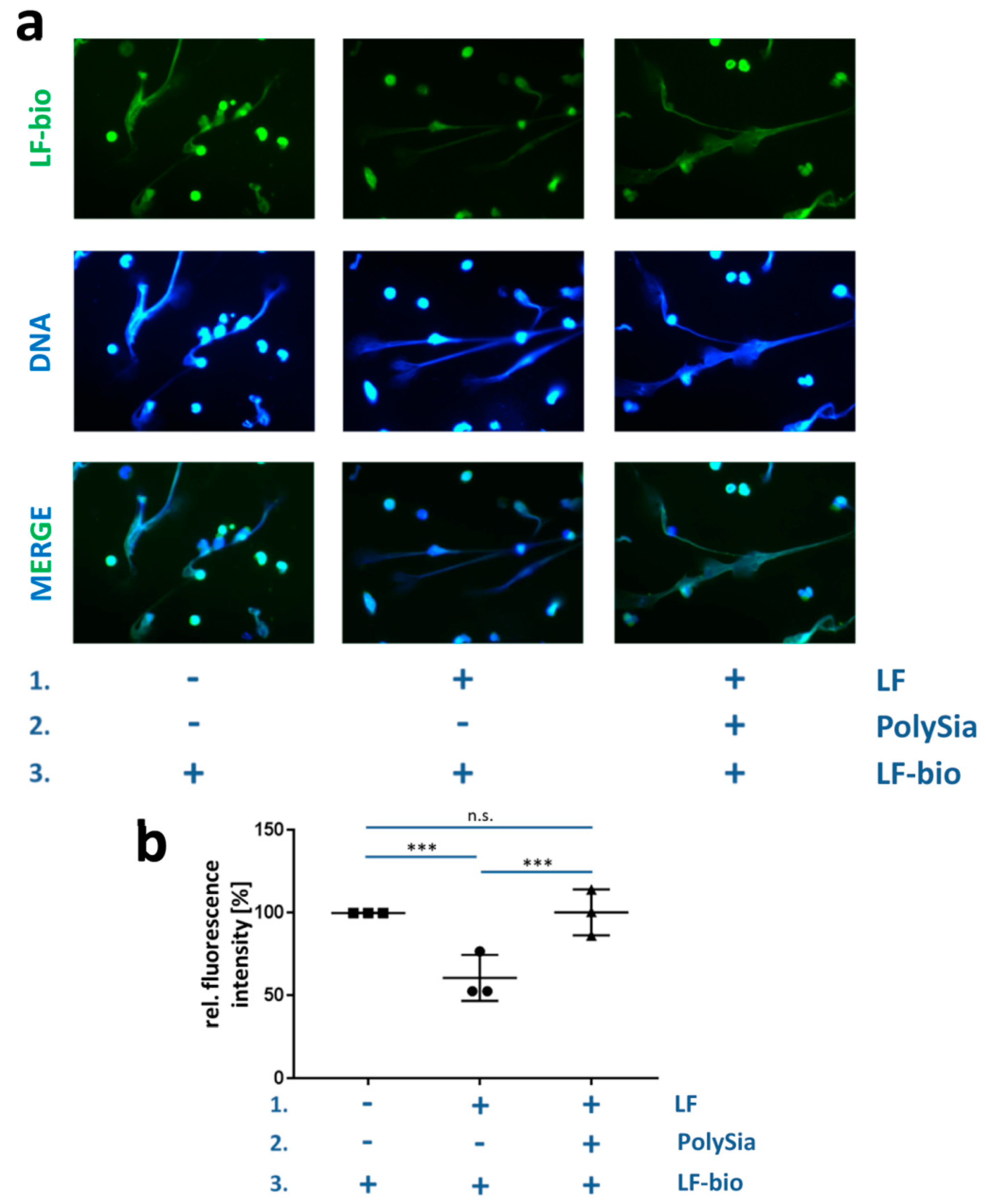 © 2019 by the authors. Licensee MDPI, Basel, Switzerland. This article is an open access article distributed under the terms and conditions of the Creative Commons Attribution (CC BY) license (http://creativecommons.org/licenses/by/4.0/).