Pinniped- and Cetacean-Derived ETosis Contributes to Combating Emerging Apicomplexan Parasites (
Toxoplasma gondii

,

Neospora caninum

) Circulating in Marine Environments

Institute of Parasitology, Justus Liebig University Giessen, 35392 Giessen, Germany

*

Author to whom correspondence should be addressed.

Received: 29 January 2019 / Revised: 25 February 2019 / Accepted: 6 March 2019 / Published: 9 March 2019
Abstract
Leukocytes play a major role in combating infections either by phagocytosis, release of antimicrobial granules, or extracellular trap (ET) formation. ET formation is preceded by a certain leukocyte cell death form, known as ETosis, an evolutionarily conserved mechanism of the innate immune system also observed in marine mammals. Besides several biomolecules and microbial stimuli, marine mammal ETosis is also trigged by various terrestrial protozoa and metazoa, considered nowadays as neozoan parasites, which are circulating in oceans worldwide and causing critical emerging marine diseases. Recent studies demonstrated that pinniped- and cetacean-derived polymorphonuclear neutrophils (PMNs) and monocytes are able to form different phenotypes of ET structures composed of nuclear DNA, histones, and cytoplasmic peptides/proteases against terrestrial apicomplexan parasites, e.g.,
Toxoplasma gondii
and
Neospora caninum
. Detailed molecular analyses and functional studies proved that marine mammal PMNs and monocytes cast ETs in a similar way as terrestrial mammals, entrapping and immobilizing
T. gondii
and
N. caninum
tachyzoites. Pinniped- and cetacean leukocytes induce vital and suicidal ETosis, with highly reliant actions of nicotinamide adenine dinucleotide phosphate oxidase (NOX), generation of reactive oxygen species (ROS), and combined mechanisms of myeloperoxidase (MPO), neutrophil elastase (NE), and DNA citrullination via peptidylarginine deiminase IV (PAD4).This scoping review intends to summarize the knowledge on emerging protozoans in the marine environment and secondly to review limited data about ETosis mechanisms in marine mammalian species.
View Full-Text
►

▼

Figures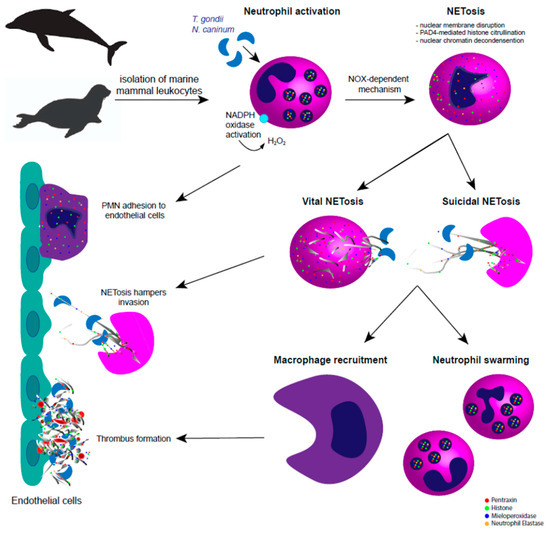 Figure 1
This is an open access article distributed under the
Creative Commons Attribution License
which permits unrestricted use, distribution, and reproduction in any medium, provided the original work is properly cited (CC BY 4.0).

Share & Cite This Article
MDPI and ACS Style
Villagra-Blanco, R.; Silva, L.M.R.; Conejeros, I.; Taubert, A.; Hermosilla, C. Pinniped- and Cetacean-Derived ETosis Contributes to Combating Emerging Apicomplexan Parasites (Toxoplasma gondii, Neospora caninum) Circulating in Marine Environments. Biology 2019, 8, 12.
Note that from the first issue of 2016, MDPI journals use article numbers instead of page numbers. See further details here.
Related Articles
Comments
[Return to top]