Supramolecular Organogels Based on
N

-Benzyl,

N′

-Acylbispidinols

1

Faculty of Chemistry, Lomonosov Moscow State University, 119991 Moscow, Russia

2

Zelinsky Institute of Organic Chemistry, Russian Academy of Sciences, 119991 Moscow, Russia

3

Faculty of Physics, Lomonosov Moscow State University, 119991 Moscow, Russia

4

Topchiev Institute of Petrochemical Synthesis, Russian Academy of Sciences, 119991 Moscow, Russia

5

Kurnakov Institute of General and Inorganic Chemistry of the Russian Academy of Sciences, 119991 Moscow, Russia

6

Department of Chemistry, University of Durham, Durham DH1 3LE, UK

7

Frumkin Institute of Physical Chemistry and Electrochemistry, Russian Academy of Sciences, 119071 Moscow, Russia

8

Institute of Geology of Ore Deposits, Petrography, Mineralogy and Geochemistry, Russian Academy of Sciences, 119017 Moscow, Russia

9

Faculty of Material Science, Lomonosov Moscow State University, 119991 Moscow, Russia

*

Author to whom correspondence should be addressed.

Received: 10 December 2018 / Revised: 24 December 2018 / Accepted: 3 January 2019 / Published: 11 January 2019
Abstract
The acylation of unsymmetrical
N
-benzylbispidinols in aromatic solvents without an external base led to the formation of supramolecular gels, which possess different thicknesses and degrees of stability depending on the substituents in para-positions of the benzylic group as well as on the nature of the acylating agent and of the solvent used. Structural features of the native gels as well as of their dried forms were studied by complementary techniques including Fourier-transform infrared (FTIR) and attenuated total reflection (ATR) spectroscopy, atomic force microscopy (AFM), transmission electron microscopy (TEM), scanning electron microscopy (SEM), and small-angle X-ray scattering and diffraction (SAXS). Structures of the key crystalline compounds were established by X-ray diffraction. An analysis of the obtained data allowed speculation on the crucial structural and condition factors that governed the gel formation. The most important factors were as follows: (i) absence of base, either external or internal; (ii) presence of HCl; (iii) presence of carbonyl and hydroxyl groups to allow hydrogen bonding; and (iv) presence of two (hetero)aromatic rings at both sides of the molecule. The hydrogen bonding involving amide carbonyl, hydroxyl at position 9, and, very probably, ammonium N-H
+
and Cl
−
anion appears to be responsible for the formation of infinite molecular chains required for the first step of gel formation. Subsequent lateral cooperation of molecular chains into fibers occurred, presumably, due to the aromatic π−π-stacking interactions. Supercritical carbon dioxide drying of the organogels gave rise to aerogels with morphologies different from that of air-dried samples.
View Full-Text
►

▼

Figures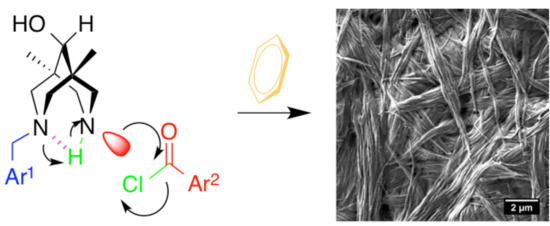 Graphical abstract
This is an open access article distributed under the
Creative Commons Attribution License
which permits unrestricted use, distribution, and reproduction in any medium, provided the original work is properly cited (CC BY 4.0).

Share & Cite This Article
MDPI and ACS Style
Medved'ko, A.V.; Dalinger, A.I.; Nuriev, V.N.; Semashko, V.S.; Filatov, A.V.; Ezhov, A.A.; Churakov, A.V.; Howard, J.A.K.; Shiryaev, A.A.; Baranchikov, A.E.; Ivanov, V.K.; Vatsadze, S.Z. Supramolecular Organogels Based on N-Benzyl, N′-Acylbispidinols. Nanomaterials 2019, 9, 89.
Note that from the first issue of 2016, MDPI journals use article numbers instead of page numbers. See further details here.
Related Articles
Comments
[Return to top]