Open Access This article is
freely available
re-usable
Article
Role of a 193 nm ArF Excimer Laser in Laser-Assisted Plasma-Enhanced Chemical Vapor Deposition of SiNx for Low Temperature Thin Film Encapsulation
1
Micro/Nano Process Group, Korea Institute of Industrial Technology (KITECH), Ansan 15588, Korea
2
Surface Technology Group, Korea Institute of Industrial Technology (KITECH), Incheon 21999, Korea
3
Department of Mechanical Engineering, Hanyang University, Seoul 04763, Korea
4
Department of Mechanical Engineering, State University of New York, Stony Brook, NY 11794, USA
*
Authors to whom correspondence should be addressed.
Received: 14 December 2019 / Accepted: 6 January 2020 / Published: 13 January 2020
Abstract
:
In this study, silicon nitride thin films are deposited on organic polyethylene-naphthalate (PEN) substrates by laser assisted plasma enhanced chemical vapor deposition (LAPECVD) at a low temperature (150 °C) for the purpose of evaluating the encapsulation performance. A plasma generator is placed above the sample stage as conventional plasma enhanced chemical vapor deposition (PECVD) configuration, and the excimer laser beam of 193 nm wavelength illuminated in parallel to the sample surface is coupled to the reaction zone between the sample and plasma source. Major roles of the laser illumination in LAPECVD process are to compete with or complement the plasma decomposition of reactant gases. While a laser mainly decomposes ammonia molecules in the plasma, it also contributes to the photolysis of silane in the plasma state, possibly through the resulting hydrogen radicals and the excitation of intermediate disilane products. It will also be shown that the LAPECVD with coupled laser illumination of 193 nm wavelength improves the deposition rate of silicon nitride thin film, and the encapsulation performance evaluated via the measurement of water vapor transmission rate (WVTR).
Keywords:
laser assisted plasma enhanced chemical vapor deposition; silicon nitride; low temperature encapsulation; silane photolysis; ArF excimer laser
1. Introduction
Low temperature deposition of dielectric thin films has been a topic of extensive research in various application fields that rely on heat and/or damage vulnerable materials. Among materials for the dielectric thin films, silicon nitride (SiN
x
) has secured significant attention in various application fields including insulating layers in capacitor [
1
,
2
,
3
], gate insulators for thin film transistor [
4
,
5
,
6
], and encapsulation layers on electronic devices [
7
,
8
]. While a variety of deposition methods have been employed to deposit silicon nitride, including sputtering [
9
,
10
], atomic layer deposition (ALD) [
11
,
12
,
13
], and chemical vapor deposition (CVD) [
14
,
15
] the conventional methods still have technical limitations for low temperature encapsulation, whereby sputtering leaves a host of defects, the deposition rate of ALD is too low to be commercialized, and traditional CVD requires high process temperature condition to decompose reactant gases. To overcome these limitations of conventional methods, diverse variants of CVD for low temperature processes have been developed such as metalorganic chemical vapor deposition (MOCVD) [
16
,
17
], oxidative chemical vapor deposition (oCVD) [
18
], and so on. MOCVD utilizes a metalorganic vapor as a precursor for semiconductor compounds and oCVD is a deposition method for conjugated conducting polymers using condensation polymerization of monomer gases at temperatures even lower than 100 °C.
Plasma-enhanced chemical vapor deposition (PECVD) [
19
,
20
,
21
,
22
] and laser-assisted chemical vapor deposition (LACVD) [
23
,
24
] are also CVD variants that require lower temperatures than traditional CVD by adding a plasma or laser source. Laser-assisted plasma-enhanced chemical vapor deposition (LAPECVD), attempted more recently, is a unique combination of such developments that utilizes both laser and plasma to assist the relevant chemical reactions. In LAPECVD, the role of the laser is mainly differentiated by the wavelength or photon energy of laser beam as in LACVD. Tsai et al., [
25
,
26
] and Choi et al. [
27
] studied the use of LAPECVD to deposit of SiN
x
thin films with an infrared CO
2
laser beam. They found that the infrared laser beam cannot directly participate in the chemical reaction at a practical beam size needed to cover a large sample area. Although surface heating by a laser beam illuminated onto the sample enabled the formation of denser film with reduced hydrogen concentration, it is not consistent with the main objective of the current study due to the undesirable sample heating effect. On the other hand, excimer laser beams of ultraviolet wavelength have been efficiently used to directly decompose the reactant gases in the LACVD configuration due to the high photon energy exceeding the bond energy of reactant gases [
28
]. In depositing SiN
x
thin films with silane and ammonia, silane is mostly transparent to ArF excimer laser beams of 193 nm wavelength, however ammonia is strongly absorbing, and thus amidogen and hydrogen radicals are produced at the early stage, subsequently decomposing silane into silyl radicals and ultimately depositing SiN
x
thin films. However, LAPECVD with ultraviolet wavelengths has not been reported to date.
In this study, we report the role of an ArF excimer laser beam of 193 nm wavelength in depositing SiN
x
thin films by LAPECVD based on silane-ammonia gas mixtures towards encapsulation of polyethylene-naphthalate (PEN) flexible substrates. The ArF excimer laser was selected in this study because the photon energy of the laser should be larger than the decomposition energy of the reactant gases. Among the reactant gases, though photon energy of the 193 nm wavelength is not sufficient to decompose silane, we also revealed that the laser participated in the decomposition reaction of silane and increased the deposition rate. Participation of the ArF excimer laser in the decomposition of reactant gases is investigated by measuring
in-situ
the laser extinction intensity. The laser extinction intensity is also measured for each reactant gas with variable reactant gas pressure and plasma power levels so that role of laser can be clarified. The deposition rate and refractive index of deposited SiN
x
thin films by LAPECVD and PECVD are compared to confirm the contribution of coupled laser beam to the reaction process. Finally, the encapsulation performance is evaluated through water vapor transmission rate (WVTR) measurements with SiN
x
thin films deposited on PEN substrates.
2. Materials and Methods
Figure 1
shows a schematic illustration of the experimental apparatus for LAPECVD. A PECVD process chamber was customized to accommodate the laser illumination. The process chamber includes a plasma generator and a sample stage, and the plasma power is adjustable up to 1000 W. Silane (SiH
4
, 100%) and ammonia (NH
3
, 100%) as reactant gases, and nitrogen (N
2
) as a buffer gas, were introduced into the chamber through separated lines, and were uniformly injected over the substrate via a shower head. Flow rates were separately controlled by mass flow controllers. Nitrogen (N
2
) buffer gas was separately delivered to the neighborhood of laser windows to prevent the window deposition.
ArF excimer laser of 193 nm wavelength, 150 mJ pulse energy and 100 Hz repetition rate (IPEX-740, Light Machinery, Nepean, ON, Canada) was used for the LAPECVD. Before coupling to the process chamber, the laser beam was shaped into a rectangular beam of 80 mm in width (parallel to sample surface) and 5 mm in height (normal to sample surface) using a cylindrical beam expander set. The collimated laser beam was delivered into the chamber in parallel to the sample surface with the adjusted gap of 5 mm from the sample surface so that the organic substrate is free from direct photodegradation effects a while reasonable contribution of laser to the deposition process is made. The distance from the window glasses to the sample stage was 30 cm. For all the LAPECVD experiments in this study, pulsed energy, repetition rate and beam path were fixed. Unthreaded laser beam from the laser window was guided to the secondary window located at the opposite side of process chamber to avoid deposition at random sites within the chamber. For the measurement of laser extinction intensity after passing through the reaction zone, an aperture was installed at a location in the incoming laser path, i.e., before the laser beam reaches the chamber, to limit the beam size being smaller than the detector area. Then, the laser extinction intensity was measured at a location where laser beam escaped through the secondary window, and the normalized laser extinction intensity (IExt) was estimated by dividing by the laser intensity measured in a vacuum state.
Eight-inch silicon wafers were used as sample substrates to characterize deposited silicon nitride thin films at a fixed substrate temperature of 150 °C. The distance between the showerhead and the sample stage was adjusted to 22 mm. Teonex Q65 was used for the PEN flexible polymer substrate which was purchased from Teijin Dupont Films (Kota Tangerang, Indonesia). The thickness of deposited silicon nitride thin film was measured by cross-sectional scanning electron microscopy (SEM, S-4800, Hitachi, Tokyo, Japan). Refractive index of the deposited thin films was measured by Filmetrics F20 (KLA Corporation, CA, USA), also confirming the film thickness. Flexible PEN substrates were also used to analyze the encapsulation performance of deposited thin film which was evaluated by the water vapor transmission rate (WVTR) analysis (Permatran W-700, Mocon, Brooklyn Park, MN, USA).
4. Summary and Further Study
We deposited SiNx thin films by LAPECVD based on use of an excimer laser of 193 nm wavelength for the encapsulation of PEN substrates at low substrate temperatures. The mechanisms of reactant gas decomposition were explored by measuring the laser extinction in individual and mixed gas conditions. In plasma states, the photolysis of ammonia is dominant, decomposing into NH2 and H radicals, while that of silane is relatively small as enabled by disilane that corresponds to the intermediate products generated by plasma excitation. In LAPECVD, the laser competes with or complements decomposition of reactant gases by plasma, and the laser generally plays a more important role at low plasma power. For a given plasma power and reactant pressure, laser coupling improved the deposition rate of SiNx thin films resulting in lower refractive indexes as an indication of N-rich composition due to predominant decomposition of ammonia by an excimer laser beam. The LAPECVD by laser of 193 nm wavelength also significantly improved the encapsulation performance as evaluated by the WVTR test, possibly due to a higher degree of decomposition of reactant species and thus the formation of films with reduced defects or dangling bonds upon coupling a laser beam. Further study is underway to improve the spatial uniformity in the deposition rate and to produce thin films of higher refractive index with minimal damage to the underlying organic components.
Author Contributions
Conceptualization, D.J.H. and K.-T.K.; Funding acquisition, K.-T.K.; Investigation, K.A., H.-N.L. and D.J.H.; Methodology, H.-N.L., K.H.C. and S.-W.L.; Project administration, K.-T.K.; Writing—Original draft, K.A.; Writing—Review and editing, D.J.H. and K.-T.K. All authors have read and agreed to the published version of the manuscript.
Funding
This research was funded by the financial support from the R&D Convergence Program of NST (National Research Council of Science & Technology) of Republic of Korea (CAP-15-04-KITECH).
Conflicts of Interest
The authors declare no conflict of interest.

Figure 1. Schematic illustration of experimental setup for laser assisted plasma enhanced chemical vapor deposition (LAPECVD) of SiNx thin films.

Figure 2. Normalized extinct laser power by propagation in the CVD chamber according to simultaneously generated radio frequency (RF) power with different gas molecules of (a) N2, (b) NH3 and (c) SiH4.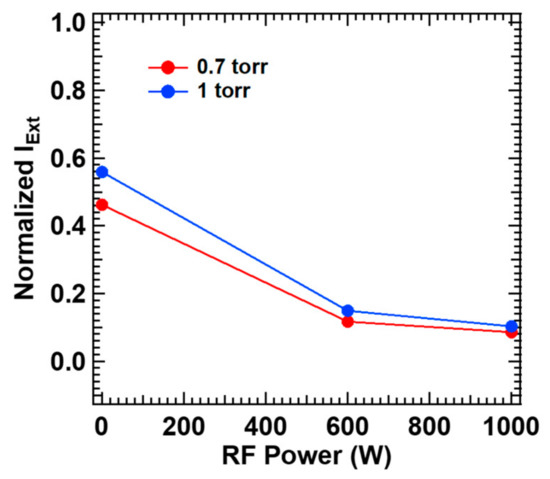 Figure 3. Normalized extinct laser power by propagation in the CVD chamber filled with N2, NH3 and SiH4 according to simultaneously driven RF power.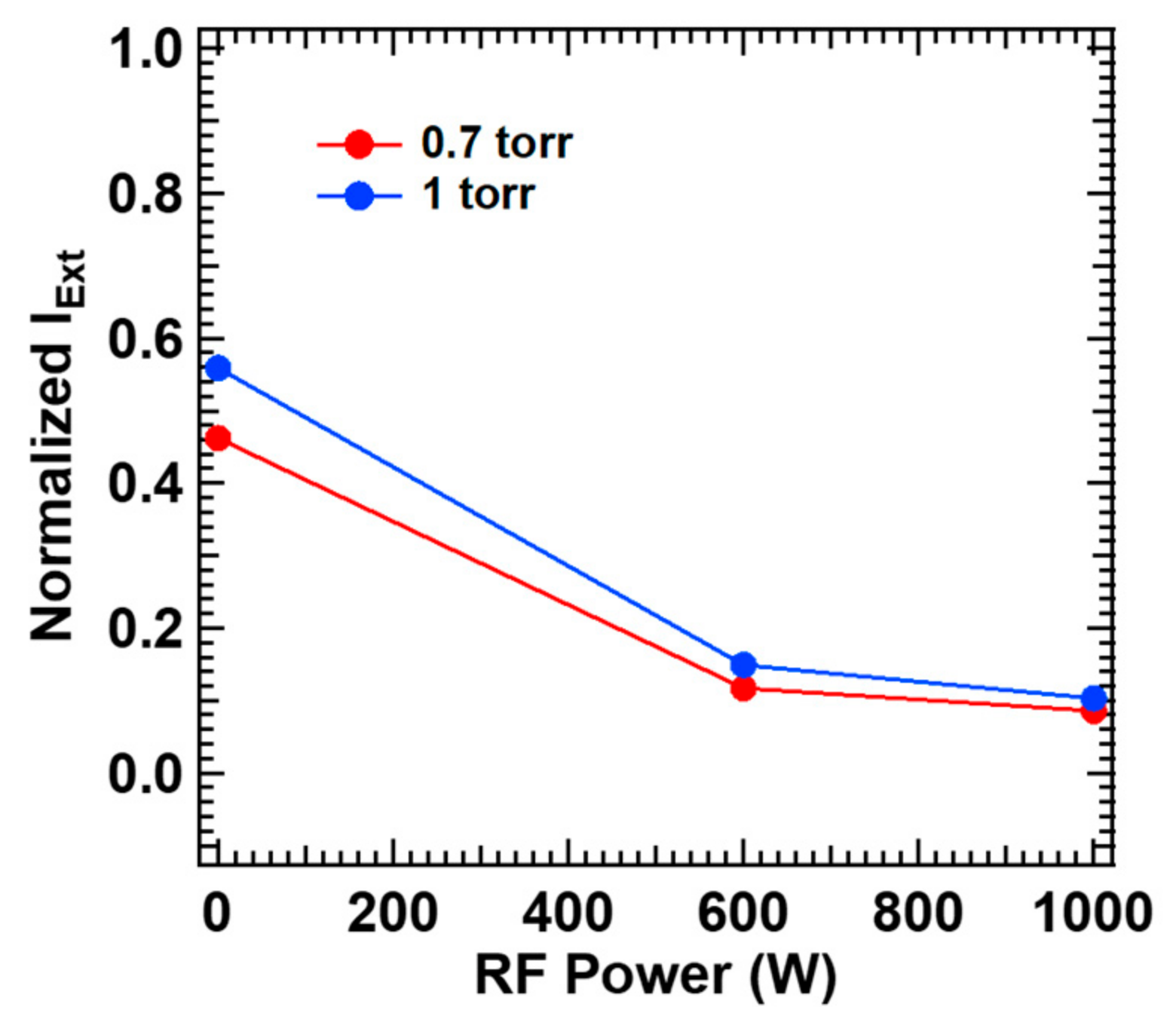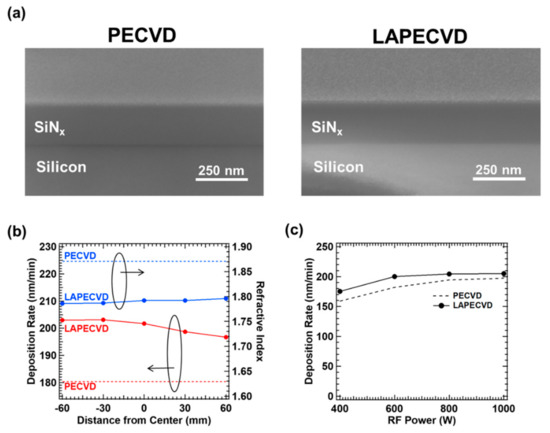 Figure 4. Cross sectional SEM images of silicon nitride thin films fabricated by (a) PECVD and LAPECVD, (b) deposition rate and refractive index of the silicon nitride thin films according to the distance from window and (c) thickness dependency of PECVD and LAPECVD according to power of RF power.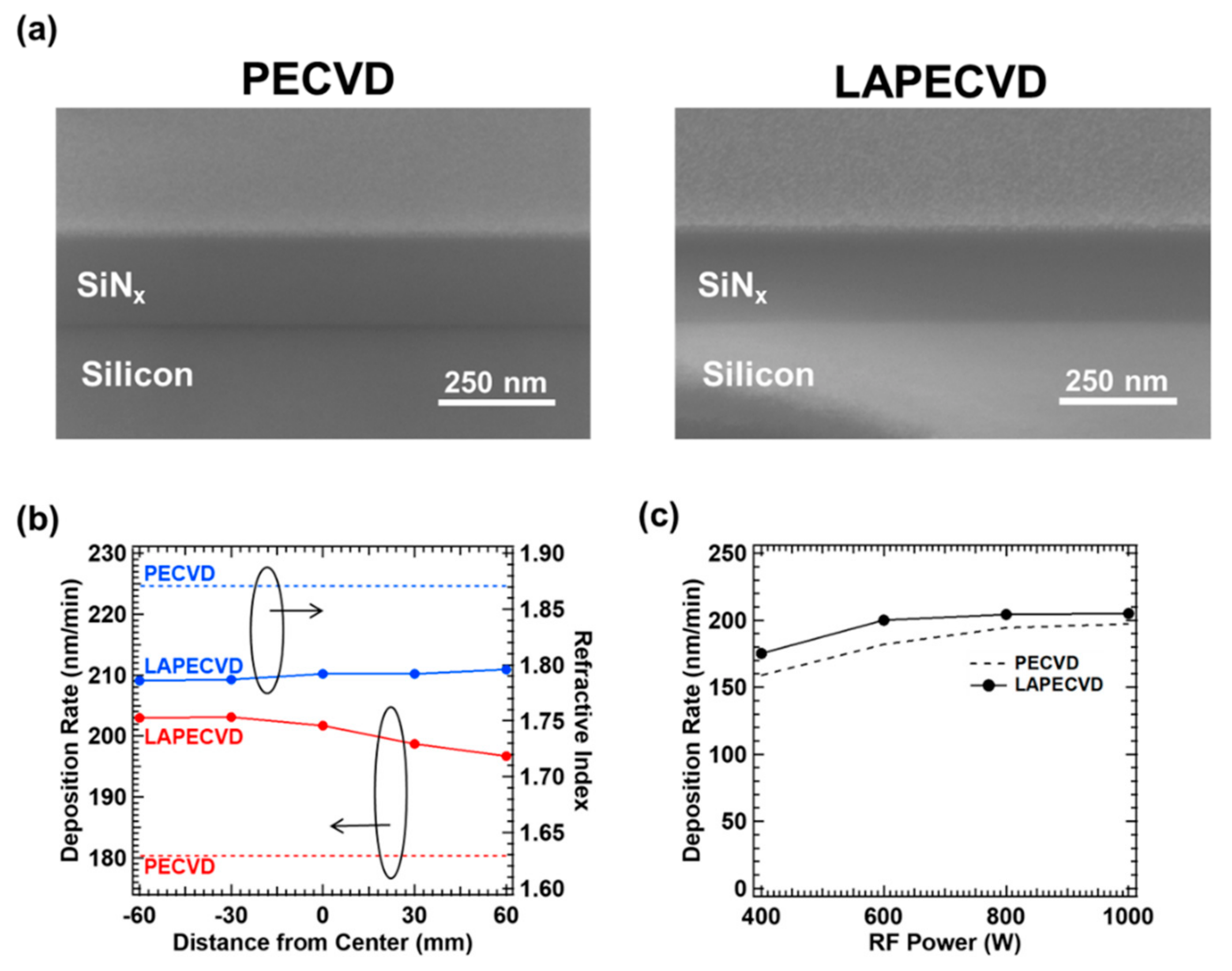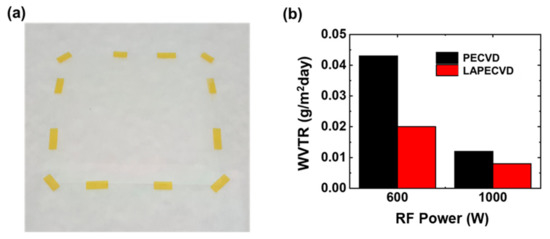 Figure 5. (a) Silicon nitride thin films fabricated onto 80 mm by 80 mm sized PEN substrate and (b) its water vapor transmission rate according to deposition methods of PECVD and LAPECVD.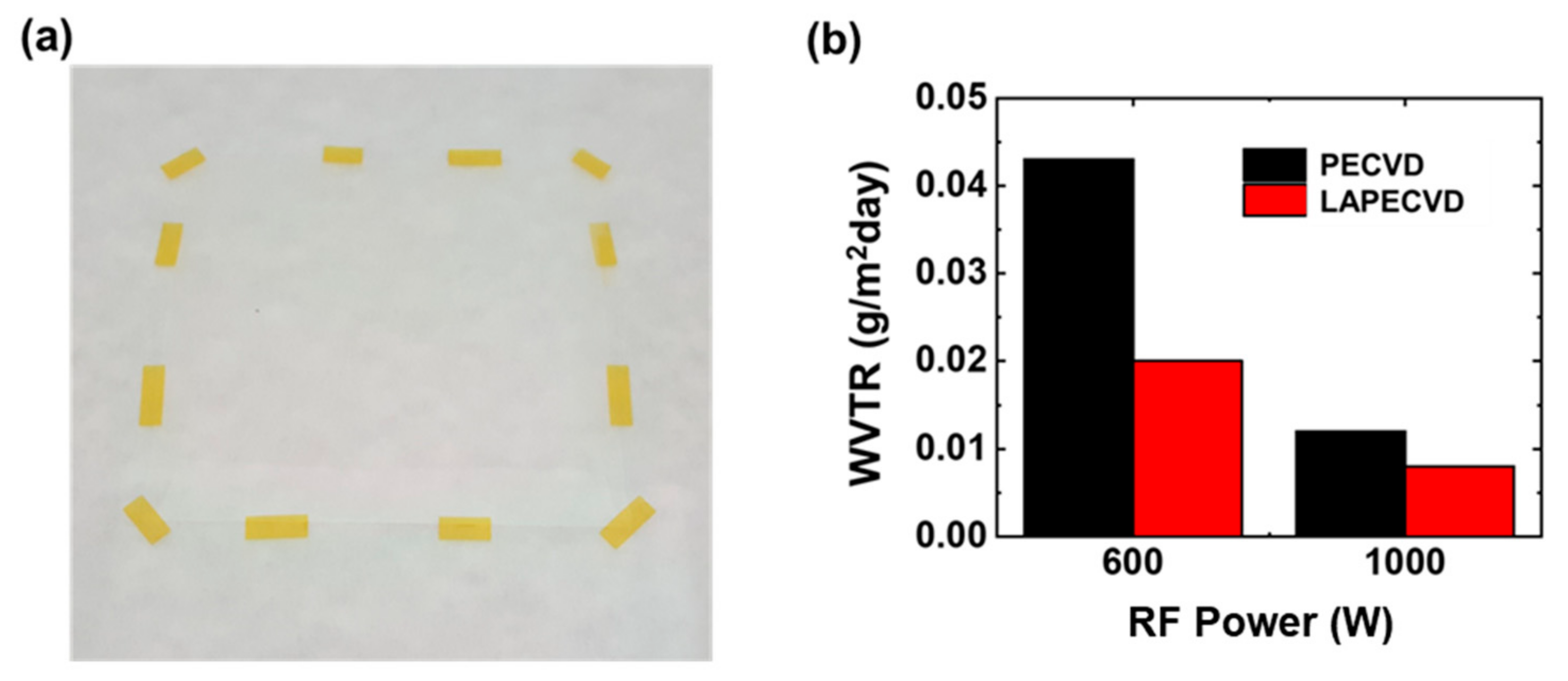 Table 1. Experimental parameters of LAPECVD fabrication condition for measurement of IExt and film thickness.
Experiment
Gas Flow
Process Condition
Laser Condition
SiH4 (sccm)
NH3 (sccm)
N2 (sccm)
N2 from Window (sccm)
W.P (mTorr)
Temperature (°C)
Time (s)
Beam Size (mm)
Pulse Energy (mJ)
Repetition Rate (Hz)
Experiment 1
0
0
750
1000
730
150
60
80 × 5
150
100
Experiment 2
1000
Experiment 3
0
150
0
1000
730
150
60
80 × 5
150
100
Experiment 4
1000
Experiment 5
150
0
0
1000
730
150
60
80 × 5
150
100
Experiment 6
1000
Experiment 7
150
150
750
1000
730
150
60
80 × 5
150
100
Experiment 8
1000

© 2020 by the authors. Licensee MDPI, Basel, Switzerland. This article is an open access article distributed under the terms and conditions of the Creative Commons Attribution (CC BY) license (http://creativecommons.org/licenses/by/4.0/).