Open Access This article is
freely available
re-usable
Article
Direct Writing of Copper Micropatterns Using Near-Infrared Femtosecond Laser-Pulse-Induced Reduction of Glyoxylic Acid Copper Complex
1
Department of Mechanical Engineering, Nagaoka University of Technology, Nagaoka 940-2188, Japan
2
Department of Mechanical and Aerospace Engineering, Nagoya University, Nagoya 464-8603, Japan
3
Department of Applied Chemistry, Shibaura Institute of Technology, Tokyo 135-8548, Japan
*
Author to whom correspondence should be addressed.
Received: 14 May 2019 / Accepted: 13 June 2019 / Published: 17 June 2019
Abstract
:
We have fabricated Cu-based micropatterns in an ambient environment using femtosecond laser direct writing to reduce a glyoxylic acid Cu complex spin-coated onto a glass substrate. To do this, we scanned a train of focused femtosecond laser pulses over the complex film in air, following which the non-irradiated complex was removed by rinsing the substrates with ethanol. A minimum line width of 6.1 µm was obtained at a laser-pulse energy of 0.156 nJ and scanning speeds of 500 and 1000 µm/s. This line width is significantly smaller than that obtained in previous work using a CO2 laser. In addition, the lines are electrically conducting. However, the minimum resistivity of the line pattern was 2.43 × 10−6 Ω·m, which is ~10 times greater than that of the pattern formed using the CO2 laser. An X-ray diffraction analysis suggests that the balance between reduction and re-oxidation of the glyoxylic acid Cu complex determines the nature of the highly reduced Cu patterns in the ambient air.
Keywords:
laser direct writing; femtosecond laser; glyoxylic acid Cu complex; reduction; Cu micropattern
1. Introduction
Laser direct writing of metal micropatterns has attracted attention from fields such as printed electronics and microelectromechanical systems. Two-dimensional (2D) metal micropatterns are generally fabricated using well-established methods of semiconductor technology consisting of lithography, metallic film deposition methods, and etching processes. However, deposition methods such as sputtering and evaporative coating must be done in an inert atmosphere, making it difficult to fabricate 2D metal micropatterns in air. In addition, multiple complicated steps such as lithography, metal deposition, and etching are needed to form metal micropatterns.
In this study, we report herein 2D Cu micropatterns fabricated in ambient air by using femtosecond laser reduction of a GACu complex to fabricate finer patterns with small line width. We first investigate the absorption properties of GACu, following which we discuss the patterning properties of GACu, such as resolution, crystal structure, and resistivity.
2. Experimental Methods
2.1. Direct Writing Process of Two-Dimensional Cu Micropatterns
Figure 1
shows schematically the process for direct writing of 2D Cu micropatterns. A GACu complex was prepared using a previously reported method [
9
]. First, glyoxylic acid (4.5 mmol, Sigma Aldrich, St. Louis, MO, USA) dissolved in H
2
O (5 mL, FUJIFILM Wako Pure Chemical Corporation, Tokyo, Japan) was adjusted to pH 7 by adding NaOH aqueous solution (10 wt%, FUJIFILM Wako Pure Chemical Corporation). Next, CuSO
4
∙5H
2
O (4.5 mmol, FUJIFILM Wako Pure Chemical Corporation) dissolved in 5 mL H
2
O was added to the GA solution and stirred for three hours. The GACu complex precipitated from the solution and was filtered out, washed by H
2
O, and dried in a cooled, reduced-pressure atmosphere.
The GACu complex (6.0 mmol) was dissolved into a 2-amino-ethanol: ethanol (1:2, 3 mL, FUJIFILM Wako Pure Chemical Corporation) solution and was then spin-coated onto a glass substrate. The spin-coated film was heated at 50 °C using a hot plate for 30 min. To accomplish laser direct writing, we used a commercially-available femtosecond laser direct writing system (Photonic Professional GT, Nanoscribe GmbH, Eggenstein-Leopolds-hafen, Germany) to form Cu micropatterns by reducing and precipitating the GACu complex.
The wavelength, pulse duration, and repetition frequency of the femtosecond laser were 780 nm, 120 fs, and 80 MHz, respectively. The laser pulses had a Gaussian intensity distribution and were focused onto the surface of GACu complex films using an objective lens with a numerical aperture (NA) of 0.75. The focal spot diameter was 1.3 μm. The sample substrates coated with the GACu complex film were scanned using an xyz-piezo stage. The maximum scanning speed was 1000 µm/s.
2.2. Evaluation of GACu Complex Films and Cu Micropatterns
The absorption properties of the GACu complex film are important for laser direct writing. The absorbance of the film in the UV-to-visible range was examined using a UV-visible spectrometer (UV-2600 100V JP, Shimadzu, Kyoto, Japan). The line width was measured using field-emission scanning electron microscopy (FE-SEM). The crystal structure of the micropatterns was examined using X-ray diffraction (XRD) (Rint Rapid-S diffractometer, Rigaku, Tokyo, Japan). The diameter of the collimated X-ray beam was 0.3 mm, and the angle of incidence was 20°.
The resistance of the line patterns was measured using a multimeter (Truevolt series 34465A, Keysight Technology, Santa Rosa, CA, USA). The resistivity was calculated from the resistance and the cross section of the line patterns which were obtained using a surface coder (SURFCODER ET200, Kosaka Laboratory Ltd., Tokyo, Japan).
3. Results and Discussion
Here we discuss the properties of the Cu micropatterns on the SiO2 glass substrates. First, we examine the absorption of the GACu complex film, following which we investigate the properties of the micropatterns such as line width, the generation of Cu-based micropatterns, and their resistivities.
4. Conclusions
Cu-rich micropatterns were fabricated by femtosecond laser pulse-induced reduction of GACu complex.
(1)

The minimum line width in the micropatterns was 6.1 µm, which was obtained with a laser-pulse energy of 0.156 nJ and scanning speeds of 500 and 1000 µm/s.

(2)

The minimum resistivity of the line pattern was 2.43 × 10−6 Ω·m which was ~10 times greater than that of the pattern formed using a CO2 laser.
The results of the XRD analysis suggest that the balance of the reduction and the reoxidation of the GACu complex determines the ambient-air generation of highly reduced Cu patterns.
Author Contributions
K.A. and M.M. performed the experiments; K.A., M.M., A.U. and T.O. analyzed the data; M.M. contributed analysis tools; M.M. wrote the paper.
Funding
This study was supported in part by the Nano-Technology Platform Program (Micro-NanoFabrication), the Leading Initiative for Excellent Young Researchers of the Ministry of Education, Culture, Sports, Science and Technology, Japan (MEXT), the 10th "Shiseido Female Researcher Science Grant", and JSPS KAKENHI Grant number JP16H06064.
Conflicts of Interest
The authors declare no conflicts of interest.

Figure 1. (a) Spin-coating of a glyoxylic acid Cu (GACu) complex film on a glass substrate. (b) Femtosecond-laser direct writing by reduction of the GACu complex film. (c) Nonirradiated GACu complex removed by rinsing the substrate with ethanol.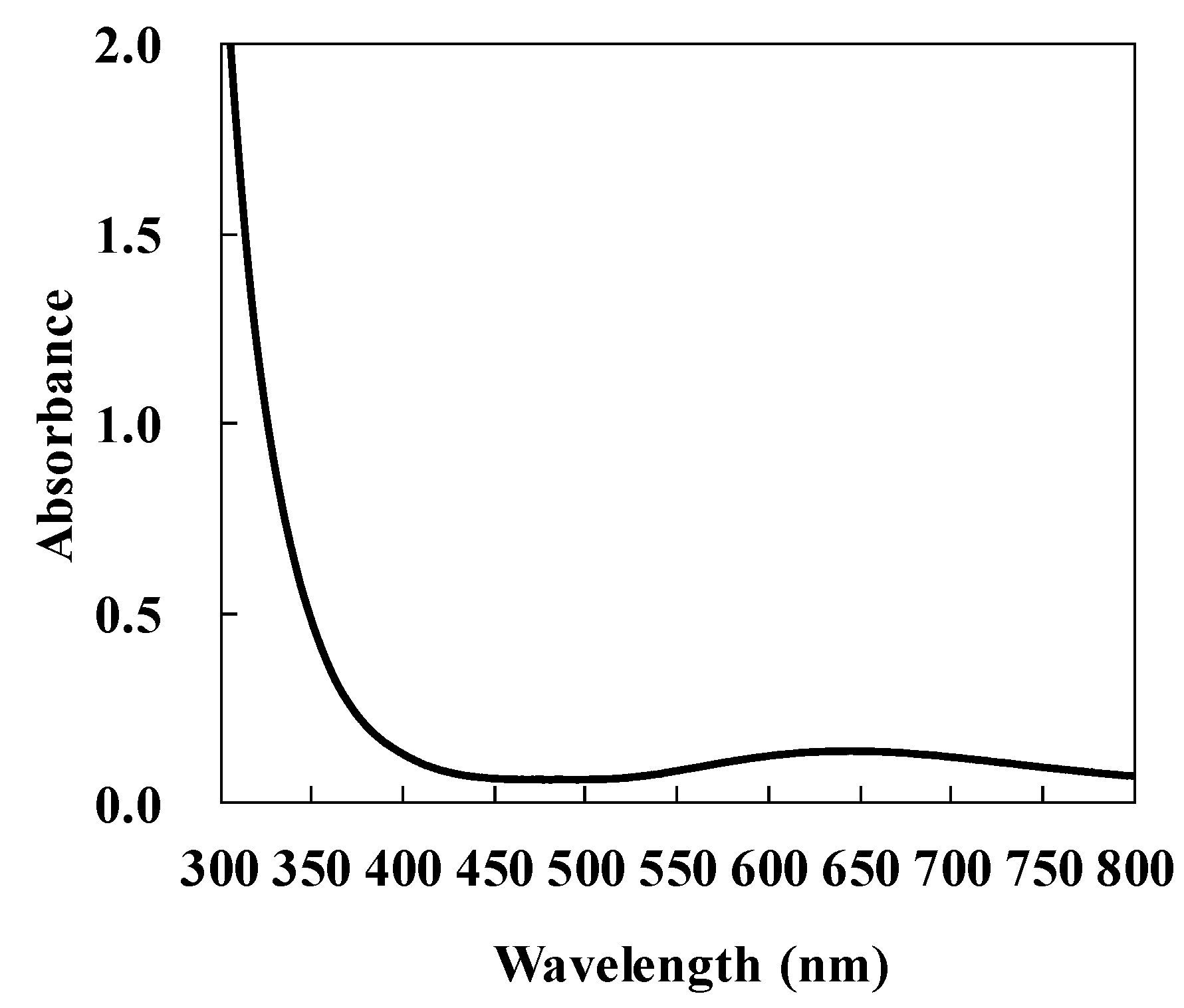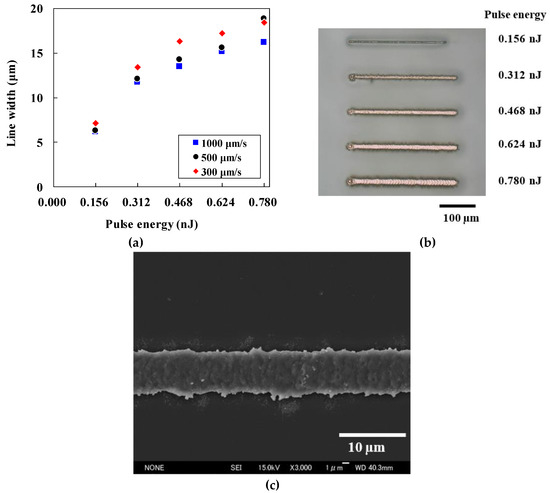 Figure 3. (a) Relationship between line width and laser irradiation conditions, (b) optical microscope image at scanning speed of 1000 µm/s and various pulse energies, and (c) field-emission scanning electron microscopy (FE-SEM) image showing the line width obtained when using a pulse energy of 0.156 nJ and scanning speed of 500 µm/s.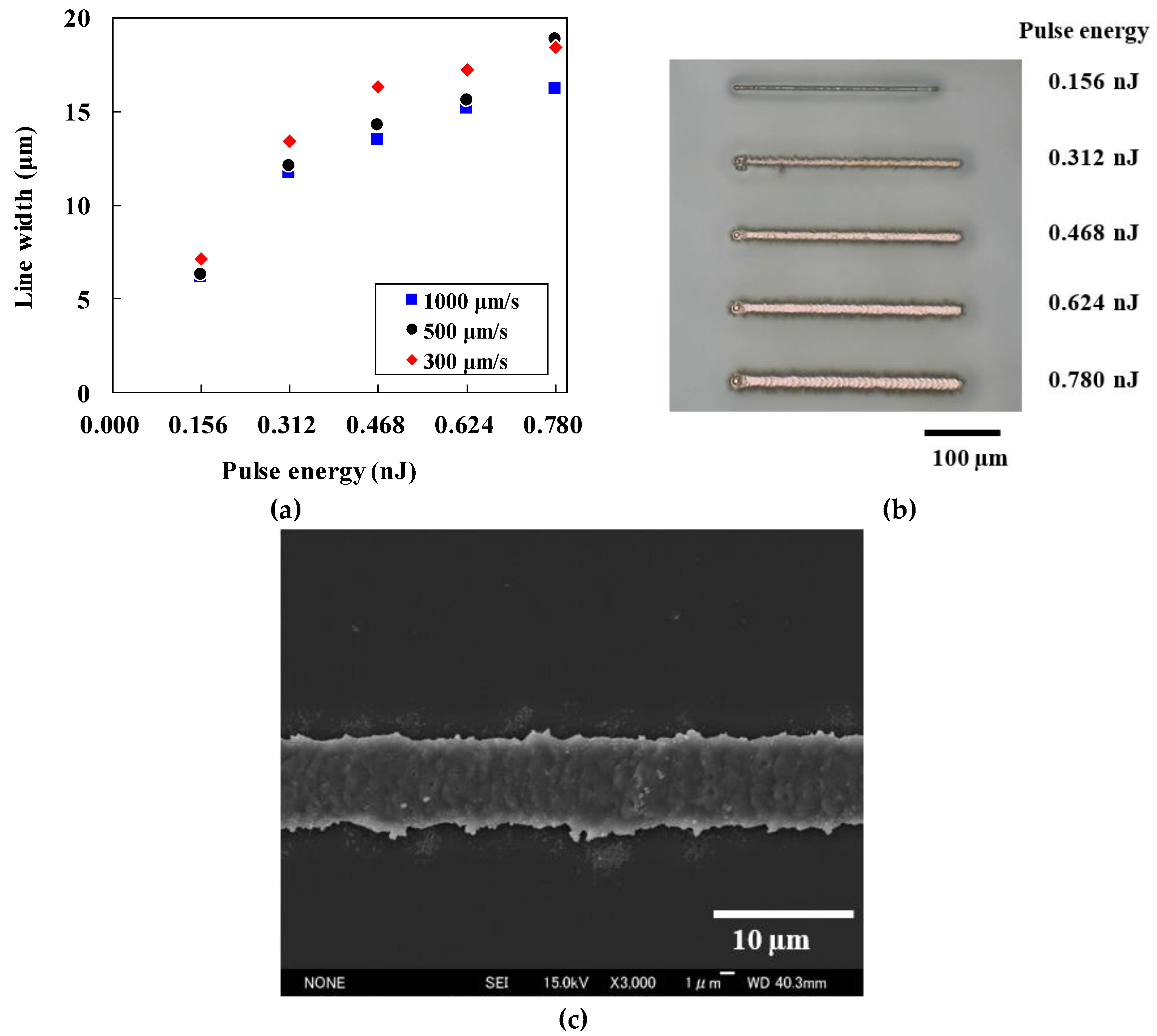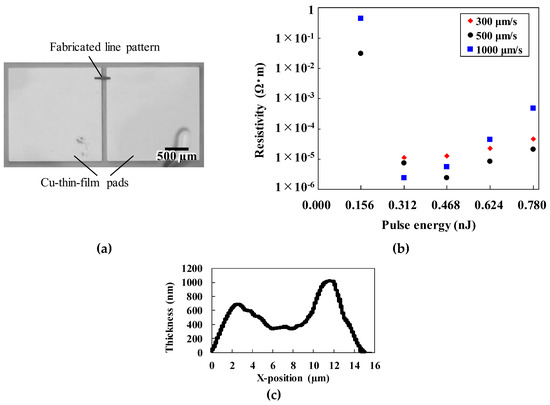 Figure 4. (a) Optical microscope image of a typical line pattern connecting two Cu thin film pads. (b) Resistivity of micropatterns fabricated under various laser irradiation conditions. (c) Cross-sectional profile of a line pattern produced at scanning speed of 500 µm/s and pulse energy of 0.468 nJ.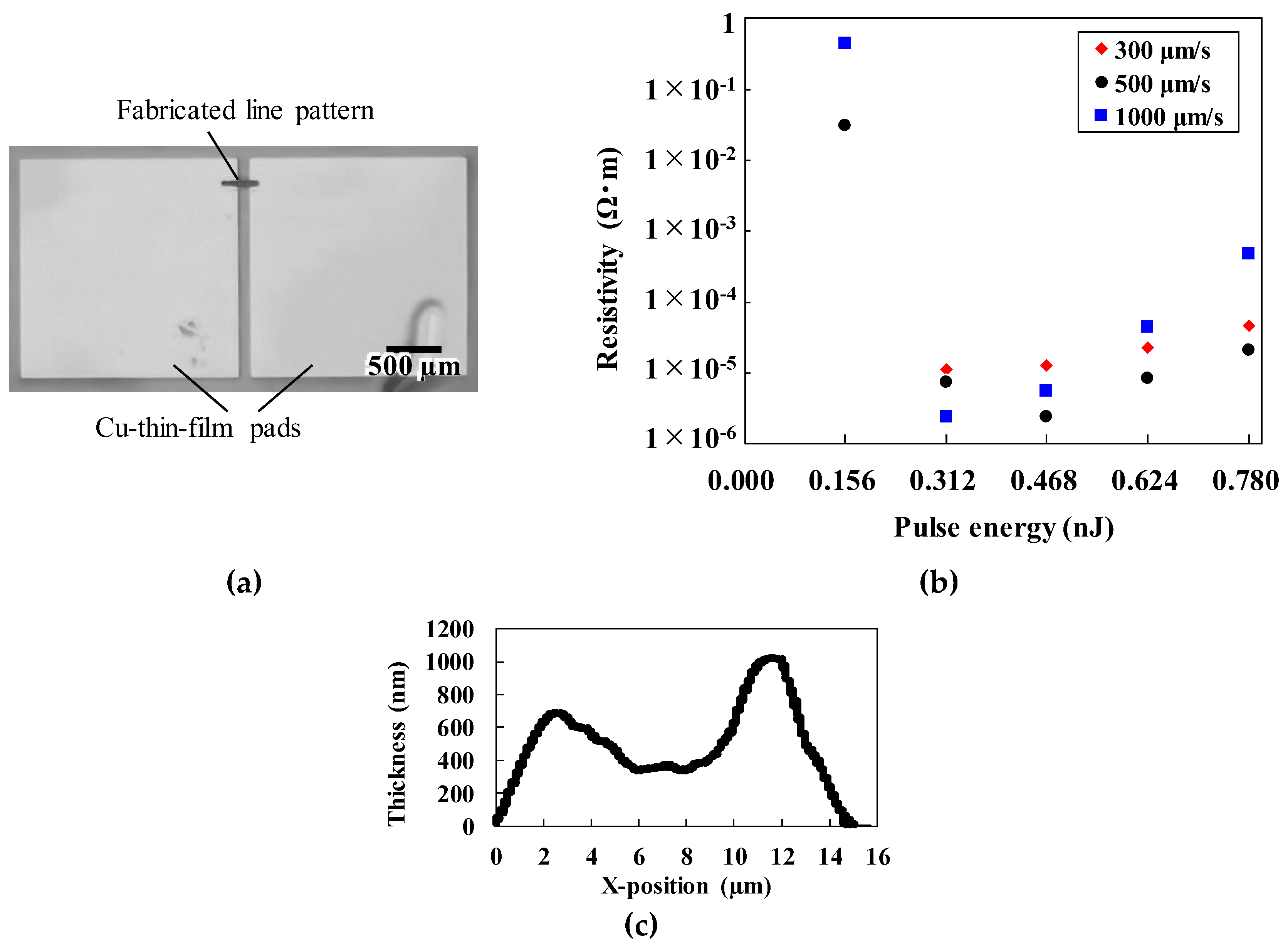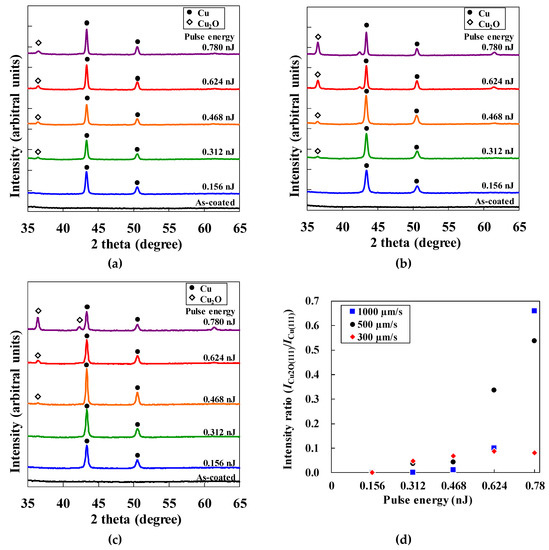 Figure 5. XRD spectra of fabricated micropatterns at a scanning speed of (a) 300 µm/s, (b) 500 µm/s, and (c) 1000 µm/s. (d) Intensity ratio of Cu2O to Cu as a function of pulse energy.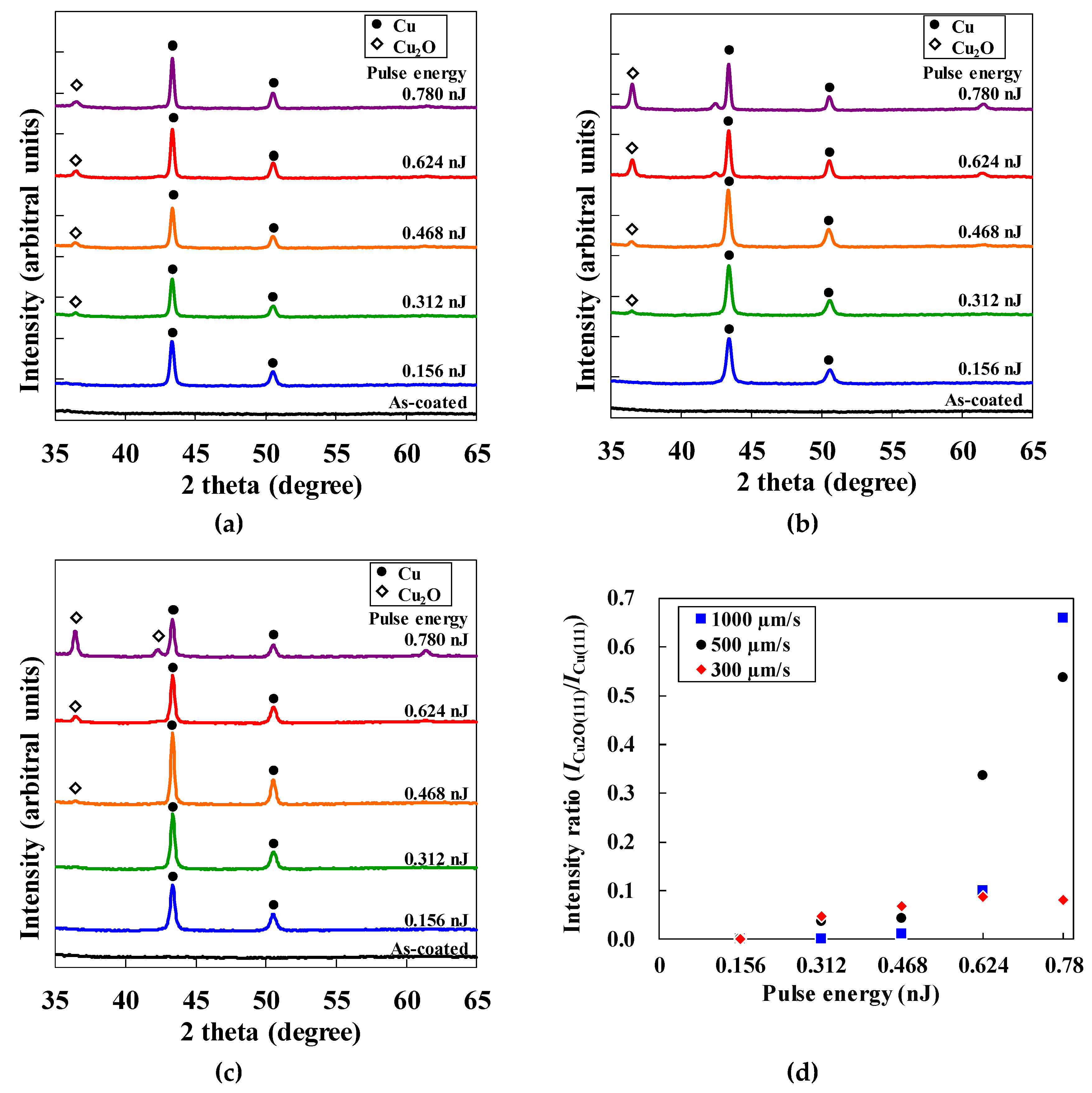 © 2019 by the authors. Licensee MDPI, Basel, Switzerland. This article is an open access article distributed under the terms and conditions of the Creative Commons Attribution (CC BY) license (http://creativecommons.org/licenses/by/4.0/).