Nut Consumptions as a Marker of Higher Diet Quality in a Mediterranean Population at High Cardiovascular Risk
1
CIBER Fisiopatología de la Obesidad y Nutrición (CIBEROBN), Instituto de Salud Carlos III (ISCIII), 28029 Madrid, Spain
2
Research Group on Community Nutrition and Oxidative Stress, University of Balearic Islands, 07122 Palma de Mallorca, Spain
3
Health Research Institute of the Balearic Islands (IdISBa), 07120 Palma de Mallorca, Spain
4
Department of Preventive Medicine and Public Health, University of Navarra-IDISNA, 31008 Pamplona, Spain
5
Department of Nutrition, Harvard T. H. Chan School of Public Health, Boston, MA 02115, USA
6
Department of Preventive Medicine, University of Valencia, 46010 Valencia, Spain
7
Human Nutrition Unit, Biochemistry and Biotechnology Department, IISPV, Universitat Rovira i Virgili, 43201 Reus, Spain
8
Cardiovascular Risk and Nutrition Research Group (CARIN), Hospital del Mar Medical Research Institute (IMIM), 08003 Barcelona, Spain
9
Human Nutrition Unit, Blanquerna-Ramon Llull University, 08022 Barcelona, Spain
10
Miguel Hernandez University, ISABIAL-FISABIO, 46020 Alicante, Spain
11
CIBER Epidemiología y Salud Pública (CIBERESP), Instituto de Salud Carlos III (ISCIII), 28029 Madrid, Spain
12
Department of Nutrition, Food Sciences, and Physiology, Center for Nutrition Research, University of Navarra, 31008 Pamplona, Spain
13
Cardiometabolics Nutrition Group, IMDEA Food, CEI UAM + CSIC, 28049 Madrid, Spain
14
School of Nursing, School of Health Sciences, University of Málaga-IBIMA, 29010 Málaga, Spain
15
Lipids and Atherosclerosis Unit, Department of Internal Medicine, Maimonides Biomedical Research Institute of Cordoba (IMIBIC), Reina Sofia University Hospital, University of Cordoba, 14004 Córdoba, Spain
16
Department of Internal Medicine, IDIBAPS, Hospital Clinic, University of Barcelona, 08036 Barcelona, Spain
17
Department of Preventive Medicine, University of Granada, 18016 Granada, Spain
18
Department of Cardiology, OSI ARABA, University Hospital Araba, University of the Basque Country UPV/EHU, 01006 Vitoria-Gasteiz, Spain
19
Department of Endocrinology, Virgen de la Victoria Hospital, University of Málaga, 29010 Málaga, Spain
20
Institute for Biomedical Research, University of Las Palmas de Gran Canaria, 35001 Las Palmas, Spain
21
Institute of Biomedicine (IBIOMED), University of León, 24071 León, Spain
22
Department of Family Medicine, Research Unit, Distrito Sanitario Atención Primaria Sevilla, 41013 Sevilla, Spain
23
Department of Endocrinology, Fundación Jiménez-Díaz, 28040 Madrid, Spain
24
Lipids and Vascular Risk Unit, Internal Medicine, Hospital Universitario de Bellvitge, Hospitalet de Llobregat, 08907 Barcelona, Spain
25
Department of Endocrinology, IDIBAPS, Hospital Clinic, University of Barcelona, 08036 Barcelona, Spain
26
CIBER Diabetes y Enfermedades Metabólicas (CIBERDEM), Instituto de Salud Carlos III (ISCIII), 28029 Madrid, Spain
27
Nutritional Genomics and Epigenomics Group, IMDEA Food, CEI UAM + CSIC, 28049 Madrid, Spain
28
Department of Health Sciences, University of Jaen, 23071 Jaen, Spain
29
Department of Endocrinology and Nutrition, Instituto de Investigación Sanitaria Hospital Clínico San Carlos (IdISSC), 28040 Madrid, Spain
30
Lipid Clinic, Department of Endocrinology and Nutrition, Institut d'Investigacions Biomèdiques August Pi Sunyer (IDIBAPS), Hospital Clínic, 08036 Barcelona, Spain
*
Author to whom correspondence should be addressed.
Received: 13 February 2019 / Revised: 20 March 2019 / Accepted: 28 March 2019 / Published: 30 March 2019
Abstract
Background: Nut consumption has been associated with improved nutrient adequacy and diet quality in healthy adult populations but this association has never been explored in individuals at high cardiovascular risk. Objective: to assess the associations between consumption of nuts and nutrient adequacy and diet quality in a Mediterranean population at high cardiovascular risk. Design: baseline assessment of nutritional adequacy in participants (
n
= 6060, men and women, with ages 55–75 years old, with overweight/obesity and metabolic syndrome) in the PREDIMED-PLUS primary cardiovascular prevention randomized trial. Methods: nut intake was assessed using a validated food frequency questionnaire. Participants who reported consuming zero quantity of nuts were classified as 'non-nut consumers'. 'Nut consumers' were participants who reported consuming any quantity of nuts. Nineteen micronutrients were examined (vitamins B1, B2, B3, B6, B12, A, C, D, E and folic acid; Ca, K, P, Mg, Fe, Se, Cr, Zn, and iodine). The proportion of micronutrient inadequacy was estimated using the estimated average requirements (EAR) or adequate intake (AI) cut-points. Diet quality was also assessed using a 17-item Mediterranean dietary questionnaire (Mediterranean diet score, MDS), a carbohydrate quality index (CQI) and a fat quality index (FQI). Results: eighty-two percent of participants were nut consumers (median of nut consumption 12.6 g/day; interquartile range: 6.0–25.2). Nut consumers were less likely to be below the EAR for vitamins A, B1, B2, B6, C, D, E, folic acid, and Ca, Mg, Se and Zn than non-nut consumers. Nut consumers were also more likely to be above the AI for K and Cr than non-nut consumers. Nut consumers had lower prevalence of inadequate micronutrient intakes, but also higher CQI, higher FQI, and better scores of adherence to the Mediterranean diet (Mediterranean diet score, MDS). Conclusions: nut consumers had better nutrient adequacy, diet quality, and adherence to the MedDiet than those non-nut consumers.
View Full-Text
►

▼

Figures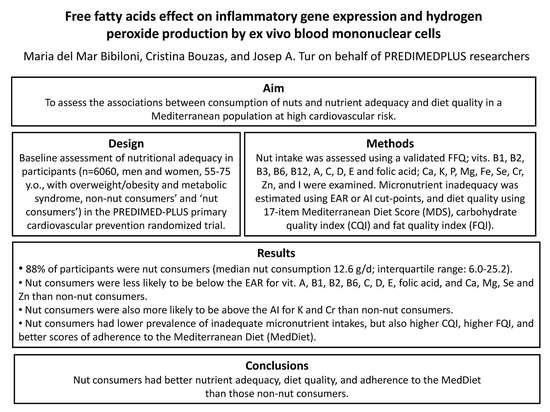 Graphical abstract
This is an open access article distributed under the
Creative Commons Attribution License
which permits unrestricted use, distribution, and reproduction in any medium, provided the original work is properly cited (CC BY 4.0).

Share & Cite This Article
MDPI and ACS Style
Bibiloni, M.M.; Julibert, A.; Bouzas, C.; Martínez-González, M.A.; Corella, D.; Salas-Salvadó, J.; Zomeño, M.D.; Vioque, J.; Romaguera, D.; Martínez, J.A.; Wärnberg, J.; López-Miranda, J.; Estruch, R.; Bueno-Cavanillas, A.; Arós, F.; Tinahones, F.; Serra-Majem, L.; Martín, V.; Lapetra, J.; Vázquez, C.; Pintó, X.; Vidal, J.; Daimiel, L.; Delgado-Rodríguez, M.; Matía, P.; Ros, E.; Fernández-Carrión, R.; Garcia-Rios, A.; Zulet, M.A.; Orozco-Beltrán, D.; Schröder, H.; Fitó, M.; Bulló, M.; Basora, J.; Cenoz, J.C.; Diez-Espino, J.; Toledo, E.; Tur, J.A. Nut Consumptions as a Marker of Higher Diet Quality in a Mediterranean Population at High Cardiovascular Risk. Nutrients 2019, 11, 754.
Note that from the first issue of 2016, MDPI journals use article numbers instead of page numbers. See further details here.
Related Articles
Comments
[Return to top]