Human Multilineage 3D Spheroids as a Model of Liver Steatosis and Fibrosis
1
Department of Molecular and Clinical Medicine, University of Gothenburg, SE-413 45 Gothenburg, Sweden
2
Cardiovascular, Renal and Metabolism, IMED Biotech Unit, AstraZeneca, SE-431 83 Gothenburg, Sweden
3
Division of Endocrinology, Department of Neuroscience and Physiology, Sahlgrenska Academy, University of Gothenburg, SE-405 30 Gothenburg, Sweden
4
Clinical Nutrition Unit, Department of Medical and Surgical Sciences, Magna Graecia University, 88100 Catanzaro, Italy
5
Cardiology Department, Sahlgrenska University Hospital, SE-413 45 Gothenburg, Sweden
*
Author to whom correspondence should be addressed.
Received: 25 February 2019 / Revised: 29 March 2019 / Accepted: 30 March 2019 / Published: 2 April 2019
Abstract
Non-alcoholic fatty liver disease (NAFLD) is the most common liver disorder in western countries. Despite the high prevalence of NAFLD, the underlying biology of the disease progression is not clear, and there are no approved drugs to treat non-alcoholic steatohepatitis (NASH), the most advanced form of the disease. Thus, there is an urgent need for developing advanced in vitro human cellular systems to study disease mechanisms and drug responses. We attempted to create an organoid system genetically predisposed to NAFLD and to induce steatosis and fibrosis in it by adding free fatty acids. We used multilineage 3D spheroids composed by hepatocytes (HepG2) and hepatic stellate cells (LX-2) with a physiological ratio (24:1). HepG2 and LX-2 cells are homozygotes for the
PNPLA3
I148M sequence variant, the strongest genetic determinant of NAFLD. We demonstrate that hepatic stellate cells facilitate the compactness of 3D spheroids. Then, we show that the spheroids develop accumulations of fat and collagen upon exposure to free fatty acids. Finally, this accumulation was rescued by incubating spheroids with liraglutide or elafibranor, drugs that are in clinical trials for the treatment of NASH. In conclusion, we have established a simple, easy to handle, in vitro model of genetically induced NAFLD consisting of multilineage 3D spheroids. This tool may be used to understand molecular mechanisms involved in the early stages of fibrogenesis induced by lipid accumulation. Moreover, it may be used to identify new compounds to treat NASH using high-throughput drug screening.
View Full-Text
►

▼

Figures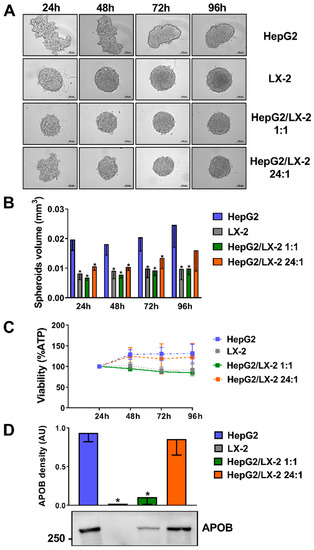 Figure 1
This is an open access article distributed under the
Creative Commons Attribution License
which permits unrestricted use, distribution, and reproduction in any medium, provided the original work is properly cited (CC BY 4.0).

Share & Cite This Article
MDPI and ACS Style
Pingitore, P.; Sasidharan, K.; Ekstrand, M.; Prill, S.; Lindén, D.; Romeo, S. Human Multilineage 3D Spheroids as a Model of Liver Steatosis and Fibrosis. Int. J. Mol. Sci. 2019, 20, 1629.
Note that from the first issue of 2016, MDPI journals use article numbers instead of page numbers. See further details here.
Related Articles
Comments
[Return to top]